Adventure - Day 3 - travel
These activities can be done alone, but work best with one or more friends on a video chat like Skype, Zoom, Facetime, etc.
​Grades K-3
Mindfulness activity
Trivia question: What fruit is the most popular and most consumed in the world?
a) Tomatoes
b) Grapes
c) Oranges
Mindfulness activity:
Put your palms together at chest height.
Push them against each other as hard as you can.
Which muscle gets tired first?
Salt dough mountain necklace
Salt Dough:
2 cups flour
1 cup salt
1 cup water
Supplies:
Wax paper
Toothpick
Yarn
Paint
The Alps are the highest mountains in Europe, and you are going visit them virtually with this activity. This activity requires measuring, mixing, and baking, so have an adult help you.
Directions:
Mix your dough by combining the ingredients above. Roll the dough out onto wax paper, about ¼ inch thick.
After rolling out your dough, watch this walking tour of the Swiss Alps.
While you are watching, use a butter knife to cut mountain shapes in the dough inspired by the mountains in the tour.
Use a toothpick to poke a small hole in the top of each mountain shape so that it can be put on a necklace. You can create beads as well by rolling the dough into balls and poking holes through the dough.
Preheat the oven to 250 degrees, and bake until dry.
After they have cooled, paint your mountain pendants creatively.
Let the paint dry, then string the pendants onto a piece of yarn.
Exploring Egypt
Supplies:
Cardboard
Spaghetti
Tinfoil
Glue
Shoe polish
Ancient Egyptians built huge pyramids. Most of them were tombs for pharaohs, who were the rulers. Create your own Egyptian scene using spaghetti noodles and gluing it to the cardboard. Add anything that you think would be a good addition to your Egyptian scene, such as the sun.
Once dry, cover your picture with tin foil and press down around the noodles. Gently rub a bit of shoe polish on the tin foil to made your picture look old.
If you want, you can watch this video about Ancient Egypt while you work on your scene.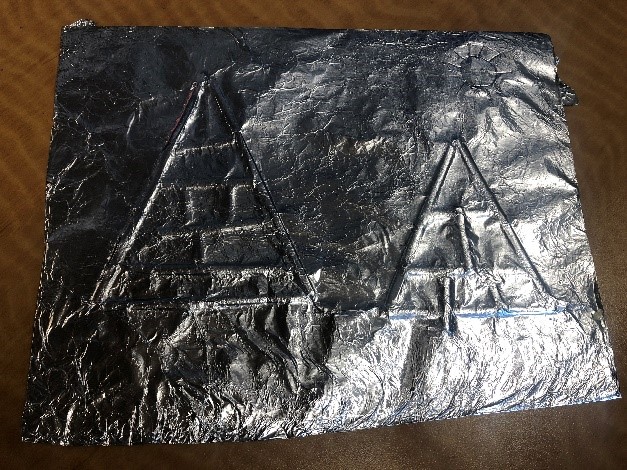 Aquarium virtual field trip and flying fish catch
Supplies:
Directions:
Cut the sponges into shapes of fish, or draw a fish on the sponge using a permanent marker
Wet the fish sponges and toss them up high in the air.
The other person must try and catch the wet sponge fish in their bucket. How many fish can you catch?
For a virtual field trip of an aquarium in Long Beach, California, visit this live stream of a Tropical Reef Aquarium.
Review questions
Ask your child:
Were you surprised by any of the fish in the aquarium that you saw? Did you see any new fish or fish that you already recognized? Did you hear any new sounds that the fish were making? (Feel)
How similar or different are the Swiss Alps from the Rocky Mountains in Alberta? (Think)
What other places would you like to visit? (Act)
Mindfulness trivia answer
Trivia answer: Tomatoes – more than 170 tons of tomatoes are consumed annually! Yes! Tomatoes are considered fruit!
Grades 4-6
Mindfulness activity
Trivia Question: How much of the Earth's surface is water?
Mindfulness activity:
Find your pulse on your neck or your wrist.
Use a timer or have someone count for you as you count your pulse for 15 seconds.
How many beats did you count? If you multiply that number by 4, that's how many times your heart beats in a minute. That's your heart rate.
Photobombing landmarks
Supplies:
Photos of you
Magazines or printer
Glue
Colouring pencils, markers, or crayons
Watch the photobomb landmarks video
For this activity, we will be photobombing world landmarks! A landmark is an object or feature of a place that is easily seen and recognized from a distance.
Some examples of landmarks are:
The Statue of Liberty in New York, USA
The Eiffel Tower in Paris, France
St. Basil's Cathedral in Moscow, Russia
The Blue Domed Church in Santorini, Greece
The Great Sphinx at Giza, Egypt
The Pyramids of Giza, Egypt
The Little Mermaid in Copenhagen, Denmark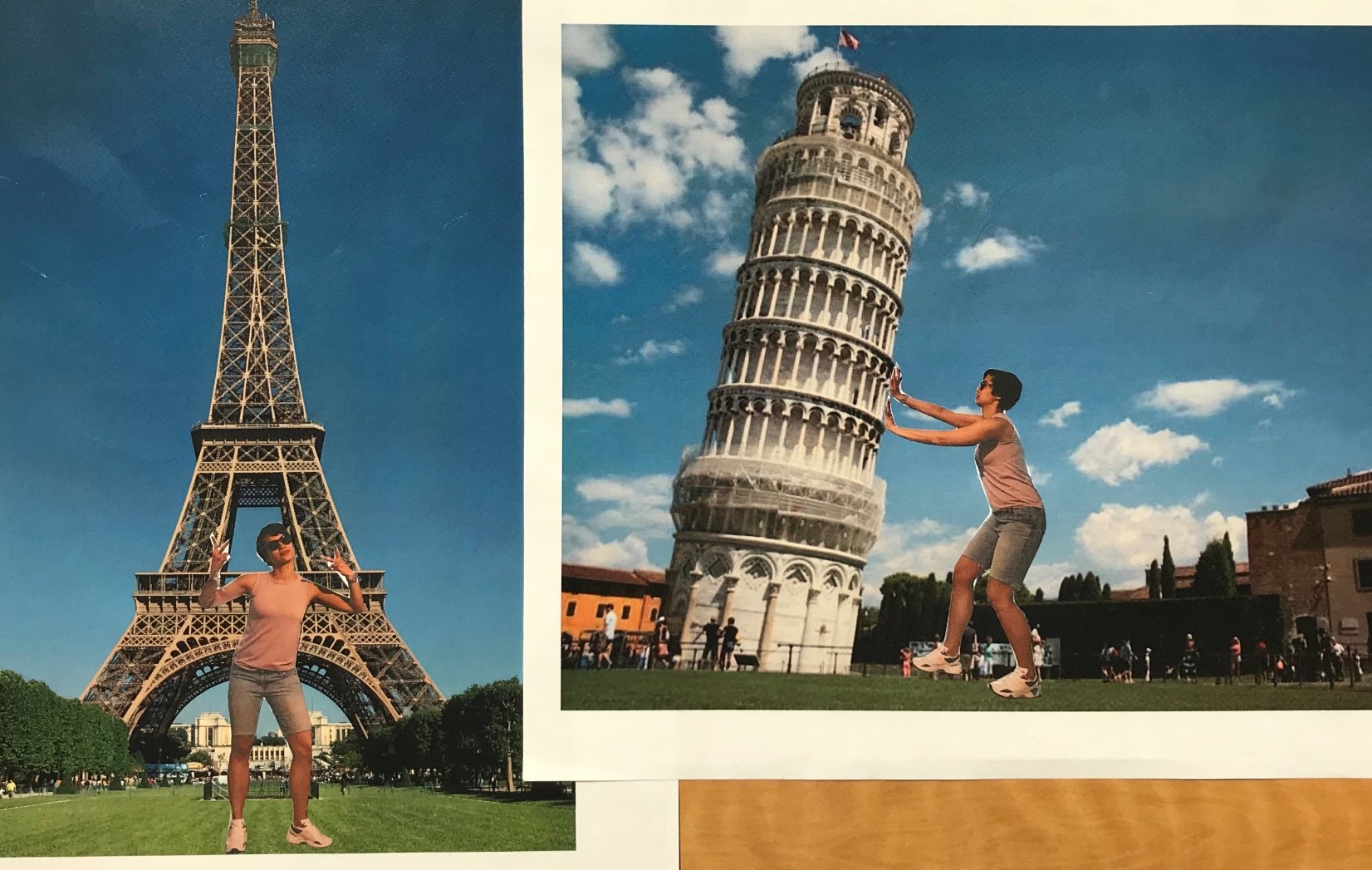 Do some research and find pictures of these landmarks. You can print them, find them in magazines or you can draw them if you don't have magazines or a printer. Once you have found these images, glue them or draw them on a piece of white paper. Then look for pictures of yourself and place them next to the landmark in a fun way that seems like you were there!
Ocean in a bottle
The ocean covers over 70 percent of Earth's surface and contains almost 98 percent of all the water on Earth. For this activity you will create your own ocean in a bottle.
Supplies:
Water
Cooking oil (canola or vegetable)
Blue food colouring
Large bottle (2 liter pop bottles with a lid)
Funnel
Directions:
Fill 1/3 of your bottle with water.
Add several drops of blue food colouring and shake the bottle to disperse the food colouring.
Top up the bottle with oil.
Tip the bottle upside down and watch your ocean come to life.
My dream trip
Supplies:
White paper
Colouring pencils, markers, or crayons
Pen/pencil
Magazines
One of the best things about traveling is getting to know another culture, eating different food, learning a new language and meeting new people. For this activity, think of a place you would like to visit. 
Do you like the mountains? Beaches? Desert? Tropical forests?
Once you have selected a place, take some time to research it. Using magazines or your own drawing, create a travel flyer about this place answering the following questions:
What language is spoken in this place?
How many people live there?
What is their traditional food dish?
What is the capital?
What kind of animals they have there?
What kind of music they listen to?
How far is from Canada?
When would you like to go?
Review questions
Ask your child:
How do you feel about traveling to new places? (Feel)
What do you think you can learn from going to other countries? (Think)
What are some of the things you can do in the future to prepare to go to a new different country? (Act)
Mindfulness trivia answer
Answer: 70% of the Earth's surface is water.​​​​​​​
Grades 7+
Mindfulness activity
Question: What is the largest city in the world by population?
A) New York
B) New Delhi
C) Tokyo
Discovering muscles
Put your palms together at chest height.
Push them against each other as hard as you can.
Which muscle gets tired first?
Community scavenger hunt
Supplies:
Directions:
Explore your community by bike or on foot.
When you start your trip, take your phone camera along with you.
Stop to take pictures of the items listed below.
Try this with a sibling or challenge a friend online to see who can capture all the items listed:

A flower
Leaves from 3 different trees
Something that is red
A piece of wood
Something shiny
Something that smells good
Somewhere you can be active
Somewhere you can learn or read
Somewhere warm
Something made out of plastic
Sap from a tree or plant
Be sure to follow physical distancing measures, leaving at least six feet between yourself and others walking in the community. 
Postcards
Supplies:
Postcards are used to write to friends and family when we are travelling. Think of a place you have traveled to. It could be in your community, or even out of the country. Use a sheet of paper and fold it in half to create the postcard template.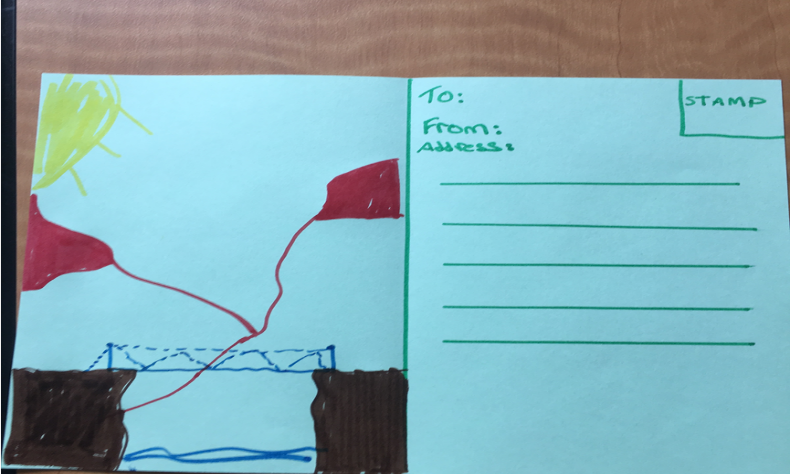 Write a message about the place you travelled to. When did you travel there? What did you like about this place? Did anything amazing happen while you were there? Draw a picture or symbol that best represents your travel to complete your postcard. Share your postcard with your friend or family member.
Where I like to travel
Supplies:
Try this activity with a sibling or call a friend on a virtual chat.
Think of 3 places you would like to travel to. What do you know about the place you chose? Why do you want to travel there?
Find 3 objects or draw three things that could give a hint to your family or friends of the place you chose. The object of the game is for your partner to guess the location. Example: If I wanted to go to Disneyland I could find some old Disney toys in the house or draw Mickey Mouse ears to illustrate the location.
Take turns sharing your objects and guessing the travel location.
Keep track who is able to guess the most locations.
Review questions
Ask your child:
How did you feel about travelling in your community? (Feel)
What are some other ways we can share about our travels besides postcards? (Think)
Where is somewhere you want to visit when it becomes safer to travel? (Act)
Mindfulness trivia answer
Answer: Tokyo - The largest city in the world by population is Tokyo, Japan, with a population of 38,001,000. Tokyo is followed by Delhi, India (population 25,703,168) and Shanghai, China (population 23,740,778).​​​​​​