General Fitness - Week 10
The Great Canadian Workout
Celebrate Canada Day with healthy family activities that will get your heart pumping and your heart smiling! 
Having a commitment or goal, such as being active for 150 minutes each week as a family, will help every member of the family to stay on track, connect with one another, release unwanted energy, have fun and create memories. Here are some tips on how to stay active as a family: 

Go for a pre and/or post dinner walk
Make a game out of household chores
Have a dance party to your favourite tunes
Take a hike and explore nature. Take pictures of bugs, flowers or anything else and make it into a quest to find out more about that bug, flower or rock
Go for a bike ride. Calgary has many bike paths. Check out: https://maps.calgary.ca/PathwaysandBikeways/ 
Plan a treasure hunt in your backyard
Go for a run as a family
Add a challenge: Do short sprint races
Take the dog for a walk
Do a stretching session. Each member of the family can take turns and lead one exercise 
Include the entire family in a workout. Do squats, push up, lunges, etc. Check At Home Activities for more ideas
To begin with keep it short and fun, 10 minutes of physical activity is better than none. Think of it as small breaks throughout the day. Three 10 minutes active breaks equate to half hour of physical activity throughout the day! 
Whatever you do, have fun doing it. Your kids may not remember the specifics of everything you do, but they'll remember if they had fun.
Drink plenty of fluids. Remember to stay hydrated and drink plenty of water throughout the day. Our brain is 70% water and it needs water to function properly.
Listen to your body when you engage in physical activity. Exercising with pain is not recommended. Slow it down, reassess posture and technique. 
The benefits of being active are countless. People that exercise regularly have stronger bones and muscles, lower risk of developing diabetes, able to better deal with emotional stress, have better sleep and are less likely to be overweight. 
There is risk of injury when participating in exercise, physical fitness and physical training programs. If you have any concerns or questions about whether or not you should participate in exercise activities demonstrated on this website or videos offered on this website, you should consult with a physician or other health-care professional before starting any exercises.
The purpose of this NOTICE AND DISCLAIMER OF LIABILITY is to inform you that this website offers health and fitness information and is designed for educational purposes only. You should not rely on this information as a substitute for, nor does it replace, professional medical advice, diagnosis, or treatment.
BY PARTICIPATING IN EXERCISE ACTIVITIES FEATURED OR VIDEOS OFFERED ON THIS WEBSITE, YOU DO SO FREELY AND VOLUNATARILY AND ASSUME ALL OF THE RISKS AND HAZARDS OF PARTICIPATION, INCLUDING THE LEGAL RISK. THE CITY OF CALGARY DISCLAIMS ANY LIABILITY FOR INCIDENTAL OR CONSEQUENTIAL DAMAGES AND ASSUMES NO LIABILITY OR RESPONSIBILITY FOR ANY LOSS, PERSONAL INJURY (INCLUDING DEATH) OR DAMAGE (INCLUDING PROPERTY DAMAGE) SUFFERED BY ANY PERSON AS A RESULT OF THE USE OR MISUSE OF ANY INFORMATION, THIS WEBSITE AND VIDEOS MADE AVAILABLE ON THIS WEBSITE.
In consideration of performing or participating in these exercises shown on this website, you hereby agree to release and hold harmless The City of Calgary its officers, employees, volunteers and agents, against any loss, liability, damage, cause of action, cost, or expense of any nature whatsoever, including without limitation reasonable solicitors' fees and other legal costs.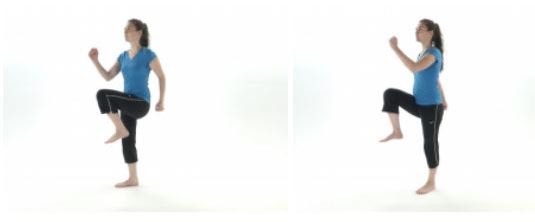 RCMP March - Warm Up
Stand up with your feet about hip width. 
March on the spot, lifting your knees high. 
Keep the body straight as you perform the exercise.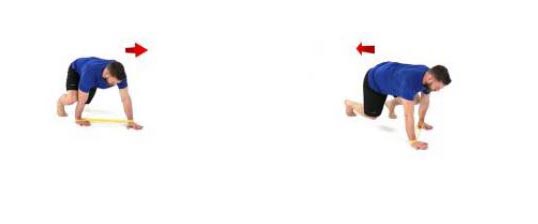 We've Got all Kinds of Bears - Crawl
Begin on hands and toes with knees just off the ground.  
Move the left leg and the right arm forward, at the same time. Then move the right leg and left arm forward, at the same time.  
Crawl forward a few steps, then backward.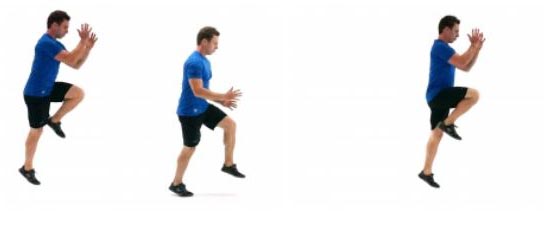 Moose Gallop
You may start the gallop with a light jog or from a dead start, space depending. 
Lift one knee up explosively and lift both arms at the same time as you jump up and forward on one leg. 
Land on the same leg and switch legs on the ground to skip with the other leg. 
To modify perform a smaller jump.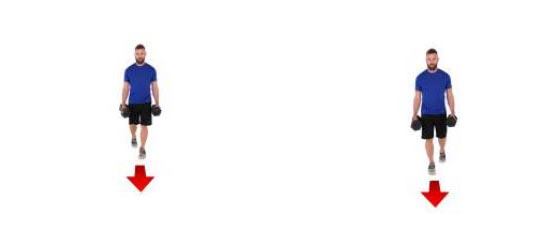 Cheese Curd Carry 
Place the dumbbells, weighted items or two buckets full of water next to your feet on each side. 
Squat down and lift them up.  
With the weights in your hands, walk forward. 
Farmers carry buckets of dairy every day keeping them strong. You can't make poutine without some cheese curds.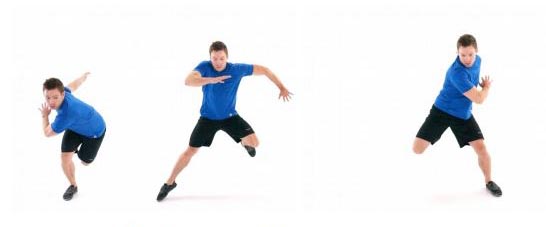 Good Ol Hockey Skaters
Start in a comfortable stance with enough space to jump laterally.  
Load your jumping side by getting into your hip, then jump explosively as far as possible to the side. 
When landing and during the ground contact time, the support knee must stay inside the foot. Try to land softly.  
Repeat immediately on the other leg to return to the starting position.  
To modify remove hopping motion, or lunge laterally.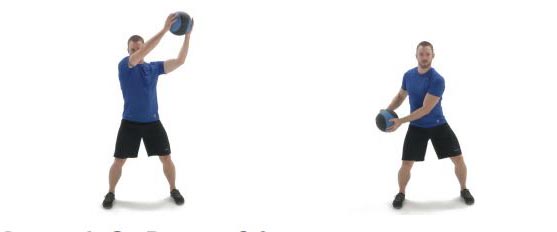 Lumberjack Wood Chop
Start in a stable and athletic position with your feet wider than your hips and knees bent. 
Lift any weighted item overhead on one side and lower it in a diagonal movement toward the other side. 
Do not round or rotate your hips or lower back; your trunk must remain stable.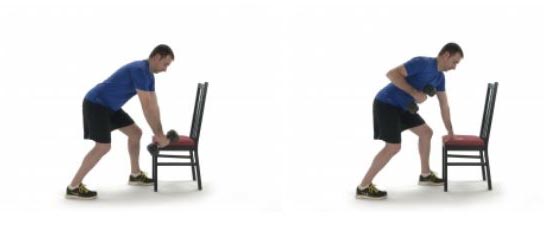 Beaver Sawing Wood
Stand with your feet wider than shoulder width apart, arm supported on a bench.  
Hold a weight (or a sturdy bag of books or cans) in your hand and let your hand hang down as shown. Bring your arm up, elbow close to your body until your elbow is at 90 degrees in a "sawing wood" type of motion. Immediately lower the weight in a controlled movement and repeat for the required sets and reps.  
Repeat on other side.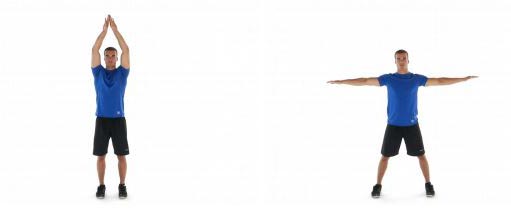 Eh! Jacks
Lift your arms above your head when your feet come together. Keep a slight bend in your elbows as you raise your arms. 
Lower your arms parallel to the ground when you hop open your feet. 
To modify tap out one leg out to the side at a time while performing the arms.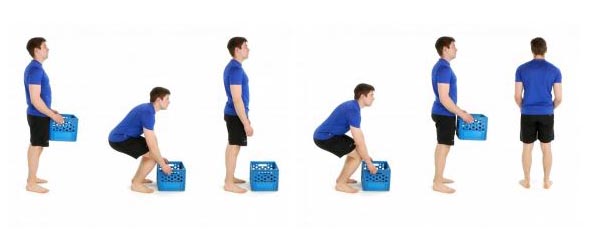 Canoe Carry
Lift a weight (crate, laundry basket, canoe) from the floor by bending the knees and by keeping your back straight. 
With the weight at hip height, turn 90 ° by keeping your knees and trunk aligned (do not twist). 
Lower the weight down on the floor by bending the knees and repeat. 
This is sure to get you ready for any Canadian adventure on the water this summer.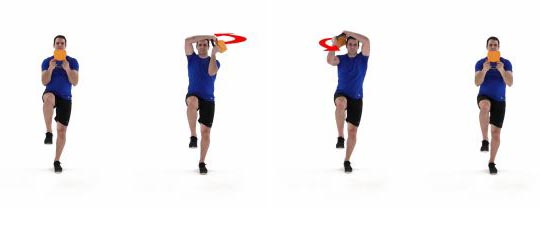 Put on your Toque
Hold a weight or weighted item like a big bag of pancake mix, or jar of maple syrup in front of your chest.  
Circle the item around you and come back to the starting position, doing a "halo" around your head.  
-Perform all the repetitions from one direction then repeat in the other direction.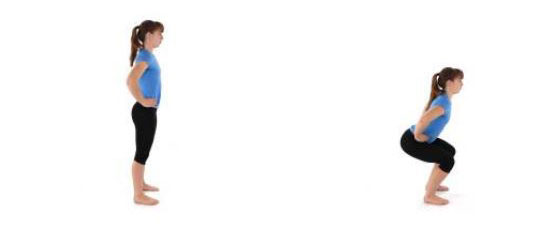 Slow like Maple Syrup Squat
Stand tall and place your hands on your hips and your feet hip width.  
Initiate the squat by pushing your hips back, as if you were sitting on a chair.  
Slowly (very slowly like thick maple syrup) lower yourself until the thighs are about parallel to the ground or to the point where you begin to lose the neutral spine by rounding your lower back.  
Lift back up and repeat.  
Make sure to keep the spine neutral and knees aligned with the feet at all times.