Cardio intervals
We are cele​brating Seniors' Week by encouraging you to stay active, fit and well! Part of staying fit as we age is participating in a variety of activities and exercises. With the nicer weather our options are endless: golf, hike, garden, bike, or try this cardio intervals workout.
​​Staying active is a great way to maintain bone strength, improve balance to reduce falls and to maintain and increase your strength. Doing a variety cardio workouts such as walking and gardening will keep your heart healthy and can elevate your mood. Strength training is vitally important for building bone mass, maintaining your balance and keeping your independence. Spring and summer is an awesome time to take advantage of the outdoors and to get active outside more often.
For outdoor walking, ensure you pace yourself. Start slowly and gradually increase the pace.
If you are a golfer, pass on using the cart and try walking for your round to get your exercise. Golf is now open but just ensure that you are practicing social distancing.
For strength training moves such as squats, make sure that you keep your chest up and sit backward. You can use a chair as a guideline to where to squat to and perform a sit to stand. Developing leg strength will help you with your day to day activities.
The saying "If you do not use it, you will lose it", is true so try to schedule in activity daily.
Walking is one of the best activities that you can do. You can walk in your neighborhood or take it to a non-busy pathway to challenge yourself. As paths, parks and green spaces get busier, ensure you practice physical distancing.
Using the stairs, if you are able to more often, is a great way to build leg strength.
If you are sitting for long periods, try to take frequent active breaks. You can do sit to stands, or leg extensions from the chair.
Make sure to stretch and keep your joints mobile every day.
Whether you are walking, gardening, or playing golf, ensure you engage the core while reminding yourself of the use of proper posture. Check in every few minutes on your posture.
Listen to your body when you engage in physical activity. Exercising with pain is not recommended. Slow it down, reassess posture and technique.
Check out the City at home online activity programs to try many different gentle workout options to include mobility and strength training into your routine.  ​
There is risk of injury when participating in exercise, physical fitness and physical training programs. If you have any concerns or questions about whether or not you should participate in exercise activities demonstrated on this website or videos offered on this website, you should consult with a physician or other health-care professional before starting any exercises.
The purpose of this NOTICE AND DISCLAIMER OF LIABILITY is to inform you that this website offers health and fitness information and is designed for educational purposes only. You should not rely on this information as a substitute for, nor does it replace, professional medical advice, diagnosis, or treatment.
BY PARTICIPATING IN EXERCISE ACTIVITIES FEATURED OR VIDEOS OFFERED ON THIS WEBSITE, YOU DO SO FREELY AND VOLUNATARILY AND ASSUME ALL OF THE RISKS AND HAZARDS OF PARTICIPATION, INCLUDING THE LEGAL RISK. THE CITY OF CALGARY DISCLAIMS ANY LIABILITY FOR INCIDENTAL OR CONSEQUENTIAL DAMAGES AND ASSUMES NO LIABILITY OR RESPONSIBILITY FOR ANY LOSS, PERSONAL INJURY (INCLUDING DEATH) OR DAMAGE (INCLUDING PROPERTY DAMAGE) SUFFERED BY ANY PERSON AS A RESULT OF THE USE OR MISUSE OF ANY INFORMATION, THIS WEBSITE AND VIDEOS MADE AVAILABLE ON THIS WEBSITE.
In consideration of performing or participating in these exercises shown on this website, you hereby agree to release and hold harmless The City of Calgary its officers, employees, volunteers and agents, against any loss, liability, damage, cause of action, cost, or expense of any nature whatsoever, including without limitation reasonable solicitors' fees and other legal costs.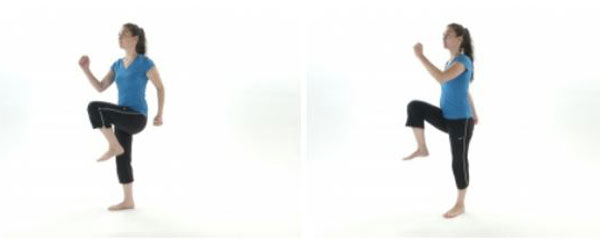 How to march on the spot
​​Stand with your feet about hip width apart. March on the spot, lifting your knees high.
Keep your posture upright as you do the exercise.
Modification - if balance is a challenge, hold onto a chair.​
​

---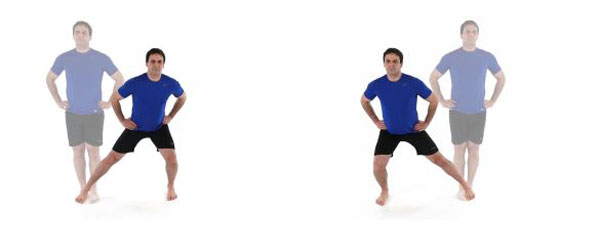 How to do side lunges (side steps)
Stand with your feet together and your hands on your hips.
Lunge to one side, keeping your knee cap at foot level and your back slightly arched (hips pushed back). -Come back to a standing position.
Repeat on the other side.
Recommendation: The landing must be soft and easy on your joints. The depth of the lunge is dependent on your level of comfort.
Modification: Use a chair to aid with balance.
​

---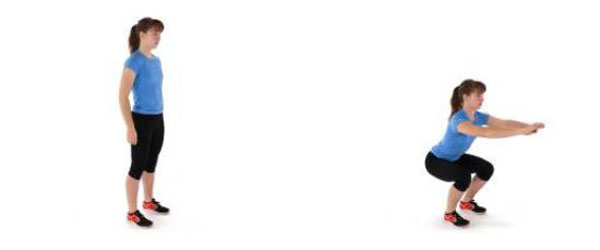 How to do a body weight squat
Push the hips back and flex the knees to lower the body down until the thighs are parallel to the ground or until you reach your comfort level.
Keep the back straight, chest out and shoulders down.
Balance yourself by raising the arms forward as you lower. ​
​

---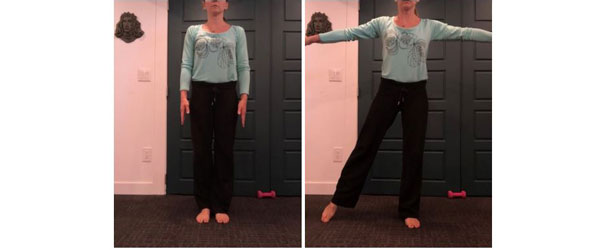 How to do a modified jumping jack
Standing hip distance apart.
Arms parallel to the floor, extend right leg to the side.
Return leg to start.
Repeat on the other side.
​
​

---
How to lunge to high knee
​

Step back with one leg and hinge at the hips. Place toes on the ground as both knees are bent.
Keep the torso erected.
Step back to return to the standing and bring the knee high up.
Bring the knee down.
Repeat on the other side.
Recommendations: Ensure to keep your hips level and do not twist your body (both shoulders facing forward at all times).
Modifications: Use a chair to aid with balance.
---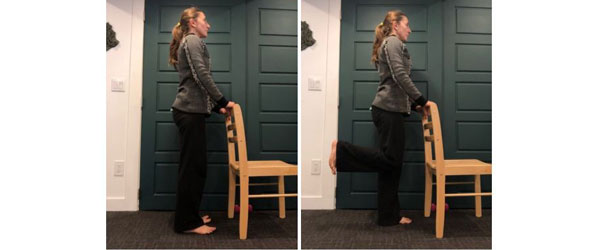 How to do leg curls
​

Stand with your back straight and your feet at hip width.
Transfer your weight to one leg and bend the other knee to bring the foot towards your buttock. Avoid arching the lower back or moving the knee forward while raising on the tip of your toes of the supporting leg.
Return to standing position.
Repeat on the other side.
​
​
​​​​​​​​​​​​​​​​​​