Media - Day 3 grades K-3 learning activities
These activities will help youth build a positive view of themselves and recognize their strengths while thinking about media. They can be done alone or with friends over a video chat such as Skype, Zoom, Facetime, etc.
Trivia question: When did people first walk on the moon? A) 1969 B) 1979 C) 1989
Mindfulness Activity:
Walk around the room.
Now walk slowly.
Now walk normally.
Now, walk VERY slowly.
Walk normally again.
Now, walk very very slowly.
How does it feel? Which Energy level is your favorite?
Supplies:
Have your child think of some positive messages and/or pictures that would make people feel good and happy. E.g. "Have a great day!" or drawings of a smiley face, rainbow, flowers, etc.
Draw them on your sidewalk, driveway, front porch or at a nearby park.
Supplies:
stuffed animals
dolls
action figures, etc.
Ask your child to find a few of their favourite toy characters that make them feel happy.
Have them explain why these toys make them happy.
Explain to them that we also want other people to feel that way too by sharing the happiness.
Have your child set up their favourite toys in a window to brighten the day of neighbours and people who walk by.​
Supplies:
rocks/pebbles
paint and/or markers
paint brushes
Find 3-5 rocks with your child that will be big enough to paint and write short messages on (ideally with rounded edges).
Using paint and/or markers, paint the rocks with bright colours. Add drawings and messages if you'd like.
Let them dry and place them in your garden or near your walkway to share with your neighbourhood.
Supplies:
6 different colours of construction paper
scissors
stapler
glue or tape
(optional) string and holepunch
All around the world, people are putting hearts in their windows to spread warmth and unity.
Draw half of a heart along the fold. Cut the heart out and set it aside.
Use the leftover paper as a stencil to create another slightly smaller heart on a different piece of construction paper.
Repeat for each colour of paper.
Glue the hearts on top of each other so that the biggest one is on the bottom and the smallest one is on the top.
You can layer the stencils you made to create another rainbow heart.
When you are finished, display them in your window to spread the love.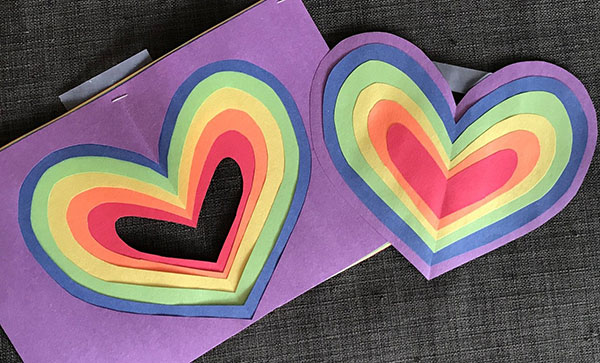 Ask your child:
What kinds of things do you think people need to hear right now?
What can you do tomorrow or next week to add something positive to the world?
​​
Answer: A) People first walked on the moon in 1969. That's over 50 years ago!​
​​​​​​