Playing with a variety of real tools gives children a sense of accomplishment and a desire for constructing, building, engineering and creating.  It also helps children build self-confidence, encourages independent learning and promote awareness of as a consequence of misusing the tools. 
---
Play Activity
Painting with tools is a great way to become familiar with tools and explore different shapes, color mixing and prints made by various tools. 
Sample Materials
Various washable colors of paint 
Paper 
Nuts, bolts and screws 
Screwdrivers, hammers and wrench 
Kitchen utensils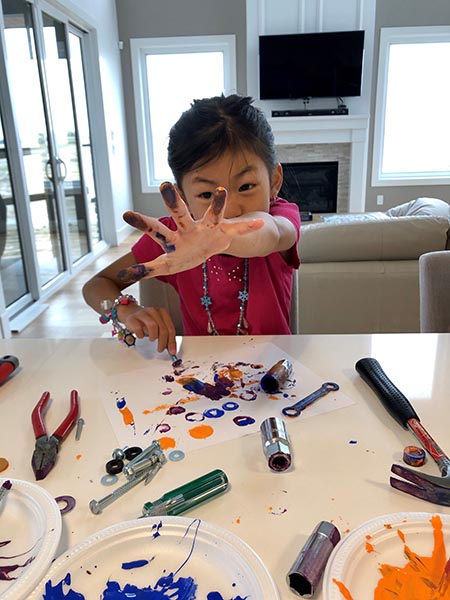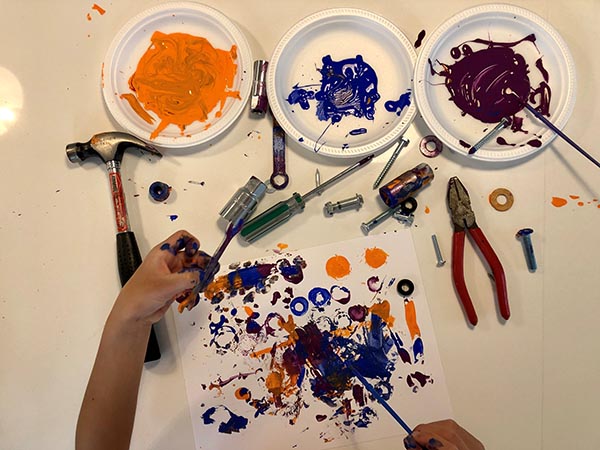 ---
Play Challenge
Squirrels are nimble, bushy-tailed rodents that can be found in your backyard, around parks or running across the fence!  Squirrels are always on the move to find food.  What household and recycled items can you use to build a squirrel picnic table or bench so that they have a place to eat and hang out? Remember not to feed the squirrels. They have enough natural food which is better for them.
Sample Materials
Scrap wood pieces
Jenga blocks 
Play blocks
Popsicle sticks 
Glue
Tape 
Nails
Safety glasses 
Small hammer