Water play is sensory, exploratory, and provides connections to nature and the elements. Children are naturally drawn to water and will especially enjoy playing with water outdoors.
---
Play Activity
Mud kitchen
What could be more fun than water, dirt and sand? A mud kitchen! Let your imaginations soar as you mix, pour, scoop and splash. "Kitchens" can be set up for long-lasting imaginative play.
Sample Materials
Pots and pans
Spoons, ladles
Sieves, colanders
Shovels
Small plastic containers (e.g. ice cream tub, yogurt cups)
Pie and muffin pans
Teacups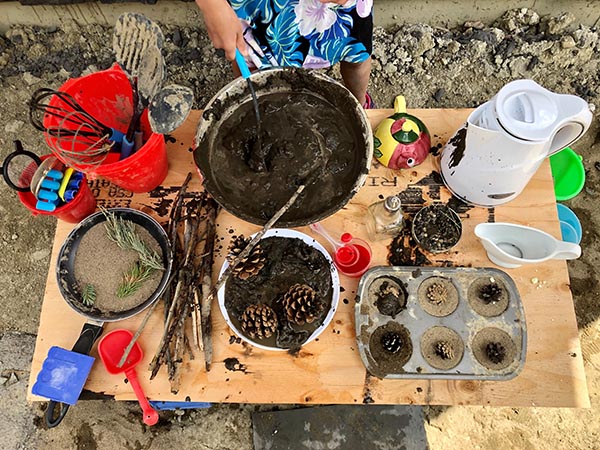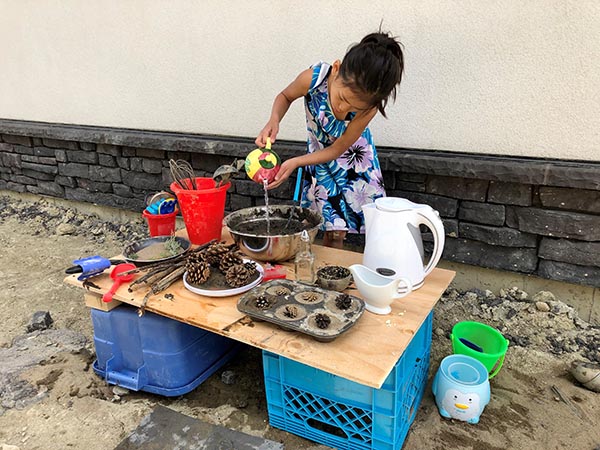 ---
Play Challenge
Build a raft that floats using natural materials. Give it a test in a large puddle, kitchen sink, or bucket of water. How many objects can your raft hold before it sinks?
Sample Materials
Leaves
Sticks
Plants
Grass
Anything you can find in nature