Beaulieu Gardens are the beautiful terraced gardens located in Calgary's beltline surrounding the historic Lougheed House. For Beaulieu Gardens booking information contact Lougheed House. 
Beaulieu Gardens are the terraced formal garden of the historic Lougheed House. The House dates from 1891 and was the home of Sir James Lougheed and family. The house is owned by the Province of Alberta and is run as a museum, while the gardens are managed by The City of Calgary Parks as an important cultural landscape.
Address: 707 13 Ave. S.W.
Area: .4 hectares (the green space on the SE corner of the park only).
Hours: 5 a.m. - 11 p.m.
Restaurant (in Lougheed House)
Beautiful plants and flowers
Reconstructed tiered lawns
Walkways
Benches
Nearby metered parking
In 1891, the Lougheed family constructed their majestic residence in a sweep of open prairie southwest of the developing downtown core of Calgary. The new home - christened with the regal name "Beaulieu" or "Beautiful Place" - was a powerful symbol of the Lougheed's growing prestige and influence. By the early 1900s, the 2.8-acre estate included the residence, carriage house and stable, as well as a formal garden with swan sculpture fountain.
Sir James and Lady Isabella Lougheed also entertained royal guests at Beaulieu, including the Duke and Duchess of Connaught and their daughter, Princess Patricia, as well as the Duke of Windsor (when he was Prince of Wales). Beaulieu remains one of the finest and last remaining sandstone residences in Alberta.​​​​​​​​​​​​​​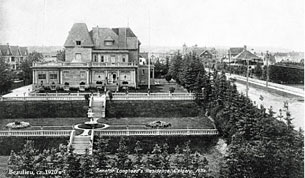 Calgary Parks

There are numerous community and public parks in Calgary to explore.

Contact us

Need additional information on our parks and activities? Want to request maintenance?