Confederation Park lies in the northwest part of the city. This crescent shaped park of more than 160 hectares was once known as "the North Hill Coulee". The wetland section, approximately eight hectares, runs between 14 St. N.W. and 30 Ave. N.W. The park was created in 1967 to mark the centennial of Canadian Confederation.
Confederation Park is home to the Confederation Golf Course (3204 Collingwood Dr. N.W.) and the Lions Festival of Lights that run annually in December and early January daily from 7 p.m. to midnight.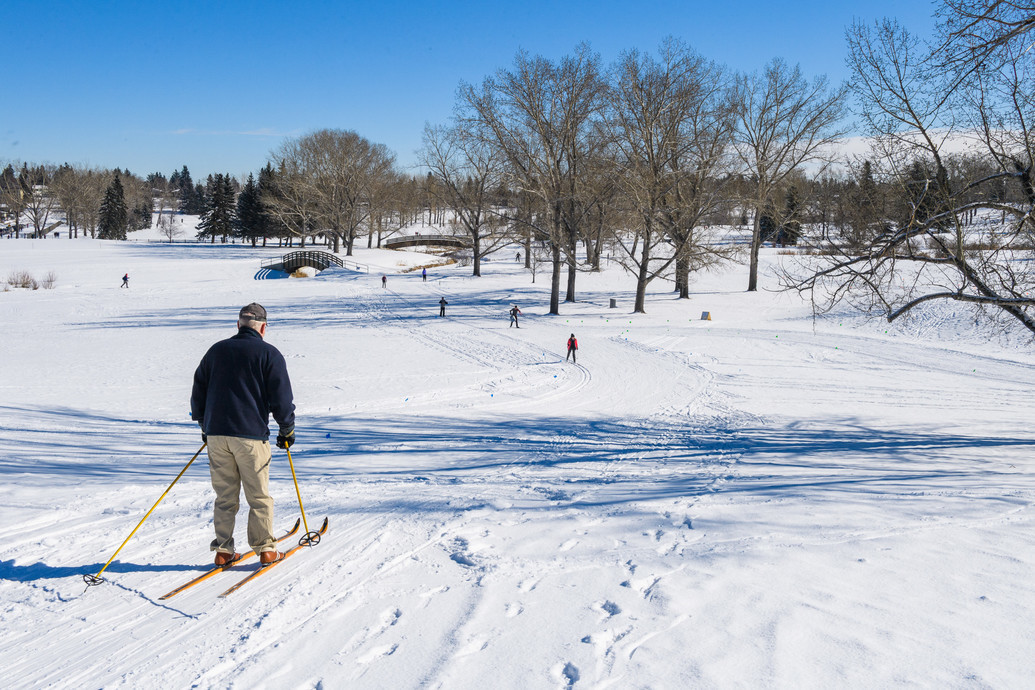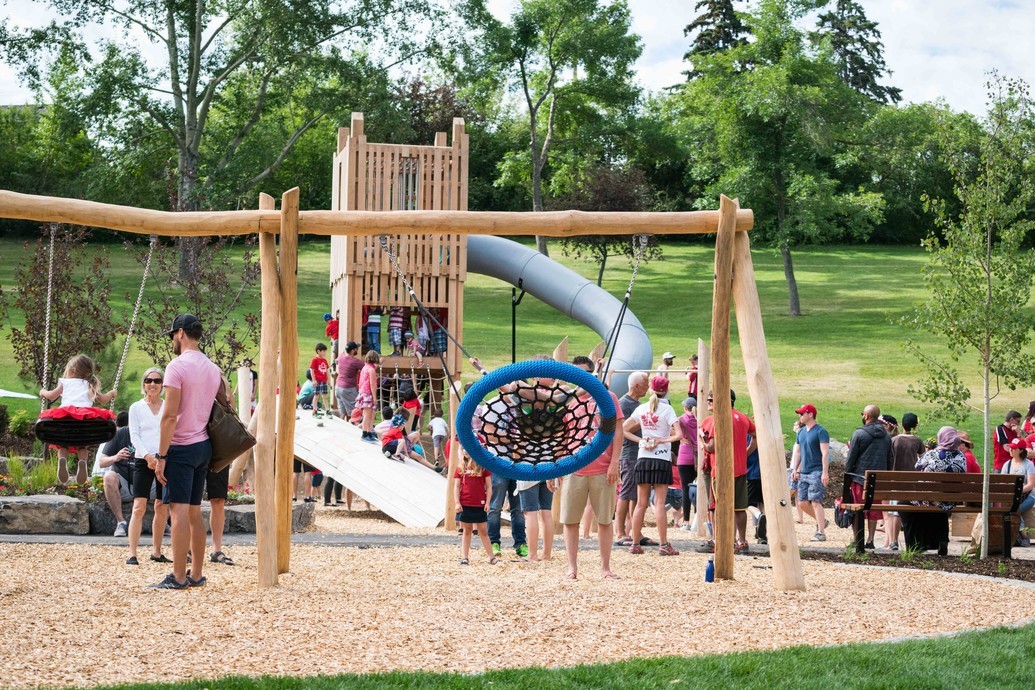 Nautral Playground
This playground was designed to celebrate Canada's 150th birthday. It features a large tipped over Voyageur canoe sculpture and includes accessible surfacing and equipment. Children can let their imagination run wild as they climb over and under the Voyageur canoe sculpture. A multi-level fort can be entered by using climbing nets and it rewards children with a thrilling 4.5 metre slide to the bottom. Timber steppers in the junior area challenge balance and help develop agility. Children can also enjoy a tactile and creative experience while playing with a water pump in the sand.
The site includes exercise equipment for adults to enjoy. As well as multiple seating areas on custom timber benches and stone seat walls. Tree stumps have been salvaged from another project to provide additional seating as well as passive enjoyment in a grove of existing spruce trees. The trees and shrubs throughout the area add interest, texture, and shade while children play.
Learn more about natural play spaces in Calgary
Pathways
Tennis courts
Baseball diamonds
Parking
Playground areas - natural playground
Picnic areas
Flower/rock garden
Wetland
Washrooms (year-round: approximately 7 am - 8:30 pm - weather pending)
Experience nature in the city
Stroll along a stream in a manicured recreational park with facilities like tennis courts and a golf course. However the park does have the stream and managed wetland running down the centre which, outside the golf course, is accessible to the public. Along the stream and throughout the park are mature deciduous and coniferous trees. The trees, shrubs and aquatic vegetation provide habitat for a considerable variety of birds and other wildlife--the most obvious being ducks, geese and gulls.
Plant life
The riparian zone, which is next to the creek, has trees such as Balsam Poplar and shrubs such as Water Birch, Red-osier Dogwood and several species of willow. They are all dependent on plenty of moisture. The dammed marshy areas contain Common Cattails, bulrushes and other aquatic vegetation.
Apart from the wetland area, the park has a number of other tree species including ash and spruce. Some, such as the Colorado Blue Spruce are exotic species.
Wildlife
The aquatic vegetation attracts dabbling ducks such as Blue-winged Teal and Mallards. You can also find Canada Geese and several species of gulls in the park. The aquatic vegetation supports a healthy population of muskrats and invertebrate species such as butterflies and dragonflies that you would expect to find around a wetland.
​​​​​​​
Confederation Park was created to celebrate Canada's Centennial in 1967. In 1965 the Centennial Ravine Park Society was established to advocate for the development of this coulee (ravine) as a park. This organization expanded its membership with individuals, business and service groups in the surrounding neighborhoods and throughout the city, raising support, funds and contributions.
The park was also created as a result of the vision of Harry Boothman, one of The City of Calgary's influential Parks Superintendants. Boothman envisioned a park created for the enjoyment of Calgarians, supporting unstructured activities and environmental preservation, rather than focussing strictly on ornamental parks or purely recreational spaces, as was standard practice at the time. The park is considered an outstanding achievement in landscape design. One of its most distinguishable features are the park's carefully moulded and sculpted topography, which was transformed from the once-jagged, rough, and steep coulee walls into gently sloped and contoured hillsides. While the park's theme is oriented around the naturally occurring stream and coulee, the park's design concept originates from a landscape style known as Picturesque, originating in England in the 18th century and still influencing the landscape architect profession today.
Calgary Parks

There are numerous community and public parks in Calgary to explore.

Contact us

Need additional information on our parks and activities? Want to request maintenance?