While simple tree care can be accomplished by almost everyone, there are times when professional help may be needed or required. A professional ISA-certified arborist can be a great resource to both you and your trees.
What does ISA-Certified mean?
An ISA (The International Society of Arboriculture) certified arborist has a minimum of 3 years experience in tree care and/or a college degree in horticulture, forestry, landscape architecture or urban forestry. They have also passed an exam covering all aspects of tree care.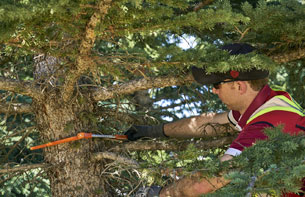 Arborist Services
Pruning – to ensure the health, appearance, and safety of your trees.
Planting – looking for recommendations on species based on climate, location or personal preference.
Insect, Disease or Site issues – preventive maintenance or treatment options for best tree health.
Emergency Tree Care – tree risk assessments and/or emergency tree care.
Tree Removal – When all else fails, an arborist can consult on tree removal.
Tips on hiring an arborist
Ask if they have insurance and worker's compensation. Make sure the policy is current - call the insurance provider. Better safe than sorry, as you can be responsible if an uninsured worker gets hurt on your property or if the arborist damages your neighbour's property.
Get more than one estimate if possible.
Ask for references and examples of their past work.
Don't rush into making a choice and when you chose an arborist, get them to give you a specific contract for the agreed-upon work, including all costs and tasks associated with the work.
Professional work is not cheap: a good arborist has several kinds of insurance and owns specialized equipment. You're hiring them for their experience and understanding of trees. Beware of work-estimates that fall well below the average.
You can have an arborist come out for a consultation without having work done on your trees.