The Centre City Plan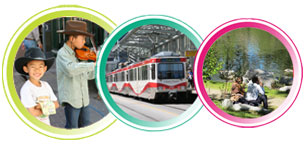 The Centre City Annual Update 2014-2015 reflects achievements made by The City of Calgary over the last year in implementing the Centre City Plan (2007). With a focus on safety, cleanliness, transportation, public spaces and community, the report outlines the major projects and programs that have been undertaken in an effort to fulfill the vision of the Centre City Plan.
The report also highlights The City's current year's plan for the Centre City – many are focused on continuing to make getting around the core easier and more sustainable; to improve cleanliness and safety; to create vibrant places for Calgarians and their visitors to enjoy; to enhance Centre City neighbourhoods; and, to grow and nurture community.
Other Centre City documents: 
Centre City reporting: 
Centre City policies, guidelines & plans:
​​​​​​​​​​​