Local Area Planning in Calgary
Timing, schedule, and communities involved
---
Communities currently involved in a local area planning process
Greater Forest Lawn (Area 23) – Albert Park/Radisson Heights, Applewood Park, Dover, Erin Woods, Forest Heights, Forest Lawn, Forest Lawn Industrial, Penbrooke Meadows, Red Carpet, Southview, 09Q, and a portion of Golden Triangle.

Riley Communities (Area 4) – West Hillhurst, Hounsfield Heights/Briar Hill, Hillhurst, and Sunnyside

Chinook Communities (Area 8) – Bel-Aire, Britannia, Elboya, Mayfair, Meadowlark Park, Parkhill, Windsor Park, Manchester, a south portion of Manchester Industrial and a small eastern portion of Glenmore Park.
South Shaganappi (Area 13) – Montgomery, Point McKay, Parkdale, St. Andrews Heights, University Heights, University District, Varsity, Banff Trail and The University of Calgary.
West Elbow Communities (Area 2/3) – Altadore, Bankview, Cliff Bungalow, Elbow Park, Erlton, Garrison Woods, Lower Mount Royal, Mission, North Glenmore Park (north of Glenmore Trail SW), Richmond (east of Crowchild Trail SW), Rideau Park, Roxboro, Scarboro (east of Crowchild Trail SW), South Calgary, Sunalta, and Upper Mount Royal.
Completed local area plans
Heritage Communities (Area 31) – Eagle Ridge, Kelvin Grove, Kingsland, Fairview, Haysboro, Acadia, Southwood, Willow Park, Maple Ridge and Chinook Park.
Westbrook Communities (Area 10) – Wildwood, Spruce Cliff, Westgate, Rosscarrock, Shaganappi, Glendale, Killarney/ Glengarry, Glenbrook and the portions of Upper Scarboro/Sunalta West and Richmond that are west of Crowchild Trail.
North Hill Communities (Area 5) – Highland Park, Mount Pleasant, Tuxedo Park, Winston Heights-Mountview, Crescent Heights, Renfrew, Rosedale, Capitol Hill, and Thorncliffe Greenview (south of McKnight Blvd.).
Timing and sequencing for local area plans
In time, The City aims to complete local area plans that cover all communities. Plans are sequenced with recommendations from the Established Areas Growth and Change Strategy, with particular considerations for equity in planning and major infrastructure projects, such as new LRT lines. The next local area planning projects will launch in 2025 and a decision on which plans will be made at the end of Q3 2024.
Local plans will take anywhere between 2.5 – 3 years to complete.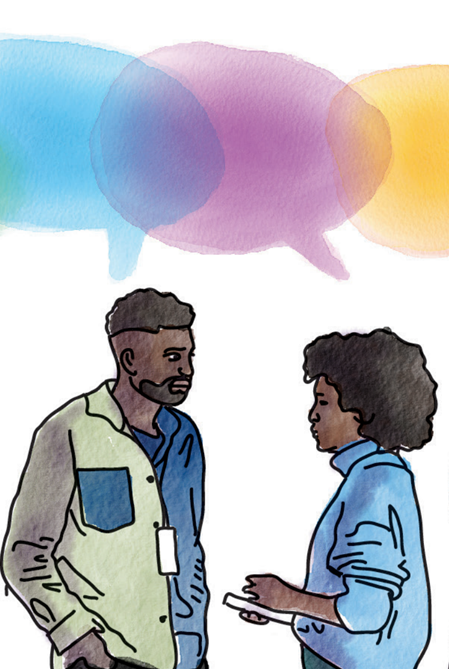 Local direction on redevelopment and reinvestment
When a neighbourhood reaches an age and stage when revitalization and redevelopment naturally start to happen, a local area plan is a helpful tool to have in place. A local area plan sets the vision for growth and change in a group of communities and provides direction on development and implementation options that residents, landowners, builders/developers, City Planners and Councillors can commonly refer to as new ideas are proposed for the area.
A local area plan supports neighbourhoods experiencing redevelopment by outlining:
An overarching vision and core values to guide the evolution of the area over the next 30 years.
A concept for where and how new development can be integrated into the neighbourhood over time (if/when development is proposed).
Development policies to help realize great development in the area.
Future local investment options to support growth and change.
Working together to create a local area plan
A local area plan is created by The City in coordination with participants including residents and landowners, local businesses, community associations and builders/developers. Generally, local area plans are created over approximately 2.5 – 3 years with input collected through an iterative engagement process. 
Key considerations as local area plans are created
A local area plan is influenced by several different sources including the community context, participant feedback, professional expertise, City policies and equity considerations. 'What we Heard' & 'What we Did' reports compiling all participant feedback, key themes and actions taken are created and shared at the end of each engagement phase.
Frequently asked questions
---
​​Find answers to some of the most commonly asked questions we've received about local area planning​
A local area plan identifies and guides where and how future growth and change should happen within a specific area. A local area plan aims to integrate and enhance the existing fabric of communities as redevelopment occurs to ensure the area is vibrant and thriving in the future.
A local area plan includes the following sections, aiming to answer the accompanying question and includes the associated key components:
Visualizing growth – What is the vision for the area? (vision and core values)
Enabling growth – What type of growth makes sense where and what local/custom direction is needed to realize great development in this area? (future growth concept and development policies)
Supporting growth – If growth occurs, what physical and social investments are needed? (future investment goals and priorities)
Local area plans provide guidance and direction as new communities are being built and when they reach their natural redevelopment life cycle stage.
When a neighbourhood reaches an age and stage when revitalization and redevelopment naturally start to happen, a local area plan is a helpful tool to have in place. A local area plan encapsulates a future vision for the area and provides development direction that residents, landowners, builders/developers, City Planners and Councillors can commonly refer to as new development ideas are proposed for the area.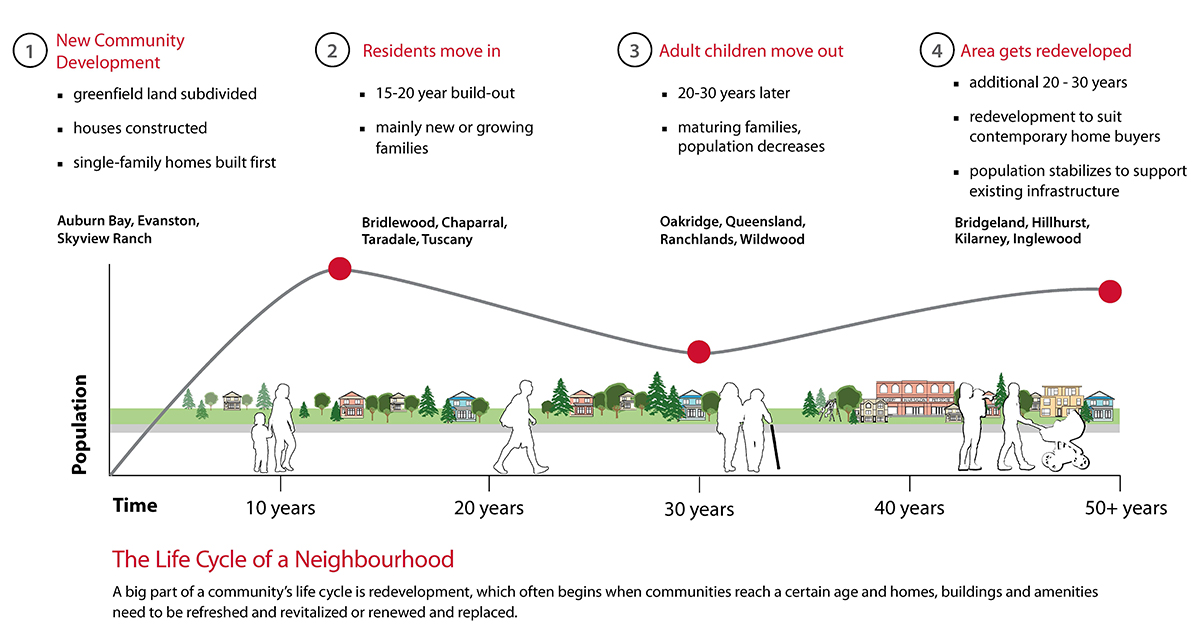 Looking more broadly, across the whole city, we need to consider where and how growth and (re)development should happen.
We need to consider:
Changing housing needs and preferences
Sustainability and urban footprint of our city
The need to balance the cost of new and maintaining existing infrastructure, amenities and facilities to support both new and established communities
The need to balance our population across both new and established communities to ensure local schools, facilities and businesses are supported and can be sustained within our established communities.
The City is responsible for managing growth and development across Calgary and looks at how and where growth should happen. There are key areas where growth and development is encouraged and a city-wide plan for growth to be distributed between developed and new communities. Learn more about Calgary's Municipal Development Plan.
When looking at the best way to create and update local area plans on an ongoing basis, it is clear that creating local area plans based solely on community boundaries is not sustainable – there are simply too many communities.
Alternatively, when looking across our city, there are shared amenities (such as local businesses, transit stations, recreation facilities and schools) that naturally join people and communities together as well as physical boundaries (such as major roads, rivers and large natural areas) that naturally separate us. Our daily experiences are not confined to our immediate community. For example, perhaps you live in a community without a grocery store, so you visit a neighbouring community to buy groceries, travel along a main road through multiple communities to get to and from work, or go to a neighbouring community to take yoga, eat at a restaurant or walk your dog.
By grouping communities based on physical boundaries and shared connections and amenities, communities can be grouped, discussed and planned together. This is the basis behind the concept of The City's local area plans.
Local area planning has the following benefits:
Creates stronger linkages between communities and to key amenities and infrastructure.
Allows for better identification of common issues, opportunities and solutions.
Enables a more holistic discussion about where and how new growth should happen across a larger geographic area.
Includes a broader citizen and partner perspective in each plan.
Allows for more effective engagement and plan development, which is essential toward replacing obsolete and ineffective plans with modern planning tools.
Results in fewer plans across the city, enabling plans to be updated more frequently and consistently to ensure they continue to address current conditions.​
Local plan areas are primarily established by using large roads (such as Crowchild Trail, Deerfoot Trail, Anderson Trail, McKnight Boulevard, Shaganappi Trail) or geographic features (rivers, major parks such as Nose Hill, Confederation or Fish Creek parks) as they create more physical boundaries between geographic areas of the city. These features are easily identifiable on a map, and they  shape how we go about our daily lives Planning more holistically across groups of communities allows us to better consider how to best integrate existing amenities with new development and investment.
While some boundaries are obvious (Deerfoot Trail for example), others are not, and some communities or parts of communities may fit equally well into one neighbouring plan area or another. Ultimately, every community will be included within a local area plan with neighbouring communities.
No. Just as being part of the same city does not mean that all communities are treated the same, being part of the same local area plan does not mean all communities are treated the same. Geographic features, infrastructure requirements, mobility networks, community layout, history and market forces will continue to shape the unique trajectories of each community, and local area planning processes will take those factors into account. Just like each community will have different areas that have unique characteristics, communities within each local plan also have unique characteristics that help shape the role they play.
The Guide for Local Area Planning is a reference document that includes information, policies and tools that can be used to help develop a local area plan. It gives us a common language for building scale and urban form categories that for us to use when talking about and planning for growth and change. 
Landowners determine if and when to propose to rezone their land. If a land use rezoning (redesignation/land use amendment) were brought forward for a parcel it would be reviewed for alignment with the local area plan, if/when adopted by Council. If no local area plan or local policy guidance is in place, development proposals are reviewed against other Council-approved City policies including the Municipal Development Plan.
In limited cases, The City (rather than a specific landowner) may propose to rezone land; however, City-initiated land use rezonings would be clearly identified as such, prior to being brought forward to Council for decision. City Council is the decision maker on all land use redesignations and these decisions are made inclusive of a public hearing process.
Local area plans are meant to be living documents that may be amended and updated over time as the community changes and evolves and as conditions and circumstances in the area change.
City Council is the decision maker for all amendments to a local area plan.
Input provided by citizens and partners helps the project team understand perspectives, opinions and concerns throughout all phases of the project. Input collected in each phase of the project helps influence and inform the concepts and policies that are created and refined throughout the process. Throughout the project, the project team shares what was heard, highlights the key themes raised, and provides responses for how key themes will be addressed and considered.
Although it would be a great outcome, the goal of public engagement is not to reach consensus or make everyone happy. Public engagement is about considering the input, ideas and perspectives of those who are interested in or impacted by decisions, before decisions are made. Public input is an important part of local area planning, but is one of many areas of consideration. Other areas include: City policies, professional expertise, context & trends, and equity – which all factor into the ultimate decision-making process and concept development.
​​​​​​​​​​​​​​​​​​​​​​​​​​​​​​​​​​​​​​​​​​​​​​ ​​​​​​​​​​​ ​​