Parkdale Plaza, located along the Bow River at the end of 34A St. NW, is a new plaza for Calgarians to pause, enjoy and reflect. The plaza will be The City's newest Landscape of Memory community hub along the Memorial Drive corridor, and the second, after Poppy Plaza, that will transform an open space along the corridor into a vibrant public space.
The City started construction on the new plaza in April 2014 and is anticipating the plaza to open to the public this month (June). When completed, the plaza will feature benches, bicycle racks, new trees and vegetation, low level lighting, and an art sculpture that connects Calgarians to the Bow River.
About the plaza
The plaza will be a great enhancement to the area. The new plaza will give people a place to sit, take in the view and reflect. It will also offer Calgarians a unique view of The City's stormwater system and its impact on the health of our rivers through an integrated art sculpture.
The sculpture is designed by Brian Tolle and supports the vision of The City's Utilities and Environmental Protection (UEP) Public Art Plan. It's an inverted replica of Mount Peechee, the third highest peak in the Fairholme Range in Banff National Park. Visitors can look down into the inverted mountain and witness the water that runs through The City's underground stormwater infrastructure (called an outfall) and into the Bow River.
The site for the new plaza does not lie in the flood plain and was not damaged during the 2013 flood. Planning for the plaza began in 2009, with construction scheduled for spring 2013. However, the project was delayed due to a combination of circumstances and was put on hold so The City could deal with the impact of the flood in other areas.​​​​​​​​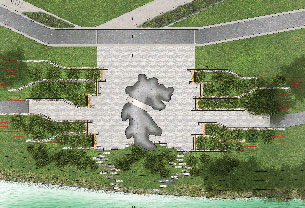 Artist rendering of Parkdale Plaza
​​​​​