Information for tenants on renting a safe and legal suite.
How to identify a secondary suite before you rent
---
There are many kinds of rentals in Calgary.
A secondary suite is a second dwelling unit contained within a house. The house can be a single-family home, semi-detached (side-by-side), duplex (up and down) or rowhouse. The suite is commonly located in the basement as a separate dwelling unit.
The suite must include a bathroom, cooking facilities, sleeping area, and have direct access to your suite without going through the main residence.
In addition to basement suites, there are also backyard or garage suites which are separate from the main dwelling unit. They are typically located above a garage, or in the yard. 
When viewing properties, you can also look for the registration sticker which should be visible in the unit.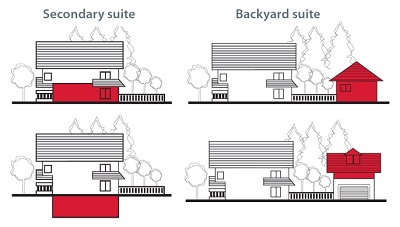 Illegal suites exist in Calgary
---
There are many secondary suite properties which are illegal because they have not been inspected by The City of Calgary. Property owners must complete the process to legalize a suite which includes meeting minimum safety requirements under the National Building Code – Alberta Edition and meeting the requirements of the Land Use Bylaw.
Use the Secondary Suite Registry to verify legal suites
---
The City of Calgary's Secondary Suite Registry is an online, searchable map that shows every legal and safe suite in Calgary.  
Before you sign a lease, go to our Secondary Suite Registry
Enter the address of the property into the search bar
If the address appears on the map, it is legal and safe
If the address does not come up, the suite is not registered
Look for the legal suite icon on RentFaster Calgary
---
If you are searching for basement, backyard or garage suites on RentFaster, you can look for the legal suite icon.  Click the icon to verify that the suite is legal on our Secondary Suite Registry.
When viewing properties, you can also look for the registration sticker which should be visible in the unit.
What to do if a suite is not on the Registry
---
Once you have determined that the suite is not on the suite registry:
1. Contact your landlord or property owner. In an email or letter, ask if the suite is in the process of being registered or express your concerns about the suite.
2. Initiate a complaint. Contact our Planning Services Centre to report the address of an illegal suite. Be prepared to provide us with your contact information.
Note: The property owner may decide not to legalize their suite, in that case, the suite would need to be removed.
Additional resources for tenants
---
Government of Alberta
Public Legal Education Alberta
Alberta Health Services