Community impacts of COVID-19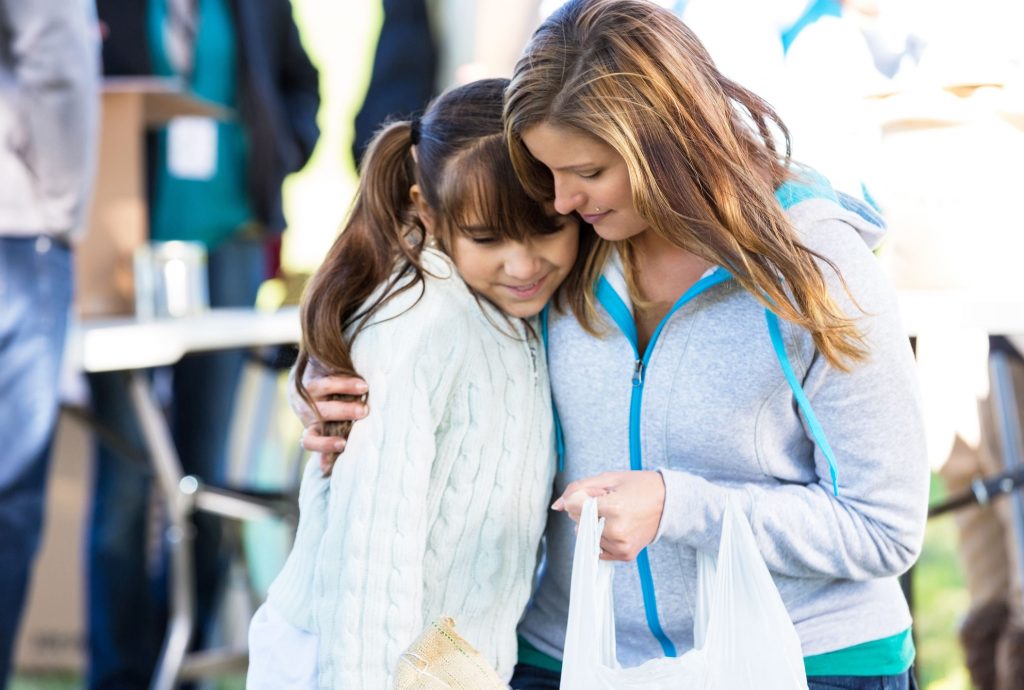 As Calgary continues to face the global pandemic, we continue to monitor impacts to the community in order to support Calgarians through these challenging times. 
What's happening in the community
---
The City of Calgary continues to monitor what is happening in the community and its response to COVID-19 in order to meet the needs of citizens in a timely manner. At the same time, The City closely monitors service and financial impacts due to the ongoing pandemic.
Since the April COVID-19 report, there have been several significant developments. The Provincial government eased public health restrictions and on July 1 Alberta entered Stage 3 of the Open for Summer Plan. Restrictions on social gatherings (indoor and outdoor), recreation, performance, and entertainment activities, as well as business closures and capacity restrictions for large events have all been lifted. The City of Calgary repealed the Temporary COVID-19 Face Coverings Bylaw (26M2020) on July 5, 2021, although for the protection of patrons and staff, face coverings continue to be required in City-owned and operated facilities.
The City reached out to citizens to understand the impacts of COVID-19 through a Citizen Perspectives Survey conducted from May 6 to 13 (see image below for a summary of the results). Notable results include a decrease in satisfaction with The City's COVID-19 response at 63%, down from 73% in March. Additionally, the percentage of respondents saying The City's COVID-19 response has been "helpful" is down to 69% from 76% in March, and respondents saying the City's response has been "quick enough" has also dropped to 62% from 74% in March. Optimism that the worst of the pandemic is behind us has fallen to 46% from 61% in March.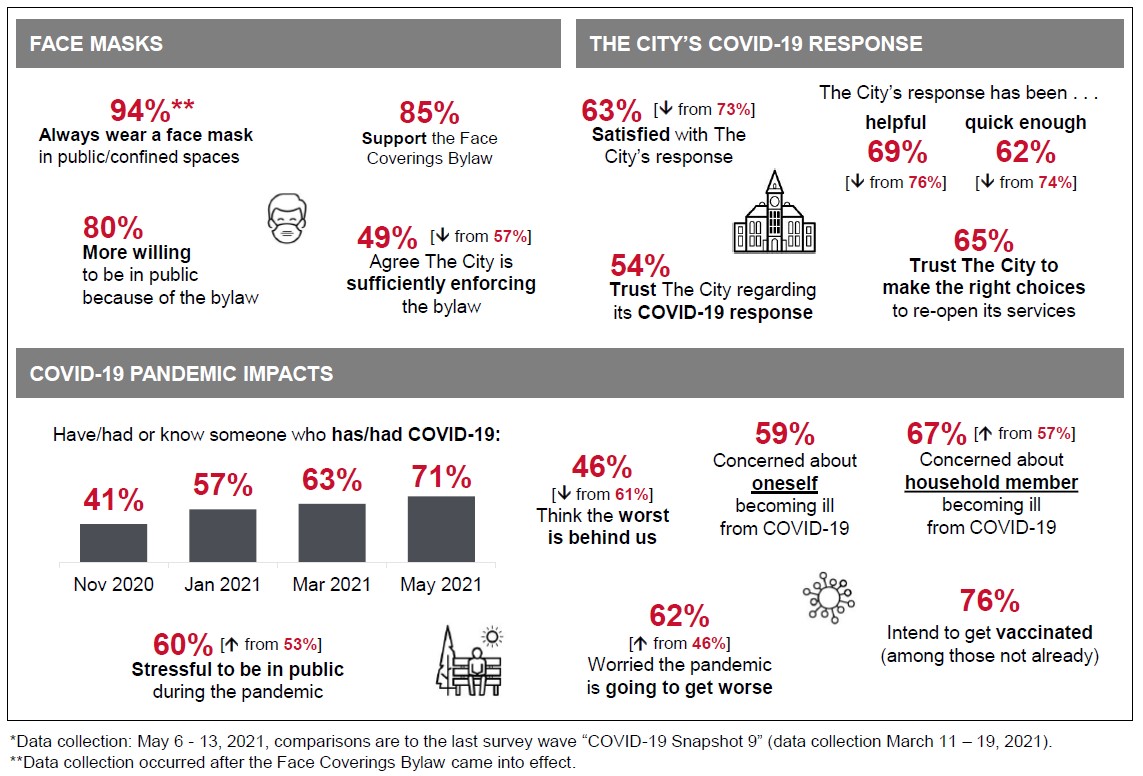 Access to Social Support Services
Half of Calgarians (49%) report that their mental health has worsened during the pandemic. Calgarians have been negatively impacted by the pandemic in more than one way resulting in more than one quarter of Calgarians (27%) seeking out social support services during the pandemic which they did not use before. Of those receiving social support services, financial support (72%) was the most accessed service, followed by mental health support (13%).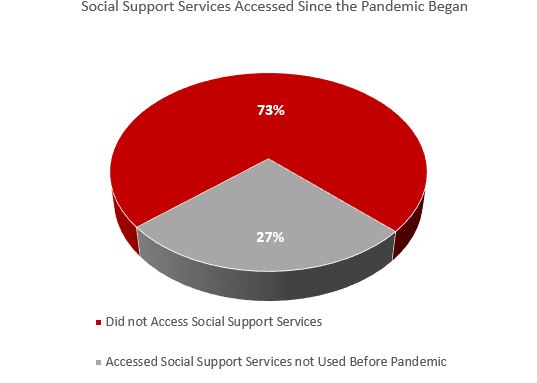 Source: City of Calgary 2021 Citizen Perspectives Survey Report COVID-19 Snapshot 9
Unemployment
The unemployment rate in the Calgary Economic Region was 9.1% in 2021 June, up from 8.9% in May, but well below the 2020 June unemployment rate of 15.1%. The lifting of public health restrictions may have a positive effect on employment.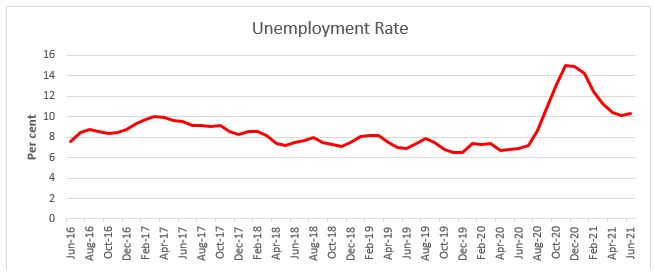 Source: Corporate Economics
Building permits
The total monthly value of building permits was $474.4 million as of May 2021, compared to $718.0 million in February. However, that high February value was due to two major projects related to the new BMO Centre expansion.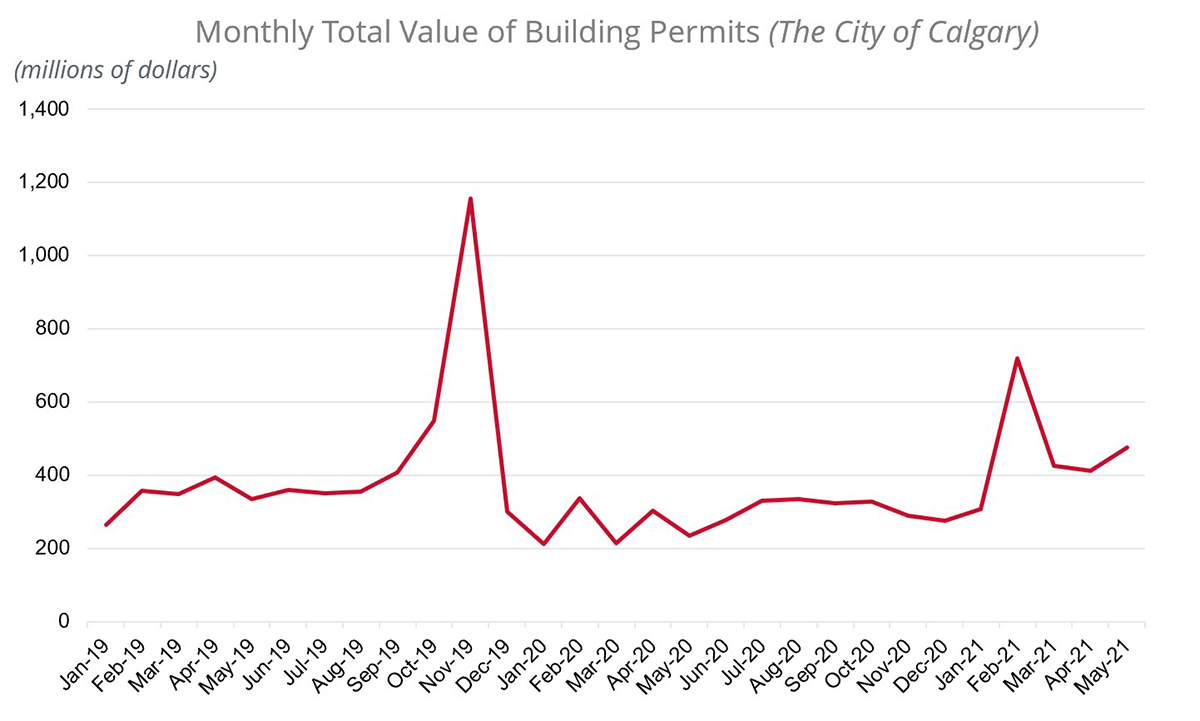 Source: The City of Calgary Building Permit Application Statements
Mobility
Bus and Ctrain average weekday boardings continue to be well below pre-COVID-19 levels. Bus and Ctrain boardings totaled 170,000 in the week of June 7, 2021, compared to 108,000 in the week of June 8, 2020. Calgary Transit has 31% of average annual pre-COVID ridership with 80% of pre-COVID service.

Since March, taxi and rideshare trips have decreased slightly. While taxi and rideshare trips in May 2021 are above 2020 volumes, they are still well below the number in May 2019.