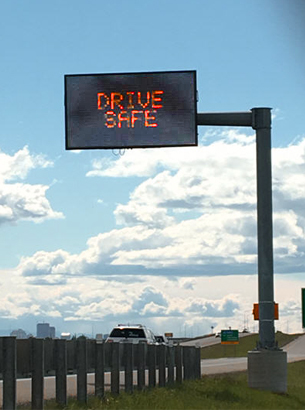 Dynamic Message Signs (DMS) provide motorists with information about traffic tie-ups, congestion and advise motorists to seek alternate routes when there are major delays or road closures.
The City owns and operates over 80 Dynamic Message Signs, more than half of which are communications enabled and can be monitored and controlled from our MOC (Mobility Operations Centre).
The DMS message display is controlled by a built-in cell phone modem. Commands to the signs are issued by the MOC in order to inform approaching motorists of current traffic alerts.
In 2020, The City announced a partnership with Alberta Transportation to add additional Dynamic Message Signs at various locations along Stoney Trail.
Overhead traffic alert signs
Advanced Travel Emergency Management Systems (ATEMS) are installed throughout downtown on overhead traffic alert signs​. These digital message signs (DMS) on +15 overpasses and freestanding poles provide traffic incident information, including major collisions and planned or emergency road or lane closures, to better inform motorist's downtown of incidents that could impact their commute. ​​​