Where there's water, there's risk
The importance of safety on all of Calgary's waterways cannot be understated. To help everyone reduce their risk while enjoying the water, we have compiled what you will need to keep your family and friends safe on the water.
Planning a day on the water
While you're planning your day on the water, be sure to check:
Remember to tell someone responsible where you are going and when you expect to return.
Want to learn more about floating on the river?
If you want to learn more, we have put together some tips about where to start, what to bring, how to assess hazards, etc.
​​​
Bridge pillar hazards 
Many water rescues occur around or near bridge pillars (or abutments). Plan your route and have the proper paddles or oars to steer your watercraft around bridge pillars. Never tie watercraft together. This will help maintain control and prevent your watercraft from tangling or getting caught on bridge pillars or anything else above or below the water's surface.
Life jackets are required
Regardless of the weather, if you are a strong swimmer, or in slow-moving, shallow water, you are required to wear a lifejacket or personal flotation device when using watercraft such as kayaks, paddleboards, canoes, dinghies, inner tubes and rafts. Lifejackets are critical for children and inexperienced swimmers. 
Get the correct size. Lifejackets and personal flotation devices have manufacturer size recommendations to help you find the right size. For adults, chest size—not weight—determines the correct size. For children, weight determines the size. 
When wearing a lifejacket or personal flotation device, start by loosening the buckles and straps. Then fasten the buckles and straps from the bottom of the jacket to the top to ensure a comfortable fit. 
Test the lifejacket or personal flotation device by holding your arms over your head and asking someone nearby to grab the tops of the arm openings and gently pull. Make sure there is no extra room above the arm openings and that the jacket does not ride up over your face or chin.
Remember, there is a mandatory court appearance and up to $500 fine for not wearing a life jacket or PFD on Calgary's waterways.
​​
Keep kids safe around water
Always keep toddlers or young children within arm's reach while in or around all bodies of water. This applies to rivers, lakes and backyard bodies of water like ponds and pools. Lifejackets are critical for children and inexperienced swimmers. Encourage children to learn to swim and what to do in an emergency on the water.
Did you know?
A child can drown in as little as five centimetres (two inches) of water. An adult should always accompany small children around any body of water, including wading pools, bathtubs, toilets and standing water left in buckets.
Before going on the water
Always SCOUT, ASSESS and DECIDE from shore before going on rivers, lakes and waterways.
Scout the river for potential hazards and check the weather and water conditions.
Assess the level of danger. Check for river advisories and assess the swimming and paddling skills of your crew.
Decide if it is safe to raft or boat.
​​
Bring the right supplies
Watercraft suitable for the body of water and conditions.
Properly fitting life jackets for everyone on board.
Water, hats and sunscreen.
Cell phone to call for help in case of emergency.
A complete water safety kit.
What's in a safety kit?
Water safety kits are required on all types of watercraft, including kayaks, paddleboards, canoes, dinghies, inner tubes and rafts. 
Water safety kits should include: 
Water bailing devices to remove water from inside the watercraft. 
A sound-signaling device (portable air horn, whistle, mechanical whistle or bell) to alert others of your approach, or in case of emergency. 
At least 15 metres of heaving rope, towing line or floating line to help pull your watercraft to safety. 
Waterproof LED flashlight and SOS mirror to call or signal for help in an emergency. 
When on waterways, it is also recommended that you have: 
A cell phone, extra batteries and clothing in a waterproof bag. 
Water to stay hydrated. 
Hats, sunglasses and sunscreen to stay comfortable.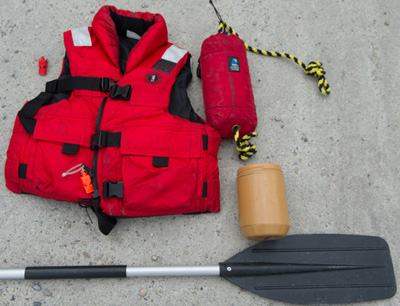 ​​
​​ Cold water shock
Cold water applies to any body of water with a temperature of 20° C or lower. Falling into cold water puts people at risk of cold water shock, which can reduce a person's ability to swim or stay above water. If you fall into cold water don't panic, try to get control of your breathing and, if possible, calmly get out of the water. If you cannot get out of the water, lean back in the water and keep your airway clear to maintain breathing levels until help arrives. 
​​What to do if you see someone in trouble in the water
Call for help and call 911.
Throw them something to hang onto that floats.
Reach out to them with something they can grip and pull them back to the shore or row out to them, if you can do so safely.
If you cannot reach them, keep them in your sights and memorize the location and a description of their clothing.
Make sure that they receive medical attention for injuries when they get back to shore, even if there are no apparent wounds. 
DO NOT enter the water unless you are trained in water rescue. 
Intoxication on the water is dangerous and illegal
Consumption and transportation of alcohol and drugs is illegal on Calgary's waterways. Intoxication makes it difficult to control a watercraft and react to the unexpected situations. Police and Bylaw officers patrol Calgary's waterways throughout the summer. Anyone engaging in unsafe or disrespectful behaviour on the water will be subject to fines.
​​
Harvie Passage
Construction on Harvie Passage has been completed. Visit the Government of Alberta website for more information.
Learn to swim
Swimming is a life-saving skill. We offer year-round swimming lessons for all ages, as well as First Aid and National Lifeguard certification classes.
Registration for lessons and classes is ongoing.
​​ ​​​​​​