Providing Calgarians with a safe, reliable and welcoming transit system that people want to use is a high priority for The City of Calgary. We know the critical role that transit plays in the lives of Calgarians – it's how they get to work and school, to be with their friends and loved ones, and to get to their appointments and activities.
In June 2023, Council approved Administration's recommendation that The City explore an enhanced staff model and associated infrastructure for inclusion in The City's multi-disciplinary transit safety strategy. It was agreed that In Q3 2023, Transit Public Safety would present Council with an assessment of actions already taken towards a multi-disciplinary transit safety strategy and outline next steps. In advance of that report, Council approved the one-time transfer of funding from the Fiscal Stability and Operating Budget Savings Account Merged Reserve to the Public Transit service.
On October 2 the proposed Public Transit Safety Strategy will be presented to the Community Development Committee, and then to Council on October 17.
What does the proposed Public Transit Safety Strategy recommend?
---
Addressing social disorder on public transit. The Public Transit Safety Strategy has specific actions to address harm, social disorder and crime on and around transit.
Taking a compassion-first approach to addressing social disorder on public transit.  The proposed Public Transit Safety Strategy prioritizes the well-being, safety and security of riders and employees. Calgarians experiencing vulnerabilities on and around the transit system will be connected to supportive resources. The strategy is committed to ensuring transit is used for its intended purpose of getting Calgarians where they need to be.
Implementing an enhanced staff model and associated infrastructure, as recommended by the Canadian Urban Transit Association (CUTA). The City of Calgary is the first municipality in Canada to implement several of the recommendations in the Canadian Urban Transit Association's (CUTA) 2023 Prioritizing Safety on Public Transit, specifically adopting the multidisciplinary model.
Recognize that public safety reaches beyond transit.  The City is collaborating with numerous partners, social agencies, boards, committees and commissions to explore new approaches to prevention and intervention within the community – to connect people experiencing vulnerabilities with the resources they need. 
What has been done with the additional funding for transit safety that Council approved in June?
---
In June, Council approved the one-time transfer of funding from the Fiscal Stability and Operating Budget Savings Account Merged Reserve to the Public Transit service. With this funding, Transit Public Safety was able to immediately hire an additional 32 peace officers. Thirteen of these new recruits have previous experience and graduated in early September. The other 19 recruits will graduate in November. These new officers will join the 28 officers that were hired over the past 12 months, who are already patrolling the transit system.
Budget was also approved for immediate infrastructure improvements. On June 5, a team of nine Transit Peace officers relocated to the downtown core. This new work location allows them to respond quickly to calls for service in the area. In addition, Transit Public Safety is in the final stages of remodeling existing infrastructure to facilitate the future move of officers to district offices in NE and SW Calgary. 
What are we doing to improve Transit safety?
---
Our uniformed Calgary Transit peace officers are highly trained and skilled professionals, who help ensure you get home safely every day. They patrol our transit systems 24 hours, seven days a week, proactively preventing disorder and providing help in emergency situations. Night patrols are conducted in partnership with Transit peace officers and Calgary Police Service officers seven nights a week.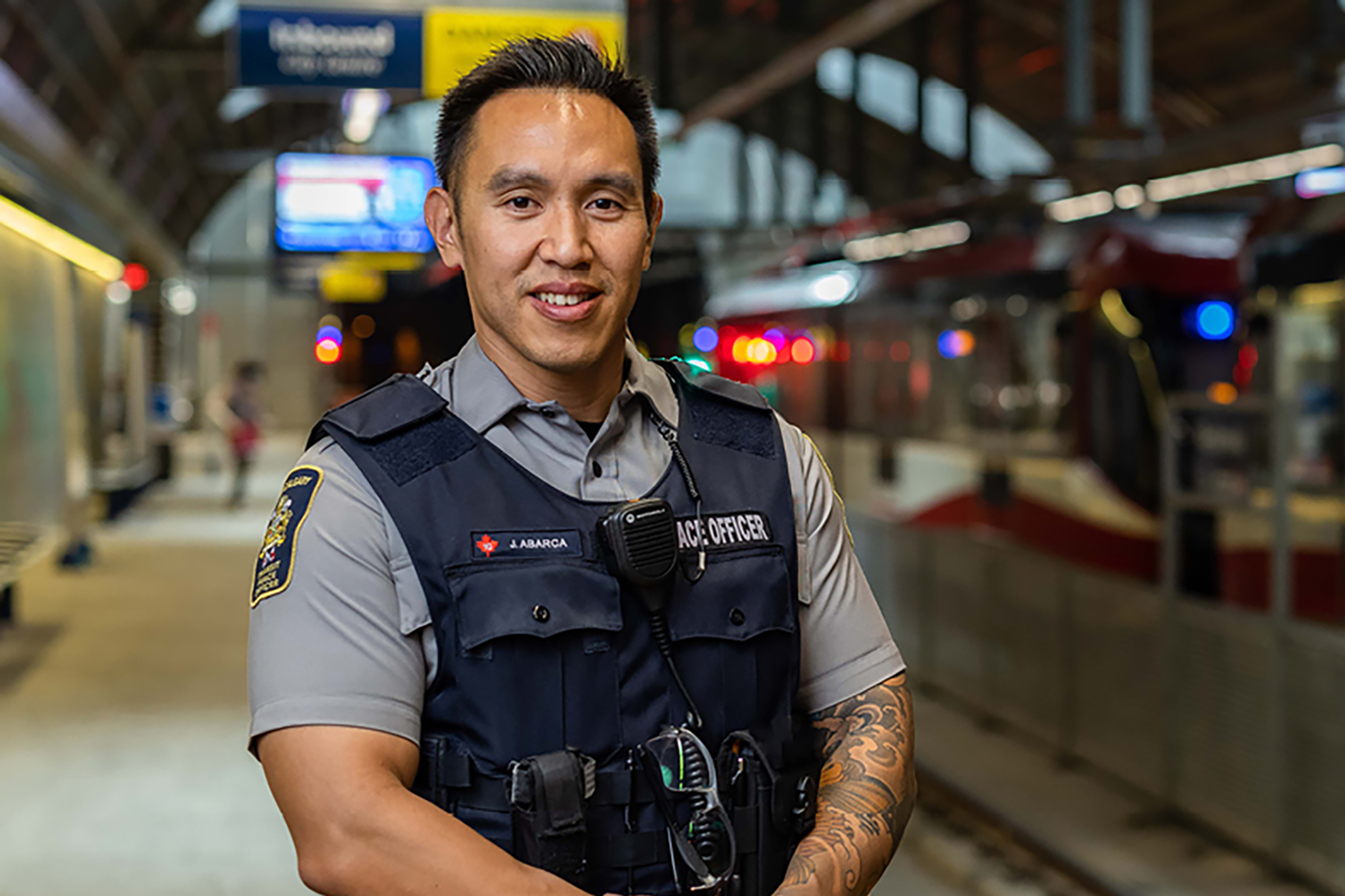 We have hired 28 new Transit peace officers since August 2022. This brings our total number of Transit peace officers to 141.
Calgary Transit's Community Outreach Team is a partnership between Transit peace officers and the Human-centered Engagement Liaison Partnership (HELP) team, to provide compassionate access to social supports. Officers do welfare checks, advocate for clients and connect them with a variety of social support including accessing shelter, detox treatment and healthcare.
On average, each month, the COT team connects with more than 300 individuals, filling out 21 housing assessments and completing 88 agency referrals.  These individuals may be the victims of hate crimes, a missing person who has ended up on Transit, or someone whose behavior on the Transit system is generating regular concerns raised by other riders. The COT team works closely with Calgary Police Services (CPS). Often, the COT team and CPS teams deal with the same clients.
This proactive work not only assists the individual in the moment, but it also reduces the load on emergency services resources and increases public safety.
The Calgary Transit Watch program allows Calgarians to discreetly report safety concerns through our silent text services at 74100. You may also call us at 403-262-1000, option 1, to report your concern.
In addition, our CTrain stations, platforms and MAX Purple stations are all equipped with help phones where you can report your concern.
When you report a safety concern using the text service or a help button/phone, you are connected with an agent at the Transit Operations Centre. Agents are in direct contact with Transit peace officers and have access to more than 1,200 security cameras at CTrain stations. When they know the caller's location, agents can identify the nearest CCTV camera and view real-time information.
The Transit Watch service is for immediate safety and security issues, such as disorder, infrastructure issues, broken glass, or harassment. For general information like route or schedule inquires, customers should continue to use our app, website, Twitter or call us at 403-262-1000.
In situations where they feel that their safety is threatened, customers are reminded to always call 911.
Transit station security guards are staffed to select stations and respond to activity in real time to resolve issues as they're happening. They also provide a visible deterrent for criminals, drug usage and social disorder.
The program launched in October 2022, and we currently have 31 guards deployed on the system.
Transit ambassadors maintain visibility, build rapport, and support Transit customers with wayfinding or questions on trains and platforms.
Currently, Transit has 30 ambassadors working multiple shifts between 6:30 a.m. and 9:00 p.m. The ambassadors, who wear reflective vests, can be found at CTrain stations or riding the system.
The City has increased its CCTV surveillance - we have over 1,200 CCTV cameras across our CTrain system that are monitored 24/7 by security agents in our Operations Control Centre. The centre is responsible for dispatching officers, monitoring CCTV and responding to safety texts from customers. 
Transit has upgraded lighting on CTrain platforms from Downtown West/Kerby to City Hall. Enhanced lighting allows security cameras to capture clearer footage of platform activity and enables greater visibility across and within platforms, increasing rider and staff safety.
In addition to significantly improving visibility, the upgraded fixtures use highly efficient LED lights which will serve to reduce overall energy consumption and minimize maintenance costs for the next 10 years.
We are exploring an integrated model of providing Public Safety including Transit Public Safety, the Calgary Police Service, Corporate Security and Community Safety officers working together in a focused manner to address trends and issues.
We are reviewing and redefining our Transit Safety Strategy, moving from a fare evasion focus to a people-first focus that addresses big city concerns.
We are evaluating the impact of increased resources and engaging in discussions about further investment.