Household hazardous waste drop-off program
Dispose of household hazardous waste the right way
Paint, oil, propane tanks and chemicals don't belong in your carts. In Calgary, you can dispose of these items at our household hazardous waste drop-off locations.
Hazardous waste will have symbols like this on the container: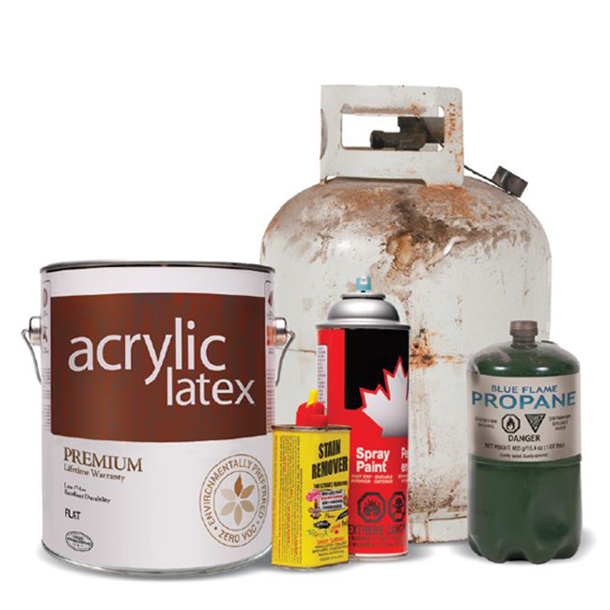 Household hazardous waste drop off locations
Household hazardous waste can be taken to one of these year-round locations.
Fire Stations
Fire stations are open for drop-off seven days a week, from 8 a.m. to 6 p.m.
Please note: Propane and helium tanks are accepted only from 8 a.m. to 5 p.m.
Landfill sites
Please note: If there is mixed garbage in your load, charges will apply. Learn more about landfill hours and locations.
---
About this program
This program is run by Waste & Recycling Services and the Calgary Fire Department.
If you are a business owner or industrial operator, and you have hazardous waste, please call The City of Calgary at 311 or look in the local Yellow Pages under "Waste Disposal - Hazardous".
You can also find disposal options for large volumes of certain items like paint, asbestos or industrial waste on our Waste Diversion for Business page.
The provincial government funds the disposal of household hazardous waste for all Albertans. The recycling or disposal of paint is overseen by the Alberta Recycling Management Authority ARMA).
The recycling or disposal of used oil, oil containers, and oil filters program is overseen by the Alberta Used Management Association (AUOMA).
What does The City do with the hazardous waste?
All chemicals are recycled or safely treated and disposed of at the Swan Hills Waste Treatment Centre in accordance with strict Alberta Environment regulations.
Items including used motor oil, used glycol (anti-freeze), propane tanks, vehicle batteries, used oil containers, paint and paint containers are sold to private companies for recycling.