Public Art and Social Practice Workshop Series
January – September, 2017
As part of its commitment to provide a variety of opportunities for artists, The City of Calgary Public Art Program, in collaboration with Illingworth Kerr Gallery (IKG), offered a Public Art and Social Practice workshop series. Internationally renowned artists Alfredo Jaar, Tania Bruguera and Jeanne van Heeswijk each presented a free public lecture and led a weekend workshop for a selected group of Calgary artists. This workshop series was intended for local artists and resulted in an exhibition at the IKG and an opportunity for a public art commission.

The five artists selected through a competitive process to participate in this program were Dick Averns, Alana Bartol, Kevin Jesuino, Taryn Kneteman and anne drew potter.
This workshop series was designed to provide professional development for artists interested in pursuing public art projects with a social practice focus and intended for professional artists wishing to:
Explore and develop a socially engaged practice with a distinct focus on public art.
Understand the opportunities and the challenges that this type of practice entails.
Discover the breadth of possibilities that public art and social practice offers.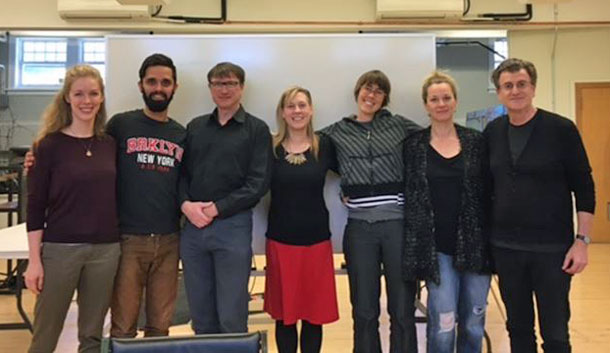 From left to right: Taryn Kneteman, Kevin Jesuino, Dick Averns, Alana Bartol, anne drew potter, Dawn VandeSchoot, and Alfredo Jaar.
​​​​​​​
To complete the series, artists designed a project proposal that involved a community partner in the development and/or implementation of the project in some way. The proposals were exhibited at IKG for juried competition. Through the workshops, lectures and group discussions participants were mentored by world renowned artists practising in the field and provided with the tools, skills and in-depth understanding necessary to develop a project proposal and subsequent practice in socially engaged public art.
Public Art and Social Practice Workshop Series Project Award
Dick Averns' project Recognition… Validation… Reassurance… was selected as the recipient of the Public Art & Social Practice Workshop Series award. Avern's project also received the highest number of public votes during the exhibition Experiments in Public Art (March 23 – April 22, 2017) at the Illingworth Kerr Gallery. The public vote informed the selection process.

To learn more about the opportunities to get involved as a community member please subscribe to our e-newsletter.​​​​​​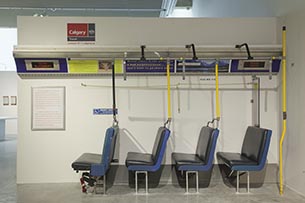 Recognition... Validation... Reassurance...
Dick Averns' 2017, installation at
Illingworth Kerr Gallery.
Photo: Jeremy Pavka​
​​​ ​​