Recognition… Validation… Reassurance…
Artistic outcomes were exhibited in pop-up exhibitions and as citywide public art on billboards, transit stations posters, and interior panels on buses and trains.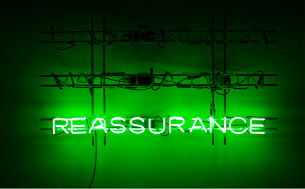 Recognition… Validation… Reassurance…
by Dick Avern
Commissioned by: City of Calgary Public Art Program
Project Completion: July 2018
The Artist
Dick Averns is a Calgary-based interdisciplinary artist and writer, whose art practice probes how mental and physical spaces are valued and exchanged. Averns works in sculpture, text-based art, photography, video, installation, and performance, in a public realm. In 2009 Averns was embedded with troops in the Middle East; the first time Canada has deployed a non-fiction writer as an official war artist as part of The Canadian Forces Artists Program (CFAP). Many of Averns' art projects explore socio-political themes including conflict, environmental issues and mental health. Diagnosed with Tourette Syndrome in adulthood, community collaborations feature regularly in his art practice and through community volunteer work. Averns has taught studio art, art history, and theory, at both ACAD and the University of Calgary, and his research has been disseminated in Canada, USA, Australia, UK and Middle East.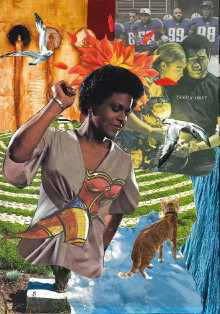 Family First by Zeine Bruja
​​​Recognition…Validation…Reassurance… Art + Mental Wellness by Dick Averns

The Concept
Recognition… Validation… Reassurance… Art + Mental Wellness - A social practice public art project by Dick Averns inviting community members to create their own framework for exploring and narrating personal experiences, facilitating self-expression to improve both personal and collective mental health. These evolving themes were explored through social practice in workshops with collaborating community groups, enabling participants to create artworks that address mental wellness based on personal experience and aspirations.
Art as social practice is a methodology linked to community cultural development: …an arts-based community building tool that promotes a sense of place, empowerment, and public participation.The project entails art workshops with community partners in which participants were invited to create collages, drawings and text-based art as a personal framework for exploring and narrating experiences of mental health, facilitating self-expression to improve both personal and collective mental wellness.
With one-in-five Canadians facing a mental health challenge and two out of three unlikely to seek help, a social art practice that seeks to engage multiple audiences can make a positive impact on the way mental wellness is addressed in our world. Mental illness can be lonely: a public vision for wellness actively confronts this and reduces stigma. The aim of this project is to help facilitate insight toward enhanced personal self-reflection to support individual and collective mental wellbeing. Thus, the key question addressed is: How do You create a framework for mental wellness? Outcomes from this initiative are contributing to a research project approved by the University of Calgary Conjoint Faculties Research Ethics Board.
This was selected in 2017 as the recipient of the Public Art & Social Practice Workshop Series award.
​​​​​​