Winners and honorouable mentions

Conceptual Theoretical Urban Design
Winner
Sturgess Architexture - Office retrofit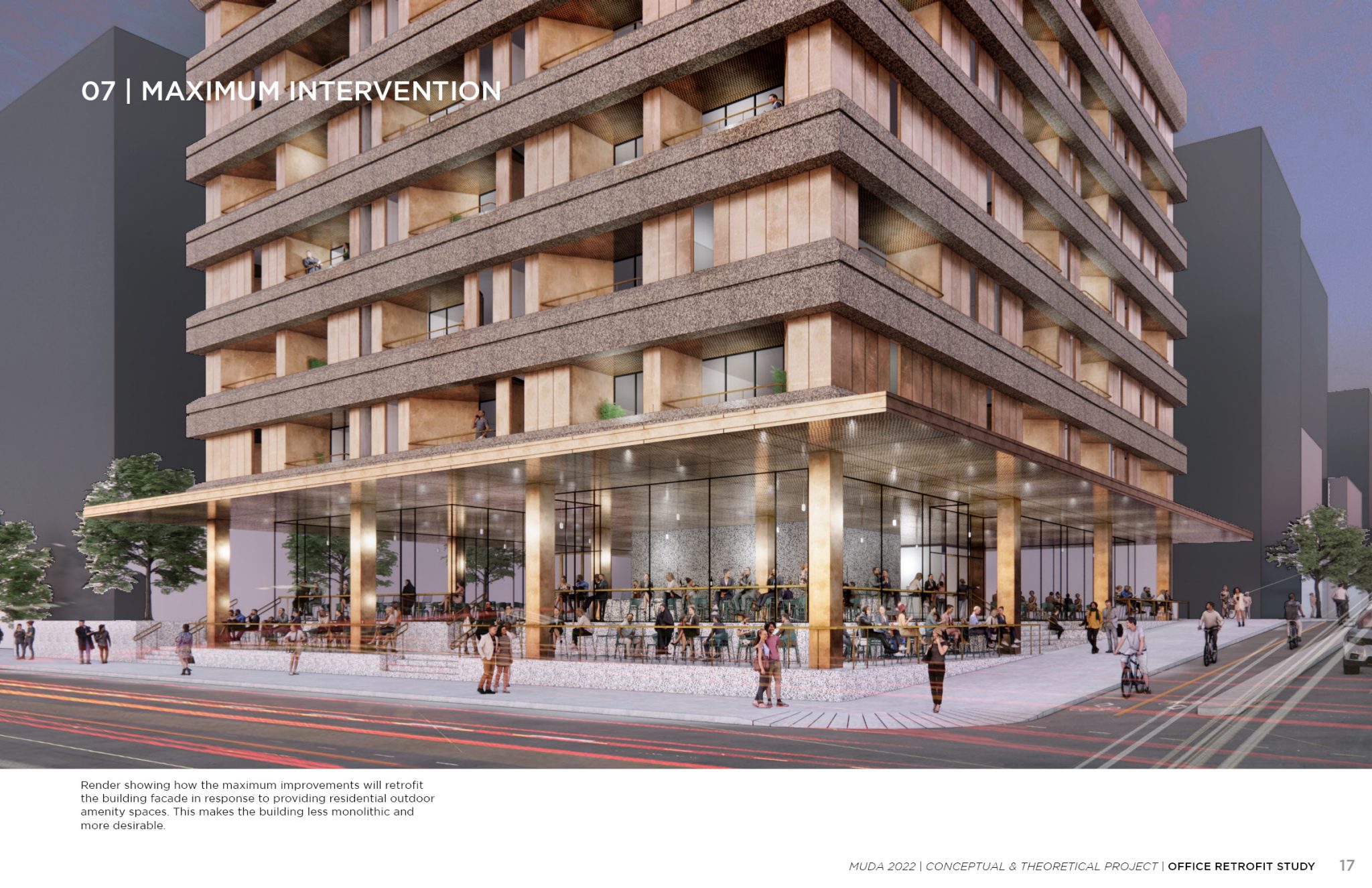 The narrative that surrounds the retrofitting of office towers is one that often focuses on the incompatibility of converting office floor plates to other uses, or on the high costs associated with adding balconies or altering façades. We found that with some creative new approaches not only can these constraints be mitigated, but they can provide feasible opportunities to add much needed diversity to Calgary's downtown.
Mention
Japanese Cultural Centre
Calgary Japanese Community Association 
Modern Office of Design & Architecture; Henry Tsang Architect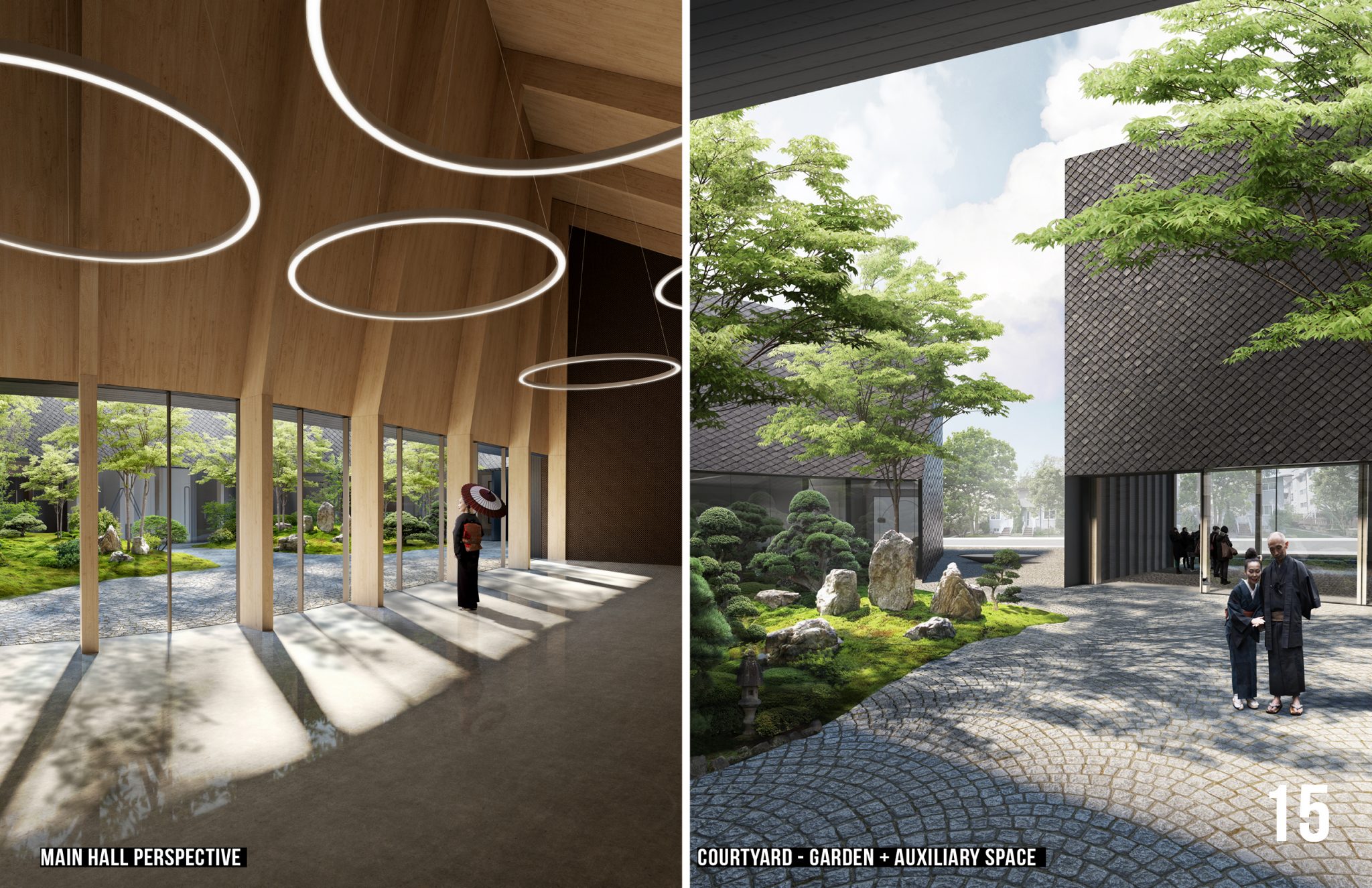 Throughout the design process, we explored numerous massing options that tested various ways of maintaining the diverse programmatic ribbon and ultimately decided upon an incomplete oval plan that not only references aspects of Zen's Wabi-Sabi (the notion of imperfection and asymmetry), but also Ma (the balance of mass and void). The 'void' developed into a contemporary interpretation of the Engawa (the traditional threshold between building and garden), providing an auxiliary space and barrier-free access point for the various programs, while framing the revered Japanese garden.
Urban Design Plans
Winner
Balmoral Circus
The City of Calgary, DIALOG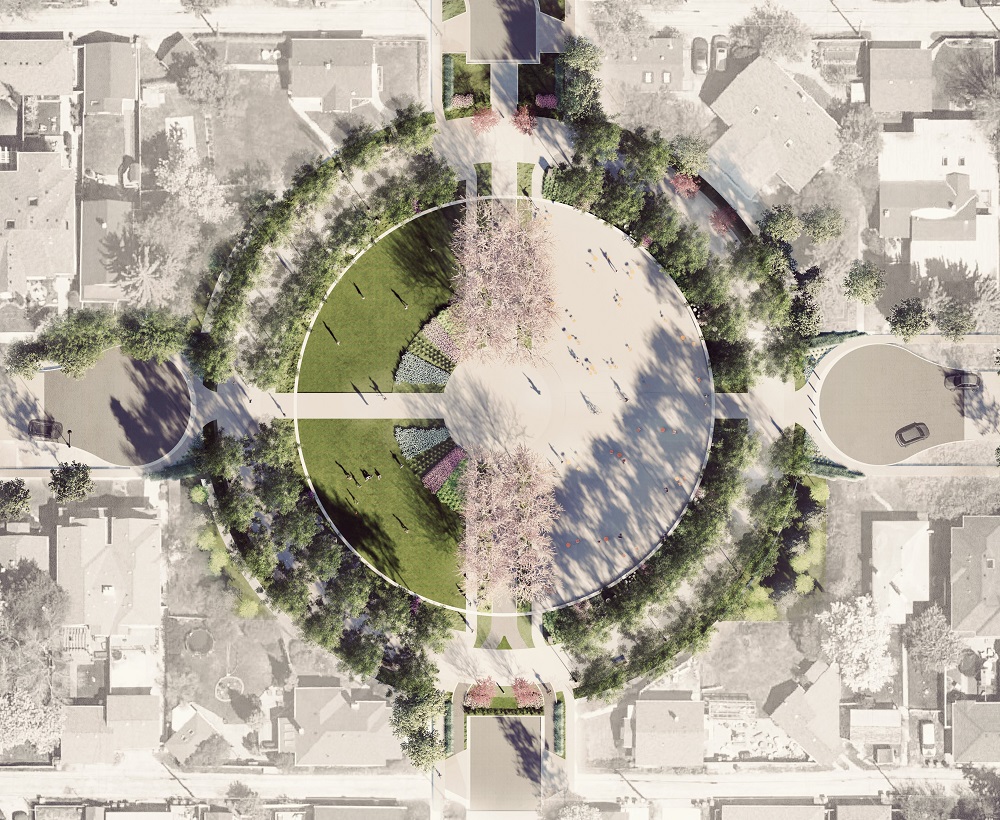 Balmoral Circus was originally designed in the 1930s, when automobiles dramatically reshaped the urban landscape. The quartered intersection featured lawns and planting beds, a showcase of the formal beauty celebrated during the City Beautiful Movement. The redesign of this space responds to a shift at the city scale. The projected arrival of the Green Line and Rapid Bus Transit down Centre Street will support civic growth and sustainable modes of transportation, but this also means a marked change for the North Hill area.
Urban Architecture
Winner
The District at Beltline
Spear Street Capital, Kasian Architecture Interior Design & Planning Ltd.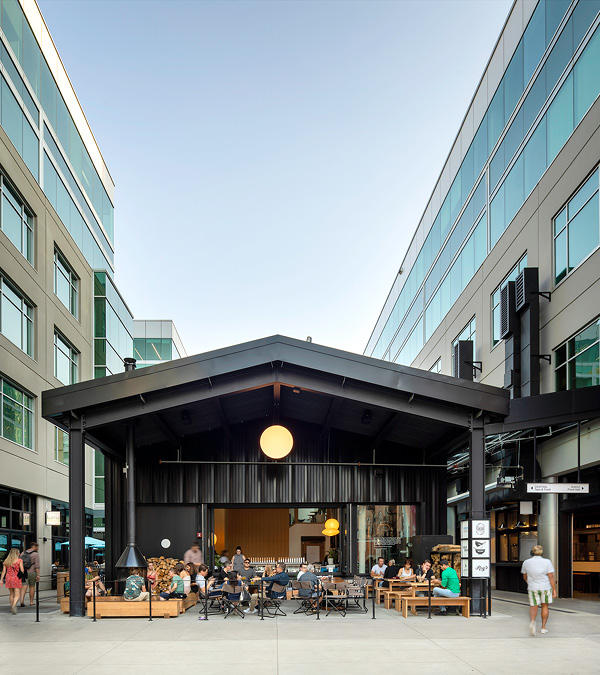 The District at Beltline (The District) is a revitalization of the former IBM Corporate Park. Originally built in the throes of a vibrant Calgary economy courtesy of a booming energy sector, it was sterile, three-building complex that lacked any real engagement with the surroundings and local community. The design at ground-level focuses on a street-to-street, activated extension of the Beltline community. One that incorporates new food experiences, a network of laneways and connected indoor and outdoor gathering places, transforming the buildings' relationship with the site's exterior spaces. 
Winner
General Block
RNDSQR, Formed Alliance Architecture Studio; Civicworks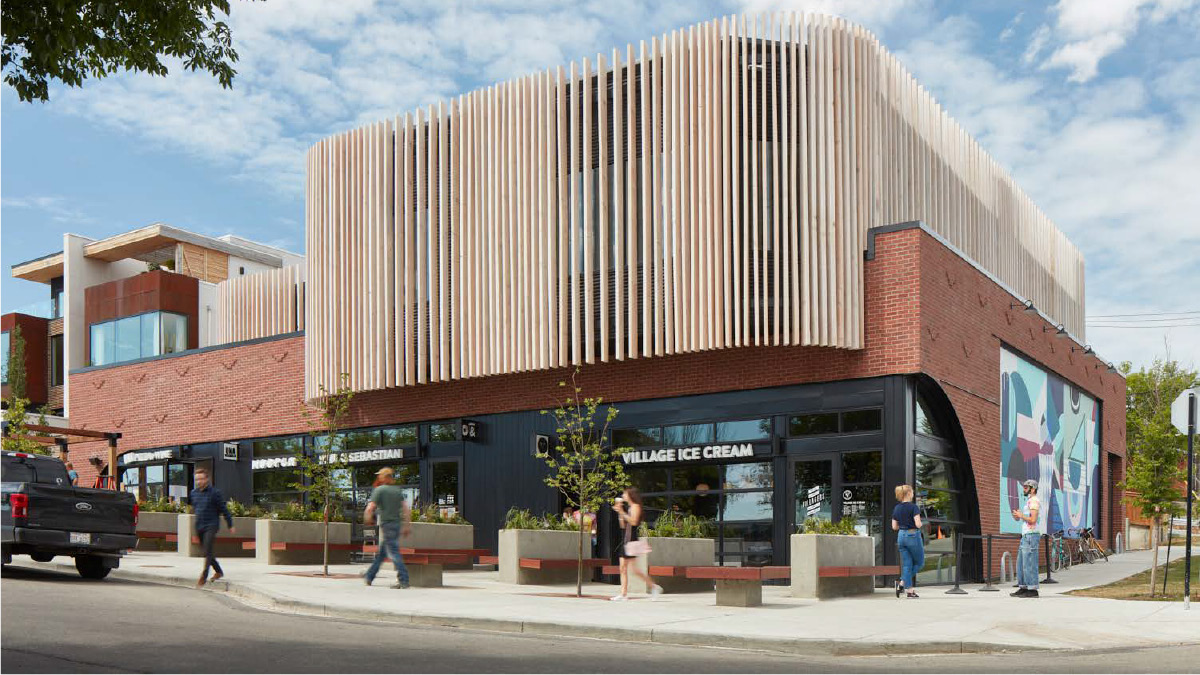 General Block embodies a human-scaled design approach, reinforcing the intimate and eclectic scale of the Bridgeland neighbourhood. The built form at two storeys is meant to blend with adjacent built forms and is responsive to challenging site topography. The commercial frontage and streetscape interface are active, fine grain, and scaled to maximize opportunities for human connection. General Block has been designed to celebrate the historic aesthetic of the surrounding community, with the use of brick detailing that grounds the retail floor.
Mention
Ampersand
Aspen Properties, GGA Architecture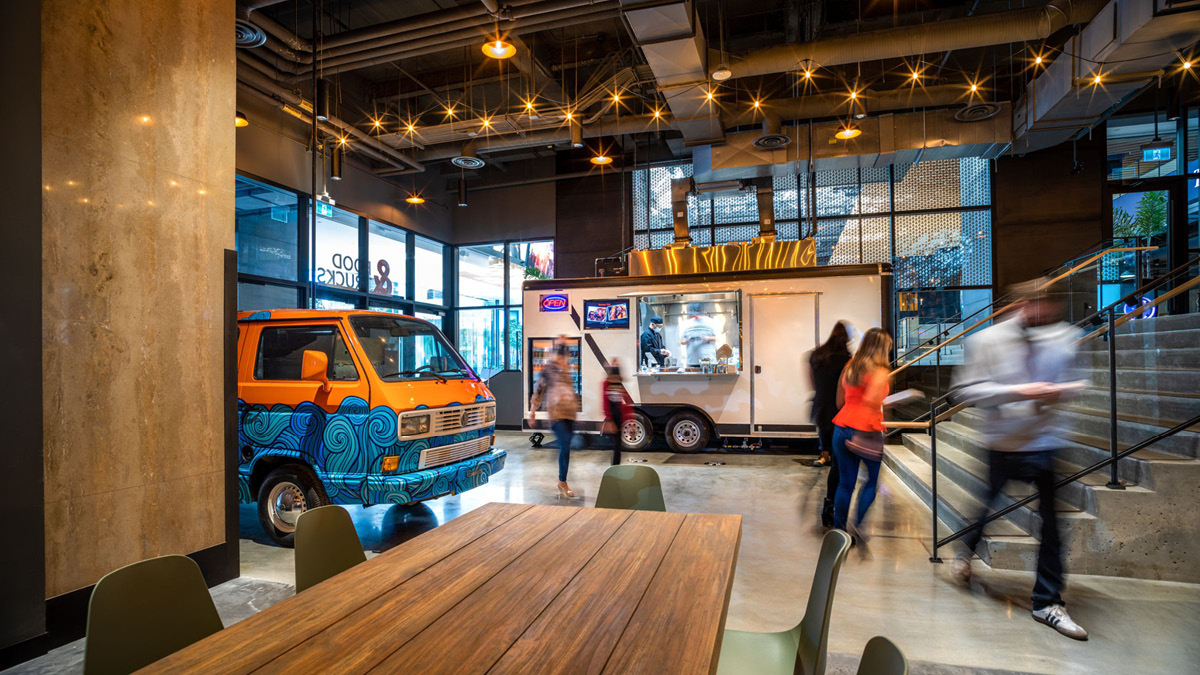 The Ampersand, formerly SunLife Plaza, is an extensive ground floor and +15 level office renovation primarily focused on communal areas and connecting amenity spaces seamlessly with the public realm. This revitalization included the main-floor atrium, tower lobbies, new food market, café, library, meeting pods, fitness centre, lounge and bar, three new tower entries and redesigned public plaza complete with a dynamic LED feature sculpture. This renovation builds community within the complex and surrounding urban realm, gathering people while challenging traditional office design and attracting diverse new downtown tenants.
Civic Design Projects
Winner
Dale Hodges Park
The City of Calgary, O2 Planning & Design; Sans Facon; Source2Source; AECOM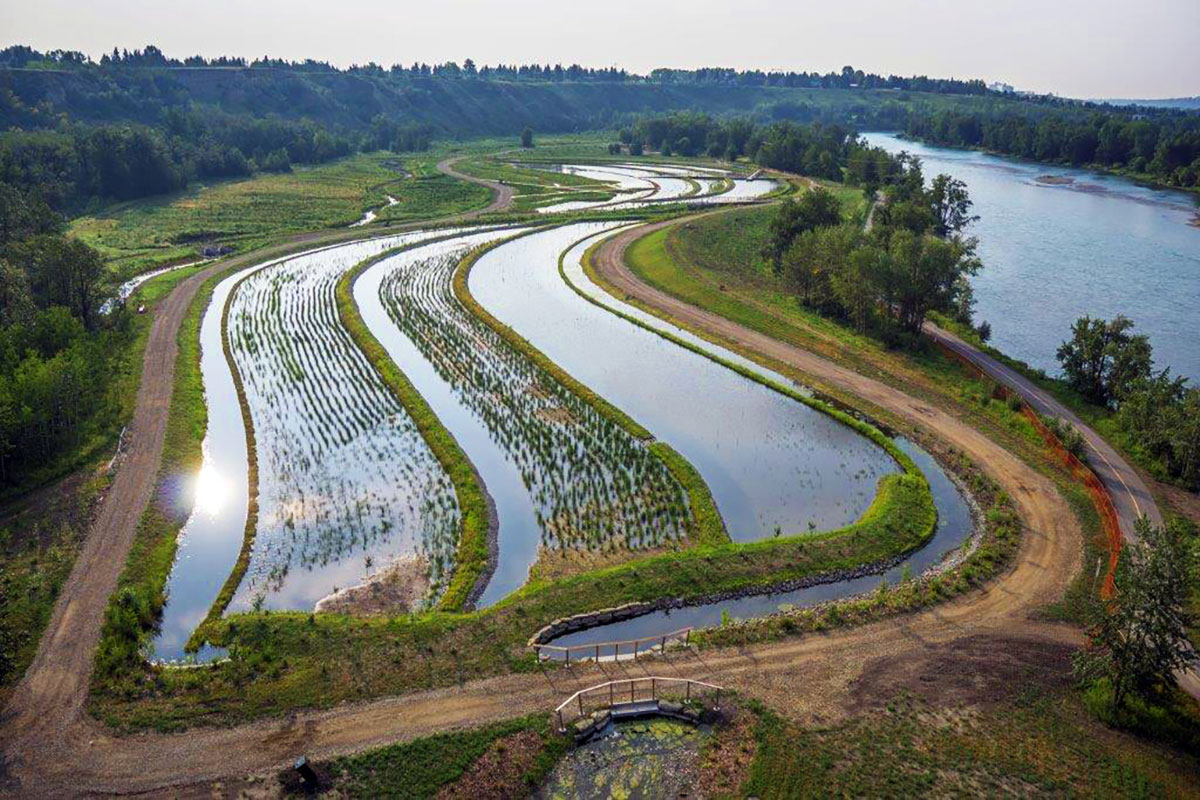 Dale Hodges Park is a transformative landscape along the Bow River in Calgary. The project was born of the need to restore the environmental health of a former quarry while addressing stormwater treatment opportunities for runoff from over 1,700 hectares of adjacent urban area. Located within an existing 164-hectare river valley park, the site adds 40 hectares of integrated park land, stormwater treatment facilities, and one of the largest public artworks in North America. The park concept highlights the journey of stormwater in the landscape through a series of curated experiences, collaboratively designed with The City's Parks, Water Resources and Public Art departments.
Urban Fragments
Winner
Flyover Park
Parks Foundation, Stantec Consulting Ltd.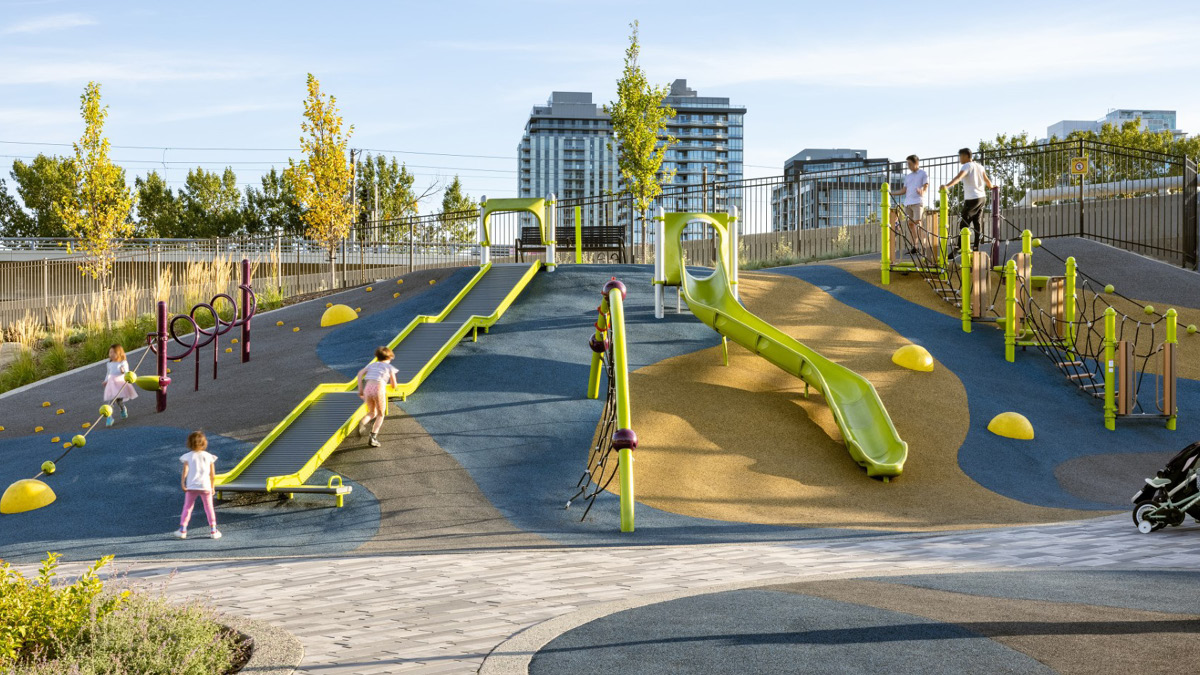 Flyover Park is an example of how neglected spaces can improve our city, creating park and play equity for traditionally underserved communities. Driven by community, citizens identified a neglected and perceived unsafe space, and inspired the design of a new inclusive community hub centered around play for all ages. Members of the community developed the park's schematic concepts which allowed our team to finalize the programming, design aesthetics, and proposed materials. After continued collaboration with the community, the park emerged from the depths below the 4th Avenue flyover.
Mention
Le Virage
Morguard Ninth Avenue Ltd. Partnership, Abugov Kaspar Architecture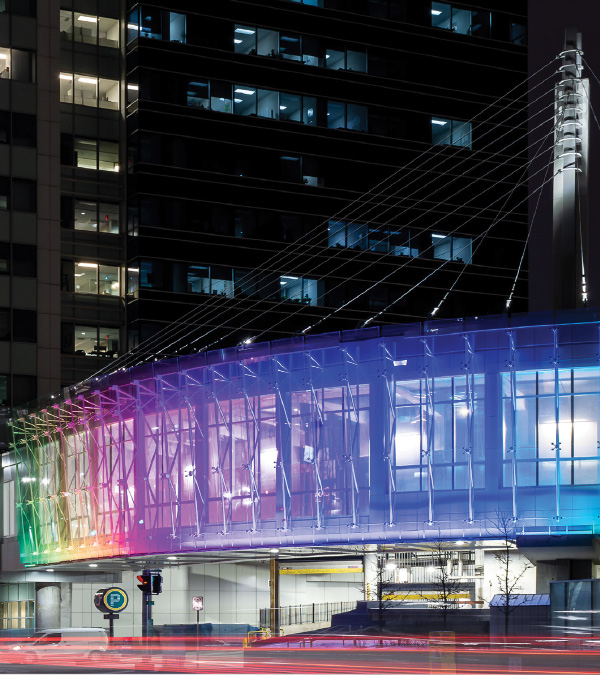 Le VIRAGE brings forth an interactive experience that can be appreciated from the interior and exterior of the structure. Inside, the curvature of Le VIRAGE transcends the typical point A to B journey. Forced perspective is created encouraging the users to turn their attention to the surrounding streetscape instead of having it focused on the exit of the passage. This creates a public space that functions as a decompression zone which can be utilized for more than a means to traverse two buildings. Outside, Le VIRAGE in massing, completes the façade of the streetscape and serves as the visual focal point to the terminus of 2nd Street. 
Mention
Fifth Street Underpass Enhancement
The City of Calgary, DIALOG; Jill Anholt Studio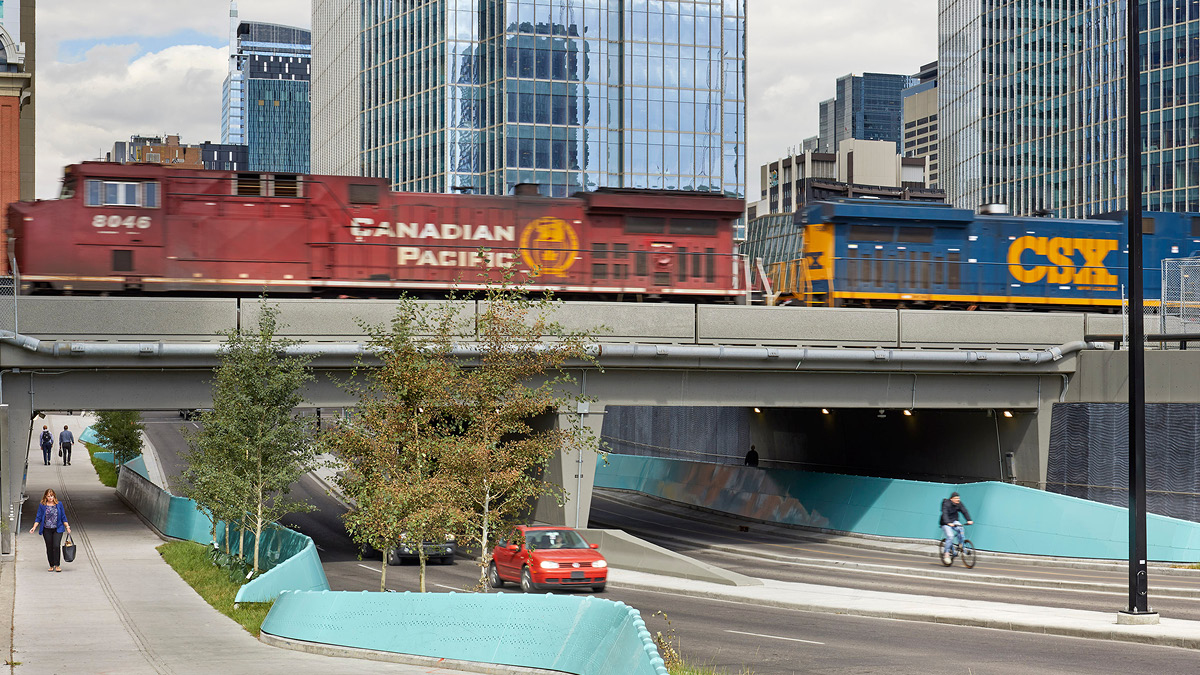 As an Urban Fragment, the underpass enhancements not only create a highly functional passage that enables and encourages human-powered movement, it also has become a compelling, rich place for surrounding communities. The project design responded to the need for the underpass to feel safe and beautiful for Calgary's active citizens, while also continuing to promote active forms of transportation, such as walking and cycling. The underpass is no longer just transportation infrastructure. With an upgraded, dedicated bike lane that connects to Calgary's greater cycling network, an integrated public art piece, and new landscaping, the 5th Street Underpass now serves the community as an immersive, linear park experience. 
Community Initiatives
Winner
High Park
Beltline Neighbourhoods Association,  Public City Architecture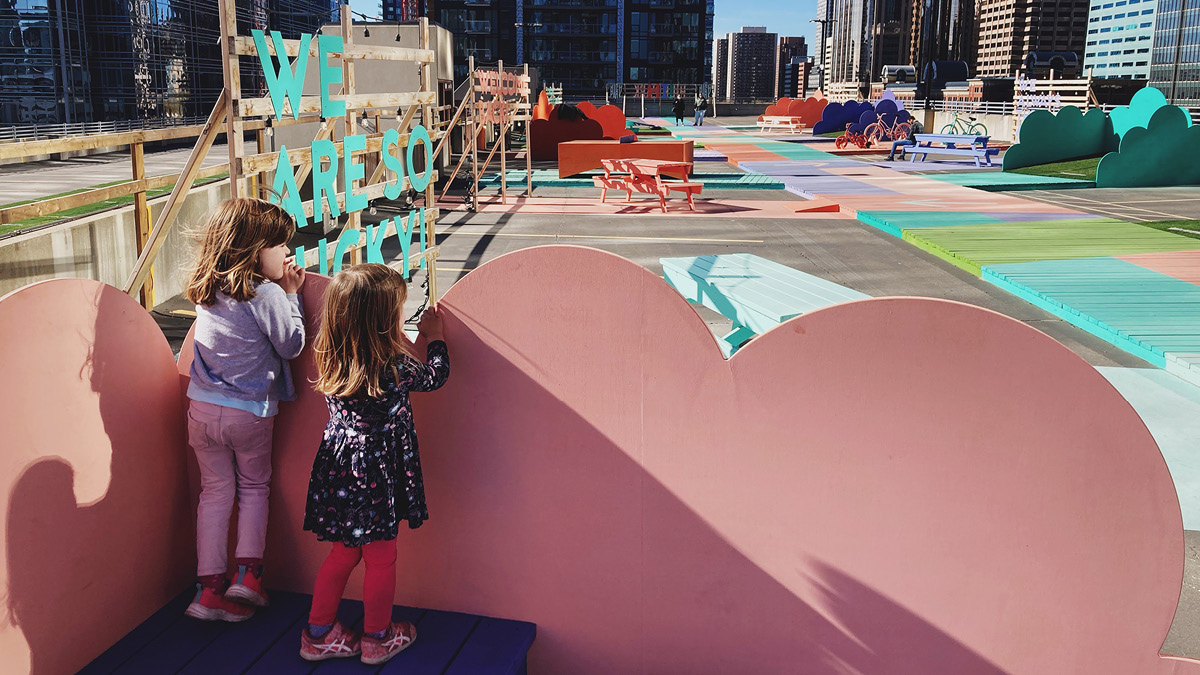 High Park is a new rooftop park and event space in Calgary's Beltline, and an exciting destination for residents and visitors alike. The park originated as part of a community-led adaptive re-use project that has successfully converted the underutilized top floor of a multi-level parkade into one of Downtown Calgary's most vibrant new public spaces and a highly valued community asset.  The signature park reimagines the 90,000ft2 rooftop of the Centre City Parkade while addressing a deficit of public park space in one of Calgary's most densely populated communities.  Initially designed and implemented during the COVID-19 pandemic in response to a changing urban landscape, the park continues to evolve under new development phases guided by ongoing community engagement and feedback.
Mention
Kids Reimagine School Streets
Sustainable Calgary; Spectacle Bureau; Toole; University of Calgary; Connaught School; Ecole La Mosaique; Manmeet Singh Bhullar School; Calgary Islamic School; OBK and Kids in Motion (YMCA)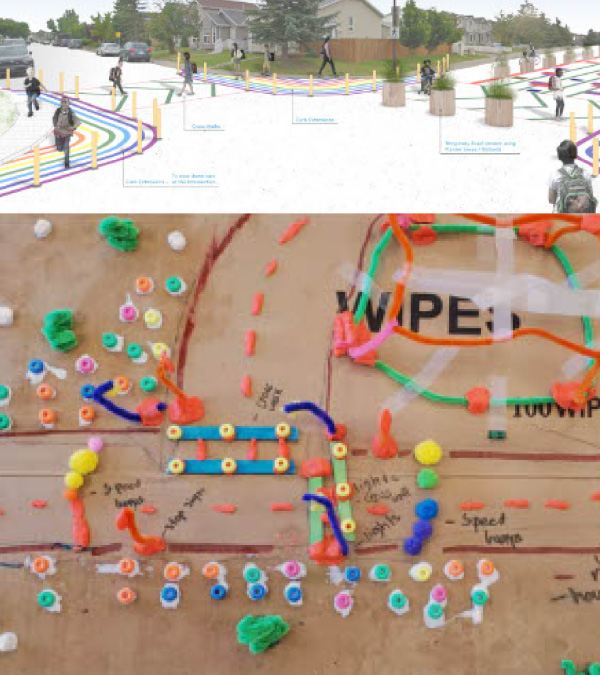 What would streets look like if we built them for kids? This question guides 'Kids Reimagine School Streets', a collaboration between non-profit organizations, 4 elementary grade schools in 3 communities, university students, designers, fabricators, and local community members. The aim: to co-create safe, comfortable, and interesting routes to school; and to empower kids - and the rest of the community - to lower their carbon footprint by walking and biking for daily trips. Active travel reduces pollution and leads to improved physical and mental health, and better school grades.
Confluence Award
Winner
Century Gardens Redevelopment
City of Calgary Parks, Marc Boutin Architectural Collaborative; PFS Studio: CMAL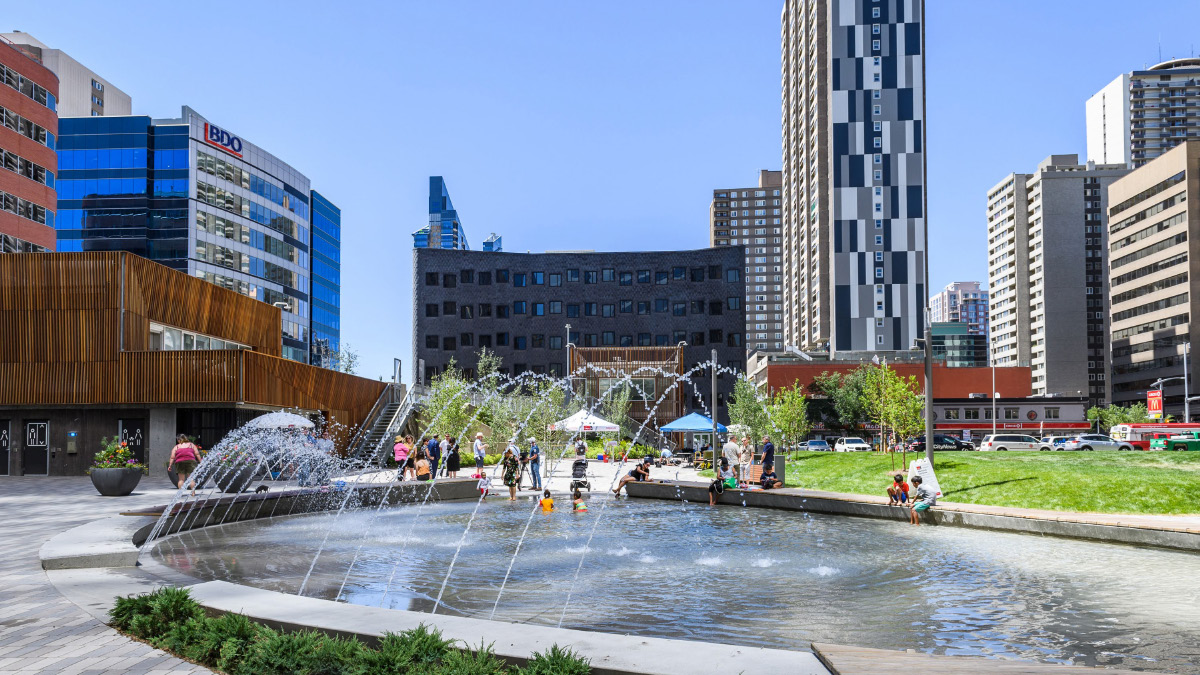 This project design arises from a commission mandate by the City of Calgary to reinvigorate the park through the provision of a new set of community amenities, thereby making the park well-used and safer, while strategically connecting with the existing cultural landscape and breathing new life into the unique features as an investment into Calgary's collective memory. 
In response, the project manifests four integrated design strategies: (1) establish connective pathways that link critical destinations and suture changes in grade in an accessible manner, (2) layer public programming and amenities to animate the outdoor spaces, (3) weave spaces and access around the retained elements of the cultural landscape to ensure their presence is fully enjoyed in a safe manner, and (4) establish two architectural bookends to the main cultural landscape pools in order to provide necessary public services to the park and create a strong sectional quality around the pools so that the public can fully access this sculptural feature.
Mention
Lougheed Building
Allied Properties REIT, DIALOG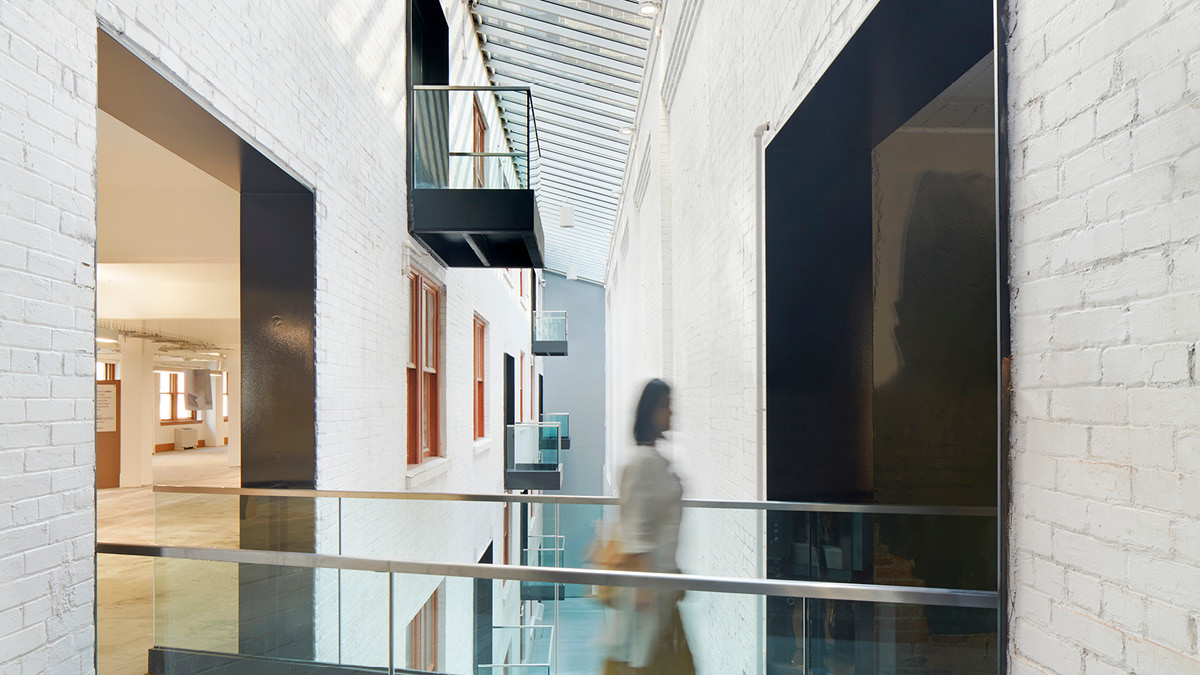 The Lougheed Building renovation artfully marries a heritage landmark with exceptional design. Innovative and historically compelling, it is positioned to reclaim its role as a major contributor to city building and help revitalize the downtown core.
Located in the heart of Calgary's commercial centre, the Lougheed Building was conceived as the most progressive building in the city when it was built in 1912. The Chicago Style architecture, defined by a steel frame and masonry cladding with sandstone details, allowed for larger glazed openings and more natural light. The design embodied a sense of optimism in Alberta's economy and has housed some Calgary's most influential businesses.
City Edge Development
Mention
Plaza
Truman Homes, Lola Architecture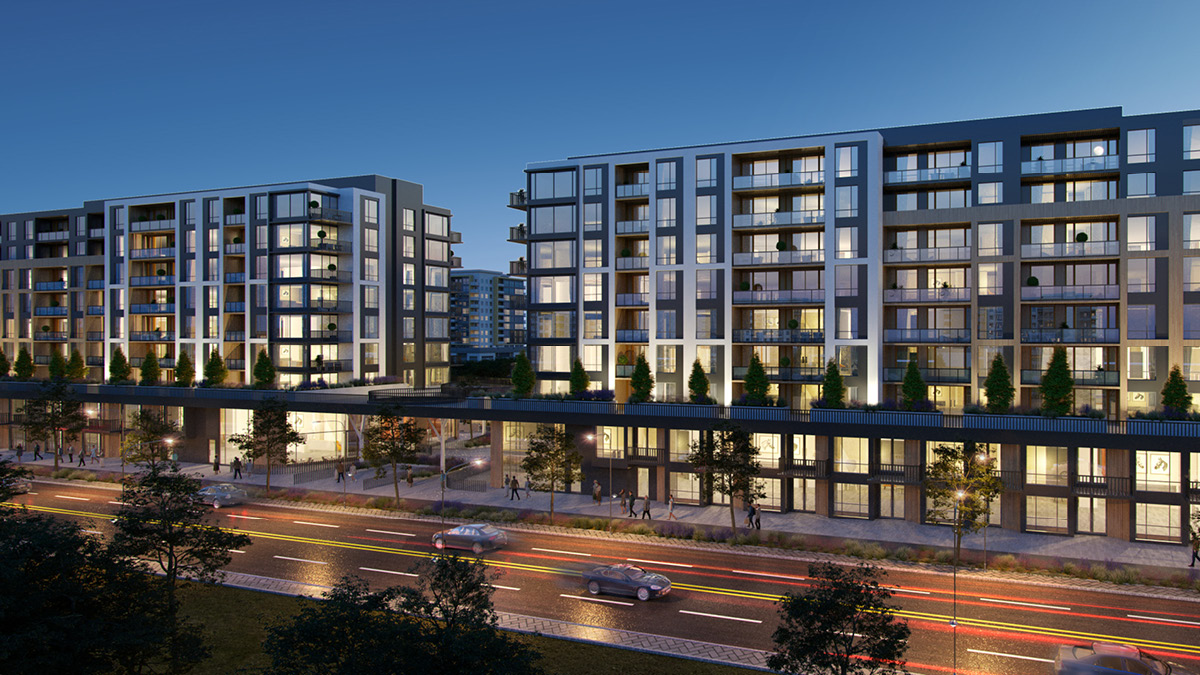 The Plaza is envisioned as a central community gathering hub for the West District community, acting as a central node for surrounding retail and live/work units. The bridge above has two elliptical oculi to provide dynamic lighting throughout the day and also visually connect the residents on the bridge level to the activity below. The partially covered plaza also allows for flexibility of use throughout the year, ensuring the public realm remains vibrant as the seasons change.  This bridge is an outdoor amenity space that connects the adjacent indoor amenity from each of the towers. Visually, it connects the towers to create a prominent streetscape and also provides a cohesive pedestrian realm along Broadcast Ave.
Mention
Khalsa School
Dashmesh Calgary, DAAS Architecture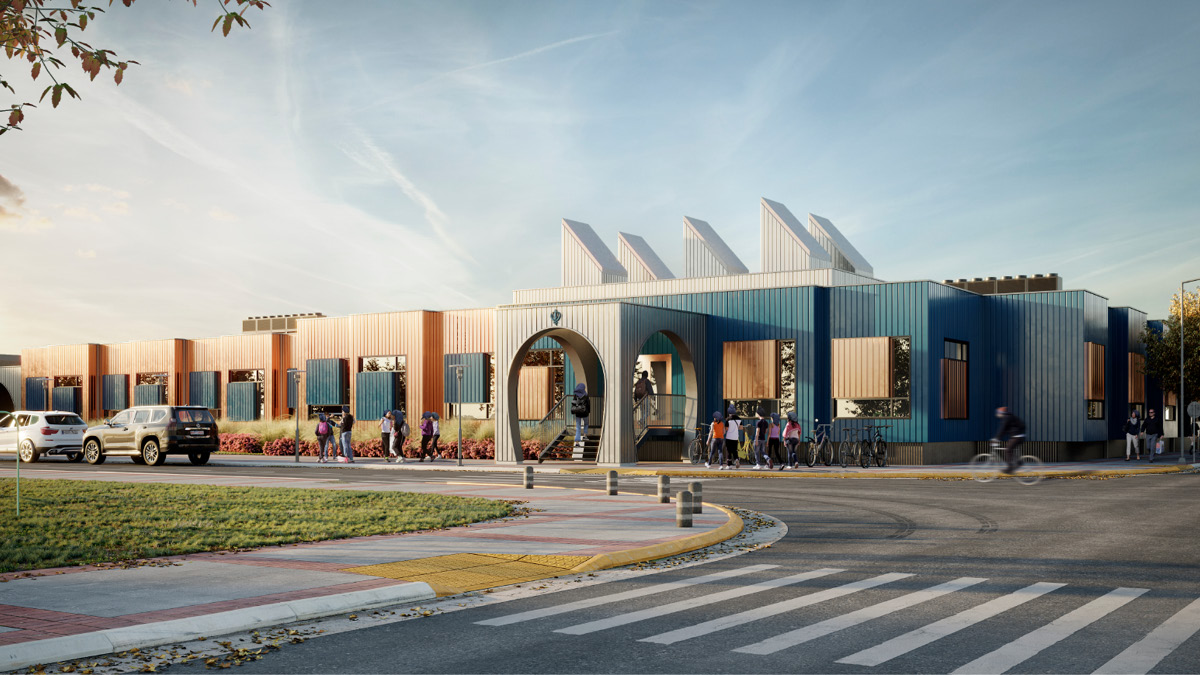 The Khalsa Sikh School project allows for a seamless city expansion while creating this cultural and educational hub in the city N-E. As the school undergoes its facility extension, a comprehensive masterplan was developed to help create a concept where new modular additions reimagine the Khalsa Community School in an innovative and unconventional way. Prefabricated modular construction gives the opportunity to undertake this large-scale project in a shorter span of time, allowing the client to complete construction during the off-academic season. The new extension also becomes an opportunity to create a unique sense of place and celebrate the Sikh way of life in the context of education here in Calgary.
Green City
Winner
Grow
Dr. Andrei Metelitsa, Modern Office of Design & Architecture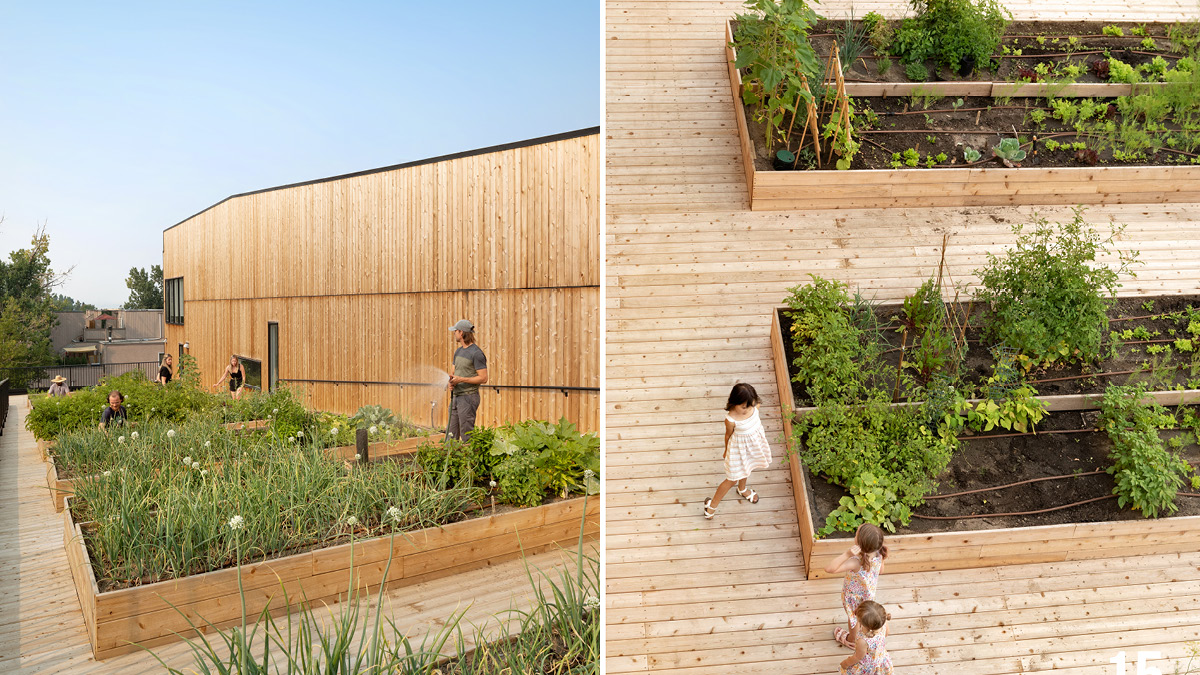 By providing a selection of small (450 sf) studios, medium-sized (600 sf) condos, 1.5 storey lofts and large (850-1,000 sf) two-storey townhomes, we catered to a broad cross-section of demographics, allowing an aging-in-place couple the possibility of living next to a young family with children, or a single student living next to young professional. While some might say this approach to accessibility and inclusivity is hardly radical, in our city of Calgary – in which the majority of housing is provided by private/speculative development – we feel this approach is sorely needed. If GROW's approach to accessibility and inclusivity became more prevalent in our inner-city communities, perhaps this could contribute towards rejuvenating failing urban realms through encouraging reinvestment in inner-city schools, community centers, grocery markets, etc.
Housing Innovation
Winner
Peaks & Plains
RNDSQR, Vera Architecture: BBLOC Interior Design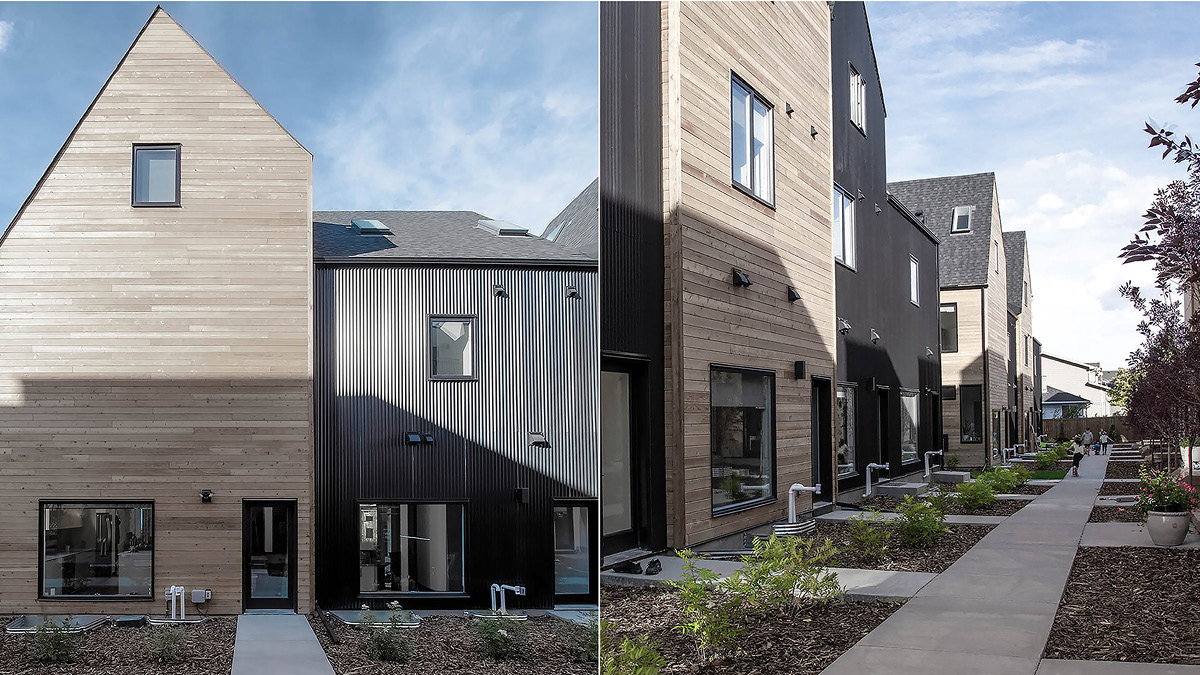 The concept was to create social value using architectural design. By use of varying shapes and building materials each multifamily unit feels unique, and a sense of "home" is achieved. Buildings and urban spaces provide the framework for urban life and help makes areas attractive. Buildings and urban spaces help promote a better quality of life for citizens, improve social cohesion and can even have a significant branding effect.
The play between two architectural languages, PEAKS + PLAINS, ended up giving joy to the people living within but also enriched the texture of Altadore itself. Stop by for a Monogram coffee!
Mention
Project Thrive: Neoma
Homespace, GGA Architecture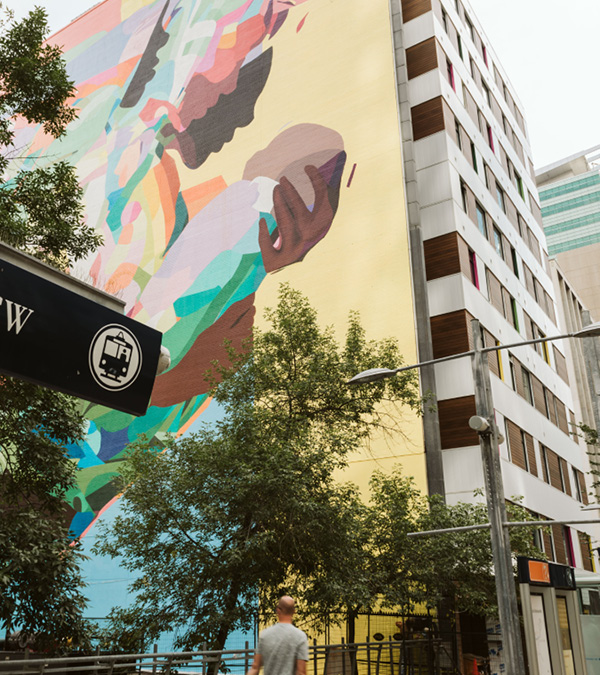 Neoma is an innovative office-to-affordable-housing project in the heart of Downtown Calgary. A revolutionary space in Calgary's residential market, Neoma provides safe, affordable homes for nearly 200 Calgarians in need. Designed for HomeSpace, Nemoa includes 82 affordable housing units (37% below-market rents), 10 transitional shelter units, emergency family shelter and wrap-around programming.
Inn From the Cold (IFTC) relocated operations to this multi-family hub to serve a greater community and reinvigorate Calgary's Downtown. Working closely with our clients, HomeSpace and their tenants at IFTC, we transformed this former office into a place that truly feels like home for Calgarians from all walks of life.
Mention
Varsity Fire Hall
The City of Calgary, Marc Boutin Architectural Collaborative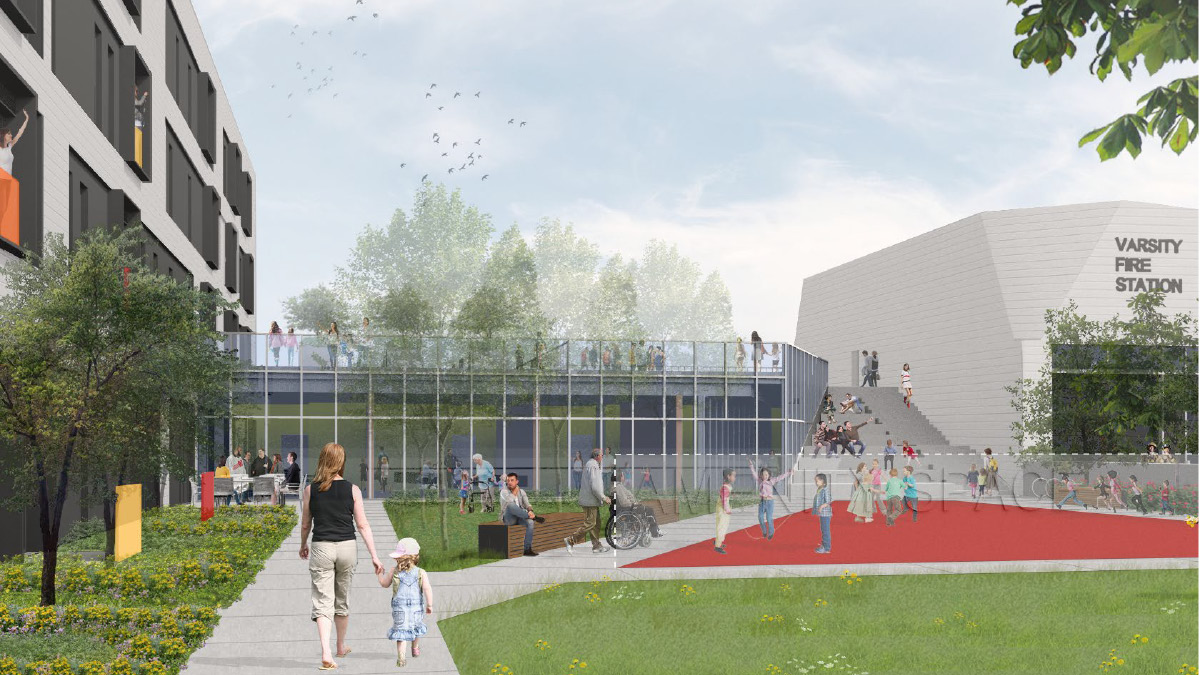 The City of Calgary's first integrated facility project, the Varsity Multi Service Reevelopment  weaves together residential units for the Calgary Housing Corporation, child-care facilities, City of Calgary community spaces, a fire station, and a household hazardous waste disposal site. This program and site usage intensification is designed to minimize site, construction, and servicing costs while leveraging programmatic and urban principles towards making housing more affordable and more integrated, thereby ensuring more and better accessibility for a greater number of citizens in need.
Conceived as three separate programmatic blocks unified through shared amenity spaces, the VMSR aims to redefine and examine how seemingly unrelated users can perform as a community and support and benefit vulnerable populations.  
Student Projects
Winner
Urban Acupuncture
Alima Pal, Deepali Dang, Garima Chaudhary, Madiha Mehdi, Mona Meschi, Pranshul Dangwal & Shabnam Seifhamedan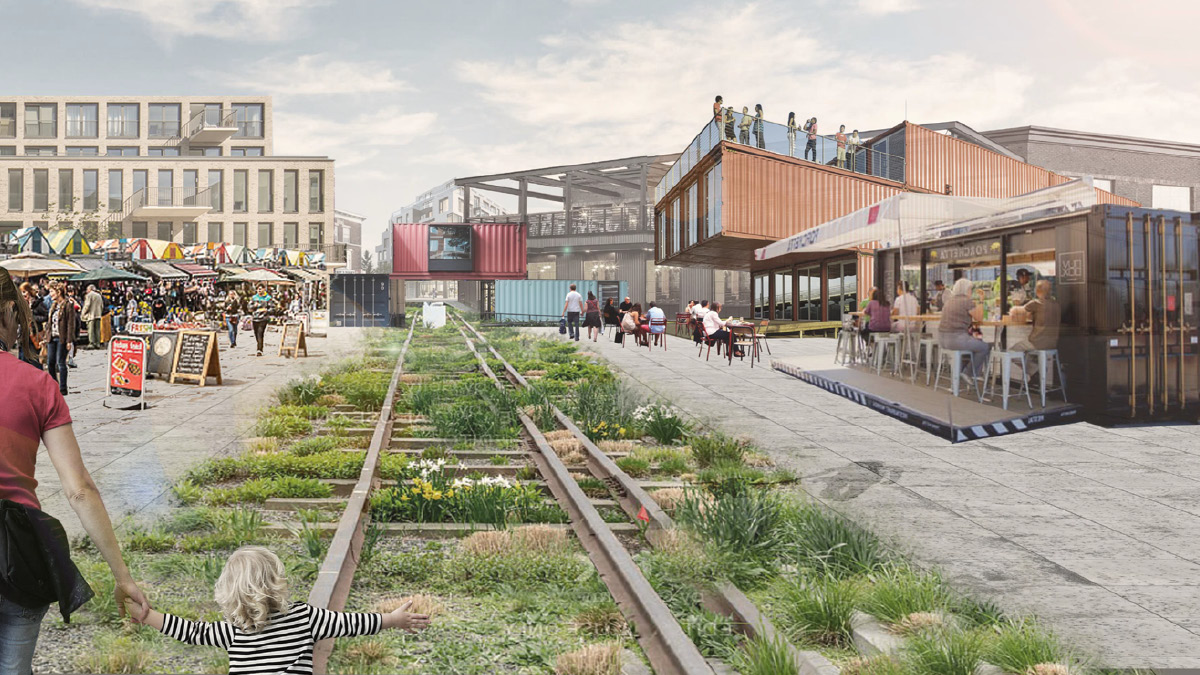 The area around Max Bell/ Barlow LRT station is characteristic by high intensity traffic, fragmentation due to auto mobile oriented infrastructure, and remnants of urban sprawl. The Urban Acupuncture project redefines a traditionally car centric area in Calgary into a high dense, unique, pedestrian focused area that connect Calgarians to the past, celebrates the present, and builds the foundations for a socially, ecologically, and economically flourishing future.
Mention
Anastomose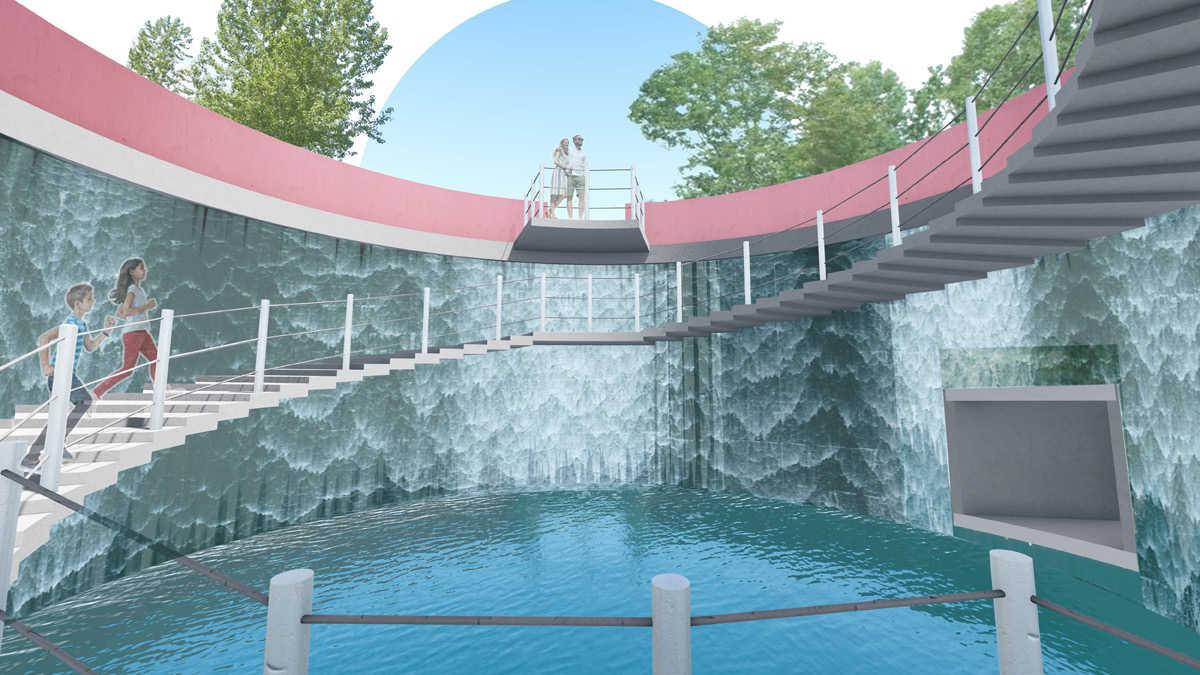 Anastomose is a river story that explores the intersections and cross connections between community and waterway. The project examines the land adjacent to the Bow River and Memorial Drive between 14th street NW and Centre Street North. It is a site of high frequency of use, and due to its long and recent history of inundation is urgently in need of enhanced flood mitigation. It has been aptly identified as a landscape of memory.  Central to the project are three goals of (a) facilitating human and ecological flows, (b) providing an inclusive flood defense mechanism, and (c) telling the river story through visual cues, landscape narratives and moments of pause.
Mention
Euphoria
Garima Chaudhary, Mia Leung & Renz Paul Mendez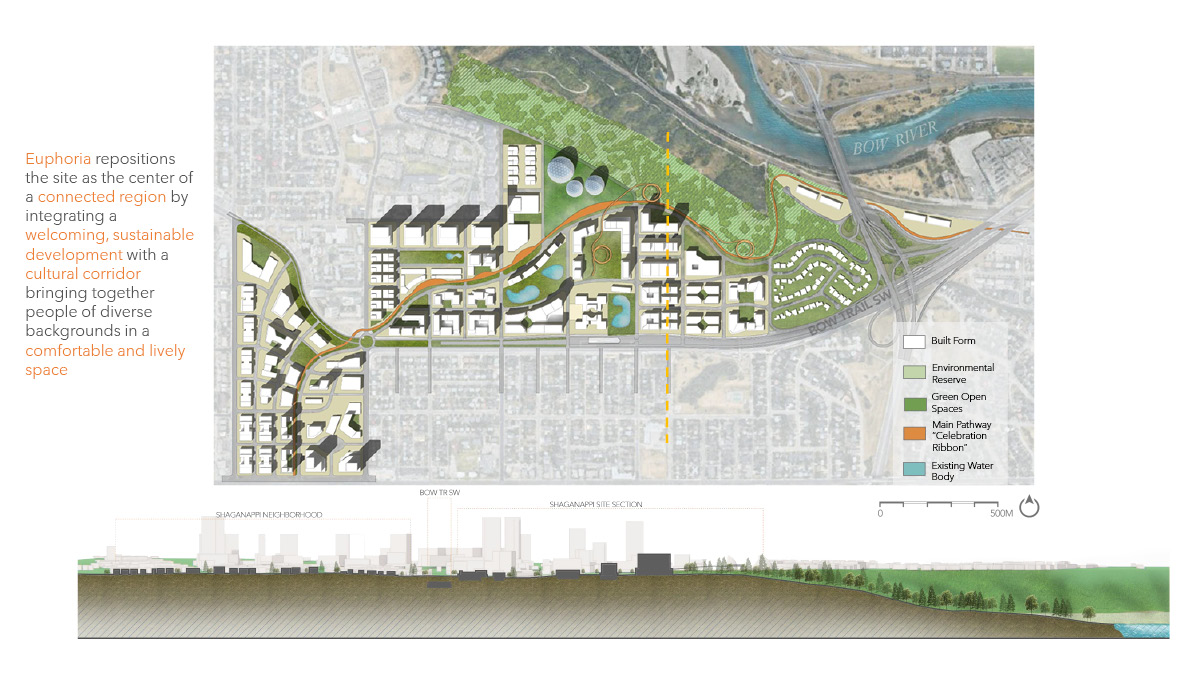 The area around Westbrook/Shaganappi LRT station suffers with lack of urban form, disparate context and collection of existing low-density land uses with plenty of opportunities for contact with nature. The Euporia project integrates new and more intensive land uses into this gap in the urban fabric and responds to and reconnects with the surrounding landscape and urban context.

There were four critical learnings with Euporia: addressing Bow Trail & removing the barrier between the community of Shaganappi and the rest of the communities; recognizing that the Main Street is pedestrian and transit oriented; highest densities occurring within 400m of Primary Transit Network, Activity Centers and Main Street; preserving Ecology