As the days get warmer, it is important to be mindful of vulnerable persons who may be sleeping rough or seeking alternative options to shelters. I urge citizens to consider your personal safety before dismantling an encampment and trust that there are resources to help the vulnerable person in need - while the situation may be uncomfortable or distressing, please be mindful that for some individuals the encampment may contain precious belongings and although not what others may see to be valuable, it could mean a lot to someone in need of compassion.
Per the Calgary Homeless Foundation "encampments are only one demeanor of the larger set of aspects that contribute to homelessness, street life, and social disorder. The transient nature of individuals pitching tents and tarps often raise issues in the environment, and surrounding community. Homeless encampments encompass diverse forms: tent cities; groups living under bridges, sleeping in parks, C-train stations, along CP Rail tracks."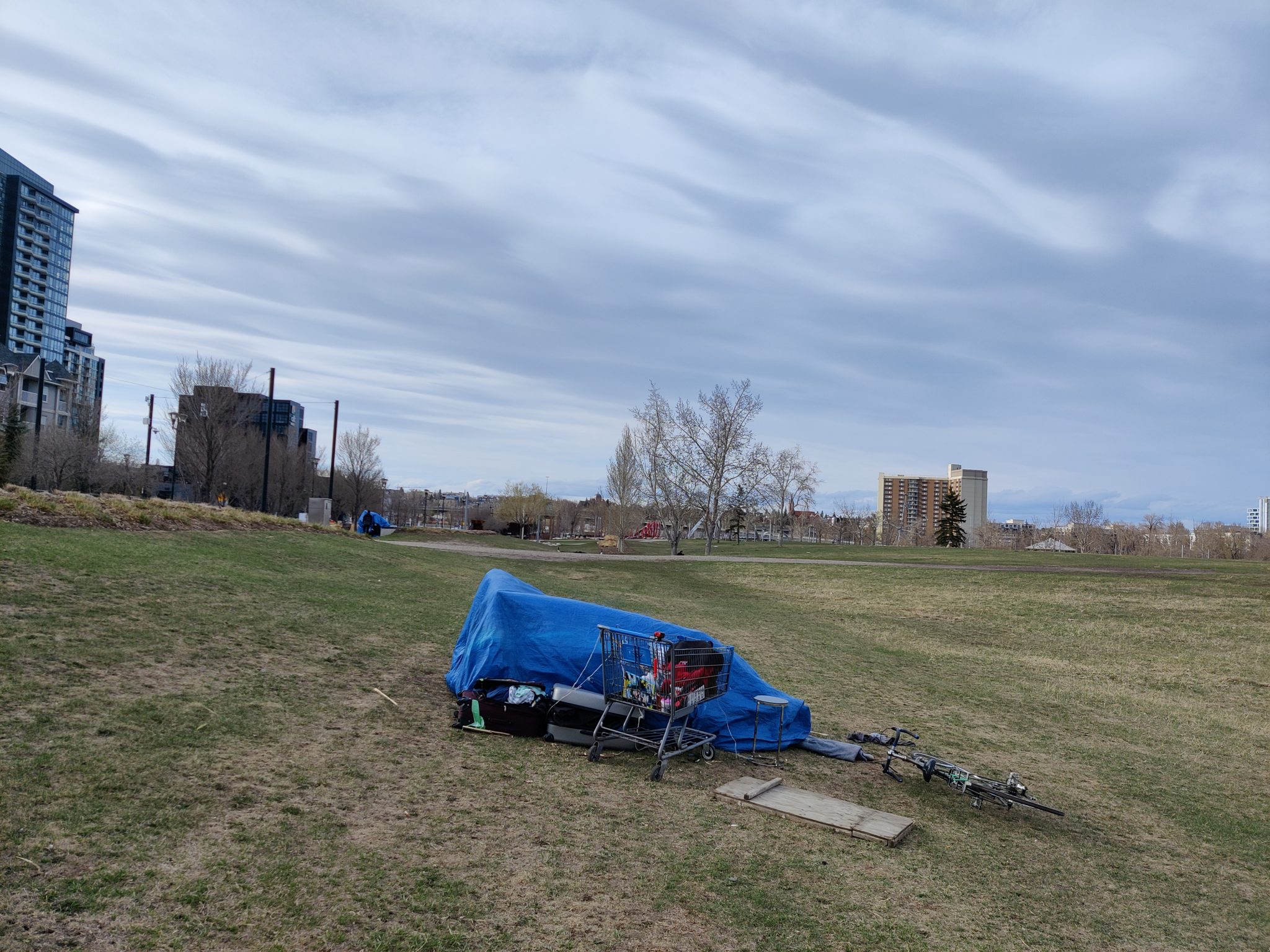 Depending on your situation, the following resources are available for consultation:

The City of Calgary Joint Encampment Team (JET) addresses encampments in Calgary communities and works with Community Peace Officers called the Partner Agency Liaison (PAL) team. The PAL team has a unique working model to address illegal encampments. This model focuses on creating positive working relationships and open communication channels with numerous social agencies and businesses who work to support vulnerable populations. Please note, it can take up to 30 days to resolve an encampment complaint.
These programs helps The City better respond to issues surrounding illegal encampments including:
Cleaning up and removing encampments from public property.
Helping encampment occupants connect with social services (health services and addiction support, housing).
Increasing the safety of those who work around illegal encampments by bringing in the services most appropriate for dealing with the dangerous materials often found in encampments including uncapped used syringes, combustible materials, fecal matter and body fluids.
While JET is not aimed at ending homelessness, it does help address the social and bylaw enforcement issues and help streamline the process for cleaning up encampments within Calgary.
To report an encampment or related concerns to The City of Calgary:
Call 311 to file a report.
If you believe someone's safety is in jeopardy, or if you see a violent or criminal situation occurring, call 9-1-1.
If you see items that you suspect are stolen, call CPS Non-Emergency Line 403-266-1234.
The Alpha House Encampment Team:
This team works closely with the City of Calgary Bylaw department and is focused on sustaining relationships and frequently will supply ready-to-eat food, for the short-term relief of hunger to Calgarians experiencing homelessness, as well as harm reduction supplies. The team is equipped to help individuals get on a housing list or provide referrals to detox programs. You can call or text them a location or pin at +1 (403) 805-7388. 
Categories: Updates, Ward 7, downtown