All City of Calgary parks | Downtown parks | Contact Parks
Connaught Park is located in the Beltline community and has a fenced off-leash area that includes a designated space for small dogs.
Location: 11 St. & 14 Ave. S.W.
Area: .3 hectares
Park hours: 5 a.m. - 11 p.m.
Off-leash area hours: 7 a.m. - 9 p.m.
Park features
Benches
Picnic tables
Close proximity to cafes, restaurants, appartment buildings and downtown businesses
About the park
Established in 1935, redeveloped in 1992, upgraded in 2008 and 2015, Connaught Park is a beautifully designed space in the Beltline community. The new fenced off-leash area has a dedicated space for small dogs.
A committee of representatives of the Beltline community, local businesses, and The City of Calgary Parks decided to retain Connaught Park's passive function, but to improve the park's quality to make it more attractive, to better serve local residents and shoppers, to provide space for events & public art, and to discourage the present negative use. The work was funded by the ENMAX Parks Program and is part of the City's plan to improve all of the parks in the Beltline.​​​​​​​​​​​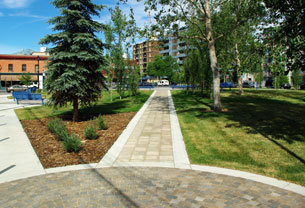 ​​​​​