The ENMAX Legacy Parks Program is a capital funding initiative whereby Council has directed a portion of the annual ENMAX dividend to Parks.
About the ENMAX Parks Program
Since 2003, the ENMAX Legacy Parks Program has been instrumental in the acquisition and development of new regional parks as well as the lifecycle and upgrading of some of Calgary's existing regional parks. Regional parks serve multiple communities, large catchment areas and tend to be multi-hour destinations for citizens. Unlike community open space, they are not acquired, funded or constructed through the development and subdivision process.
To date, Council has invested over $135 Million through this program. In addition, on February 6, 2012 Council approved an additional $75 Million for additional projects over the next five years. This fits with Council's Fiscal Plan for Calgary by "investing in great communities and a vibrant urban fabric".
ENMAX parks projects
Current and future projects:
Completed projects: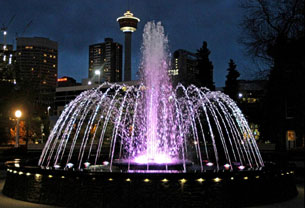 ​​​​​​​​​​