All City of Calgary parks | Downtown parks | Contact Parks
Humpy Hollow is a small fenced park beside the Catholic Pastoral Centre and is now home to the historic McHugh House.
Location:
17 Ave. S.E. & Centre St.
Size: 2 hectares
Park hours: 5 a.m. - 11 p.m.
Park features
Tot lot
Fenced
Grassy area
Benches
Picnic table
2 hour parking
Historic McHugh House
About the park
The historic McHugh House is preserved at Humpy Hollow Park. The house is one of the ten oldest houses in Calgary, built in 1896 and donated to The City of Calgary in 2014. The house was originally built for John Joseph McHugh, one of three brothers originally from Ottawa who were prominent Calgary pioneers and ranchers. The house is an early, rare, and intact example of Queen Anne Revival-style architecture in Calgary. The City is restoring the house and Parks is currently exploring opportunities for future use.​​​​​​​​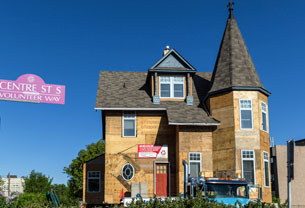 McHugh House being moved
​​​​​