Olympic Plaza is a beautiful destination place for downtown Calgary workers during lunch hour. The plaza was built in 1988 for the Olympic Winter Games and has the only refridgerated outdoor ice surface in the city.
Not allowed in the park
While visiting Olympic Plaza, please remember that the following is not permitted:
Dogs or other pets
Smoking
After hours activities
Park features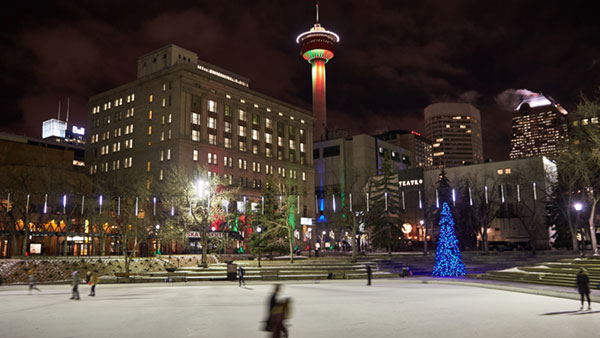 Outdoor skating rink
Enjoy our free-to-use outdoor skating rink in the east end of the park from mid-November to mid-March (weather dependent). Due to COVID-19, the number of skaters allowed at one time may vary. Helmets are strongly encouraged.
Skating hours: 10 a.m. - 9 p.m. daily
Skate rentals: Rentals provided by Skate Hut

Hockey sticks and nets, toboggans and sleds are not allowed on the ice.
Public washrooms are available on site.
The waterfalls are currently turned off for the season
About the park
Olympic Plaza was built in 1988 for the Olympic Winter Games in Calgary as the site of the medal presentation ceremonies and now hosts many special events & festivals throughout the year. It is also a wonderful place to sit and enjoy your lunch during the noon hour.​​​​​​​​​​​​​​​