All City of Calgary parks | Northeast parks | Contact Parks
Prairie Winds Park is a vital part of Calgary's northeast communities. This large destination park was redeveloped in 2016/2017 with added features including the playscape and upgraded wading pool.
Due to its proximity to the Calgary Airport, the flying of any device is not permitted in Prairie Winds Park. This includes kites, model planes, drones, balloons, and any other device that is meant to be airborne.

Location: 223 Castleridge Blvd. N.E.
Area: 16 hectares
Park hours: 5 a.m. - 11 p.m.
Book the park Book a picnic site
Park features
Basketball courts
Seasonal Washrooms May long weekend- September 30 and year round 24/7 portable washrooms
Cricket pitch
Fitness stations
Playscape - with zipline, running bowl & concrete wave
Pathways
Picnic areas
Picnic shelter with tandoori oven
Soccer field
Tennis courts
Toboggan hill
Wading pool/spray park - check status
About the park
The park first opened on September 8, 1990 with a gazebo in the Grant MacEwan grove, where 90 trees were planted for his 90th birthday. The park then underwent a 11.9 million dollar renovation from 2014 - 2017.
Park Redevelopment
The City of Calgary began engaging citizens on the redevelopment of Prairie Winds Park in 2014. In early 2015, a preferred design concept was created based on the public's feedback and taken to City Council for approval. City Council approved the concept and Design Development Plan. Throughout 2015, Parks worked on a detailed design for the park. Construction began in 2016 and was completed in 2017 with the park re-opening celebration in June 2017.
During public engagement, we heard from citizens that they wanted a park that:
Is accessible and welcoming to people of all ages, cultures and abilities;
Provides a range of active and passive space that can be used year-round;
Provides structures and services to make the park comfortable;
Include spaces for families and communities to gather and celebrate;
Ensure pathways are well connected;
Protect and enhance the park's unique character, and;
Provide places to play, learn and grow.
We listened and designed a park that will:
Retain the toboggan hill and add a lookout at the top;
Move the existing tennis courts to a new location;
Create a new main entry plaza;
Create a new expanded playscape;
Replace the existing wading pool with a new wading pool and lazy river feature;
Renovate and expand the existing park centre building;
Fix existing drainage problems and improve accessibility on existing pathways;
Replace the existing baseball diamond with a family sized/junior cricket pitch;
Add seasonal washrooms in the park, install drinking fountains, provide more seating areas and install a tandoori oven;
Upgrade open spaces to accommodate events and festivals;
Reclaim area where artificial creek is for passive park uses;
Add more picnic shelters;
Add fitness stations and additional entry points.
The park also contains a public art element.​​​​​​​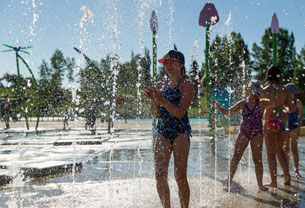 ​​​​​​​