In the winter, tobogganing and sledding on the hills of Calgary is a thrilling way to enjoy the winter and take advantage of the snow. Several parks and greenspaces offer safe and exciting hills.
Safety first! Always remember, helmets on heads!
Tobogganing is an activity that you do at your own risk. The City is not responsible for any personal injury or damage to personal items.
City-maintained hills:
Please note: All listings are weather dependent.
Note: For safety reasons, the Parks and Pathways Bylaw prohibits tobogganing or sledding downhill in any City-maintained park except the ones listed above. The bylaw does not apply to private, provincial, or federal land. Citizens wanting additional hills to be considered for tobogganing can contact 311. A site assessment will be conducted and a public engagement process will determine the site's suitability.
​​​​​​​​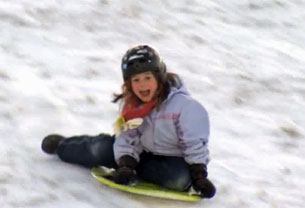 ​​​​​