Select athletic parks and fields are now open for booking permits. See athletic park pages for booking and availability. Walking spaces are open in six athletic parks for non-permitted use. More fields are being added throughout July and August, however not all fields may open in 2020.
Remaining athletic parks are scheduled to reopen based on demand.
Athletic Parks are available for bookings between 7 a.m. and 11 p.m. seven days a week during prime athletic park season (May to September). City-owned athletic parks are closed on statutory holidays unless privately booked.

Check your field status (occasionally our fields are closed unexpectedly because of weather or other factors)
Open
Ernest Manning Athletic Park
Currently closed
Forest Lawn Athletic Park
Frank McCool Athletic Park
New Brighton Athletic Park
​​​​​​​​​​
What's happening at our athletic parks?
Glenmore and Foothills tracks available for public drop-in
Glenmore Track and Foothills Track are open for free drop-in public use from May 1 through September 30 during set hours. Visit the specific track to see availability and conditions of use.
​​​​
Advertising opportunities
If you're interested in finding out about advertising opportunities in our athletic parks please contact REC Media.​
 ​​​​​​​​​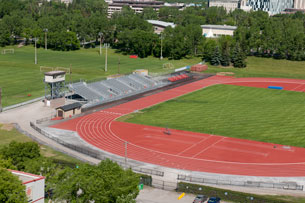 Foothills track​
​​​​ ​​​​​