Access City sites for commerical drone flights
Where can I conduct autonomous systems testing?
---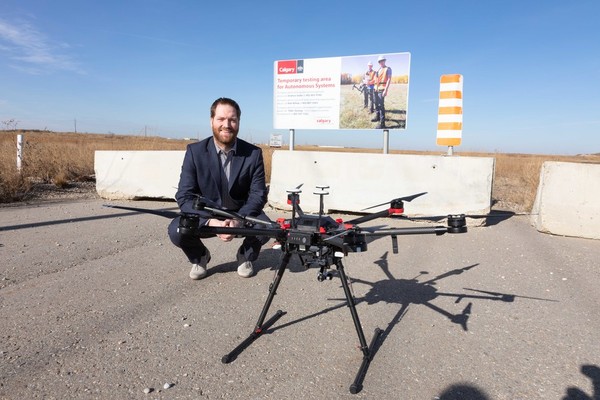 Currently, there are two locations where companies can fly commercial drones:
Shepard Landfill
East Shepard RPAS/Drone Operating Area (ESDOA)
Formerly Point Trotter ASTA. Note: As of June 9, 2019, due to construction at the Point Trotter site, the drone operating site has been moved 2 km east of Point Trotter and is called the East Shepard RPAS/Drone Operating Area (ESDOA).
Open 7 days a week.
10000 84 ST S.E. View map of ESDOA area and site parking.
​​
Bookings and inquiries
---
Companies must pre-book times to fly commercial drones on City land. To book times, please email your request to LivingLabs@calgary.ca.
​​
Required documents and fees
---
Before The City can issue a License of Occupation, you must provide copies of the following documents to LivingLabs@calgary.ca:
1. Appropriate Transport Canada certificate based on drone weight.
2. Proof of valid $2M corporate liability insurance covering drones as outlined in the License of Occupation agreement .
3. A completed Site Survey/Plan of Operation Map for proposed flight location. This includes list of pilot(s), observer(s) and drone(s) to be flown.
Licensing fees
A $525 (GST incl.) fee for starting or renewing a contract for a maximum of 1 year (interim insurance checks may be required).
Please send a cheque made payable to The City of Calgary to:
City of Calgary Real Estate & Development Services
P.O. Box 2100, Sta. M #195
Calgary, AB T2P 2M5
Attn: Leasing
​​
Guidelines and best practices
---
The City of Calgary expects corporate drone operators to observe and obey all Transport Canada rules and regulations.

Read more about Regulations Amending the Canadian Aviation Regulations (Remotely Piloted Aircraft Systems): SOR/2019-11

Read more about drone safety from Transport Canada

All corporate drone operators must provide a copy of all required documents and have a valid License of Occupation to fly on City land.
The City reserves the right to ask for copies of log books as per Transport Canada Rules.
Only one operator on-site at a time. Bookings are made through LivingLabs@calgary.ca  
Only one drone in the air at a time (per location).
Drones are to be flown during daylight hours only.
Note: The City of Calgary is a land provider only and not the authority or enforcement agency for drone flight as outlined in the License of Occupation