Supplementary pension plans
Only 12% of employees qualify to receive a supplementary pension or a 'top-up'.
Supplementary (or top-up) pensions provide a pension benefit on the portion of the salary not covered by the base plan. Employees who qualify for them contribute to them each payday. They do not receive a duplicate pension on the same income – they are not double-dipping.
One of the many benefits of a career in public service is participation in a pension plan – in fact, over 85 per cent of Canadian public sector employees have one. Financial well-being, in which pensions play a part, contributes to employee health, retention and productivity.
We know there is a lot of interest in The City of Calgary's employee pension plans. While the topic of pension plans in general can be a bit complicated, we have tried our best to distill key information for Calgarians who are interested in the plans offered to this defined group of employees.
City of Calgary employees contribute towards their pension each pay period. The vast majority of our employees (nearly 90 per cent) participate in one of two multi-employer pension plans – Local Authorities Pension Plan (LAPP) or Special Forces Pension Plan (SFPP).


Resources
The City conducted a Total Compensation Review in 2020, which may help place pension plans in a broader perspective.
Visit Total Compensation
Why are supplementary (or top-up) pension plans used?
The Canada Revenue Agency limits how much of your annual salary can be paid out of a pension plan per year worked. It chose 2% based on calculations that consider how much income you need to retire, and how many years most people work. Most City employees do not participate in a supplemental pension plan.
How do they work?
A supplementary plan builds on others to ensure a consistent two per cent pension formula over the member's full salary for the pensionable service period. They cannot achieve the two per cent formula under LAPP alone because of the rate limit and maximum salary caps under the Income Tax Act (ITA). These employees do not receive a duplicate pension benefit.
Approximately 12 per cent of City employees participate in supplementary (or top-up) pension plans, most of whom are firefighters.
Why firefighters?
They have a special designation under the Income Tax Act called Public Safety Occupation due to the risk and physical demands of their jobs. This recognizes that firefighters often cannot work as late in life as other employees. As a result, they have their own supplementary (top-up) pension plan so they are not penalized for this in retirement. The Fire Supplementary Pension provides a bridge amount to normal retirement age.
LAPP reports that about 90 cents came from investment earnings, and nearly half the remainder came from employee contributions.

of their income every month throughout their career.
Who pays for pensions?
All employees who qualify to participate in a supplementary plan pay into them with a percentage of their salary. The contribution rates are shown in the chart below.
| Supplementary Plan | Employer Contribution | Employee Contribution |
| --- | --- | --- |
| | | |
| | | |
| | | |
Do other municipalities provide supplementary pension plans?
Yes, other municipalities offer supplementary plans although they may look different. Several offer pension benefits comparable to The City of Calgary's as part of a single plan. For example, the BC Municipal Pension Plan by itself does the same job as the LAPP, the SPP, and the Overcap Pension Plan (OCPP) put together. Similarly, the Ontario Municipal Pension Plan (OMERS) and its supplementary (or top-up) pension plan provides a similar pension benefit as the LAPP, SPP and OCPP put together.
The chart below shows the pension packages offered for a fictitious employee earning up to $200,000 per year within The City of Calgary and municipalities in British Columbia and Ontario.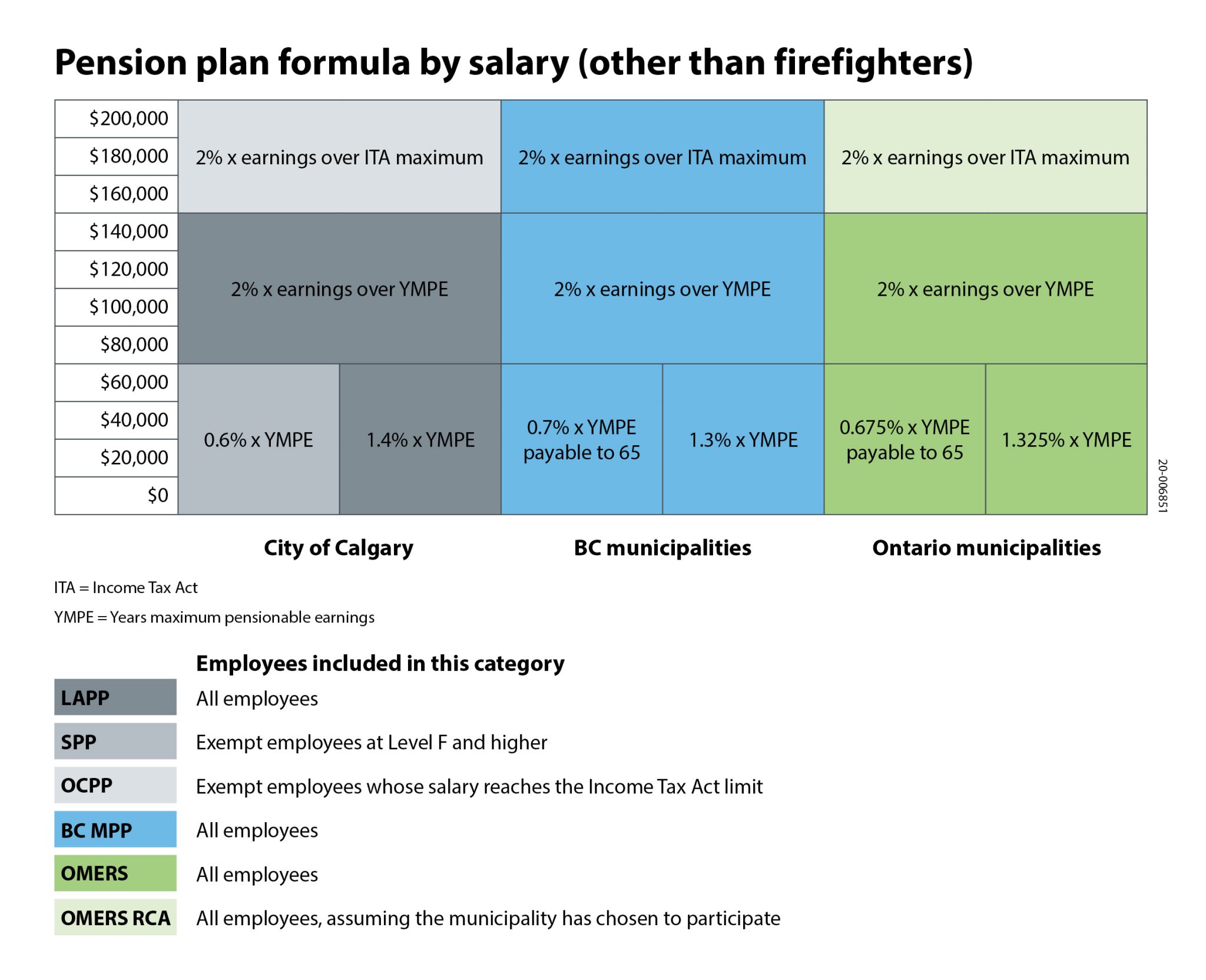 Let's look at how pension benefits might break down for a fictitious employee. The following example shows how this employee's supplementary pension builds on, but does not duplicate, her base plan.
| | | |
| --- | --- | --- |
| Jackie, Leader | Years of LAPP service: 24.25 | Average salary: $135,200 |
| Age 60.8 | Years of SPP service: 19.35 | Pension payable: $63,913 |
Meet Jackie, our fictitious Water Quality Service leader for The City of Calgary. Jackie manages The City's water and wastewater laboratories and a team of professional chemists, microbiologists and aquatic biologists who test our drinking water and wastewater 365 days-a-year.
Upon graduation from university, Jackie was hired as a full-time Water Quality Technician at The City. In addition to working in the lab, she has continued her education in the evenings with a focus in management. Her career has included a few promotions and lateral moves that furthered her knowledge and expertise. Nineteen years ago, Jackie was the successful candidate for a leadership position. At almost 61, she's not ready to retire yet but is talking to her financial advisor about her pension. As a City employee, Jackie contributes to the Local Authorities Pension Plan (LAPP) and recently ran a retirement estimate on the LAPP website.
As a leader, Jackie contributes to the Supplementary Pension Plan (SPP) that builds upon LAPP and provides a pension on salary that is not covered by LAPP but which is under the Income Tax Act allowable salary.
Jackie went to the SPP website and ran a retirement estimate. The LAPP and SPP websites provided her with pensions payable to her should she retire today.

Employee profile is based The City's Supplementary Pension Plan (SPP). The SPP supplements the LAPP formula for earnings with the Income Tax Act limit. This data provides us the "average" SPP person at retirement who does not have a pension partner. *Income Tax Act allows the defined benefit pension to cover 2% of salary for each year of service (1.4% + 0.6% = 2%). Jackie is not receiving a duplicate benefit on the same salary.
LAPP is The City's largest multi-employer pension plan, which brings together 420 employers and their 163,000 employees into a single plan that pools resources to obtain lower investment and administration fees, and to reduce volatility