Planning & Development Accountability Plan
​​​
The 2021 Planning & Development Accountability Plan​ aims to provide an internal view of how the Planning & Development department governs and manages its business, which ultimately provides value to Calgarians. While this plan is designed to be a reference and information tool for Planning & Development staff, it is published externally to align with our focus on transparency.
One Calgary
Through The City's 2015-2018 Action Plan business cycle, Planning & Development has been through a journey of very intentional changes in both our focus and how we manage our business. We have advanced our understanding of what drives our business, streamlined efficiencies, and continued to focus on making life better for Calgarians.
Our work can be found in the One Calgary 2019-2022 budget and planning process, which presented The City's budget in 61 unique services provided to Calgarians. Planning & Development owns three of these services which are:
City Planning & Policy
Development Approvals
and Building Safety
Leveraging the departmental focus and progress made over the last few years, Planning & Development developed and presented our 2019-2022 One Calgary service plans & budgets.
Accountability
Planning & Development employs a service-based delivery model, which is governed and monitored by an accountability committee framework. This framework is structured by monthly management-led service and oversight committees, which report in to a full management team accountability committee meeting. At these meetings, updates on our services and focus areas are provided, and issues and strategies are discussed.
There are three service committees focused on Planning & Development's three services: City Planning & Policy, Development Approvals and Building Safety. The service committees are chaired by the One Calgary service owners responsible for those services. The service committees monitor the delivery of the service to Calgarians, provide ongoing service improvements, and identify any issues which need to be addressed.
There are four oversight committees which enhance our service delivery and also advance our four focus areas: People & Culture, Customer Service, Financial Governance, and Project Delivery (business and service improvements).
The oversight committees are chaired by department leaders and comprised of managers and staff from across the department who contribute to success.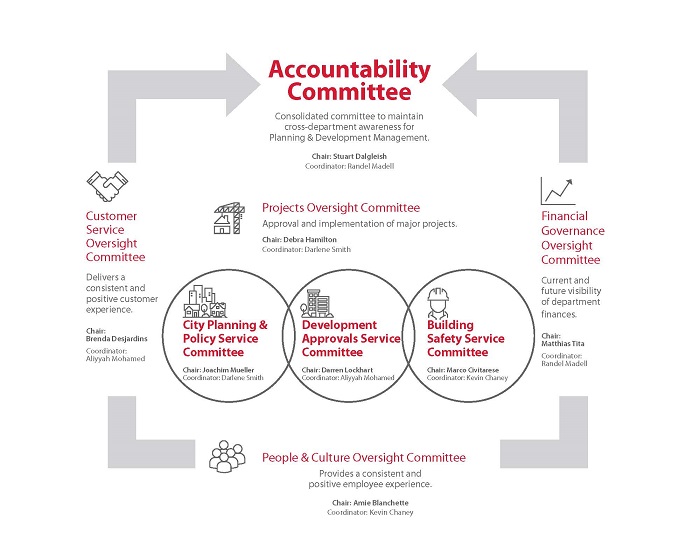 The Planning & Development accountability framework is essential to effectively advance our service delivery, increase internal efficiencies, and realize budget savings.
Performance Measures
The success of Planning & Development is demonstrated through measuring
how our services are performing. We strive towards always improving our
processes and realizing efficiencies that translate into tangible customer and
citizen benefits. The goal is to measure our overall effectiveness in delivering
our services, the interaction with customers, and the 2020 key deliverables
for each of the services and oversight committees.
The performance measures are monitored periodically throughout the
year in each committee, and a consolidated list is included on the following
pages. The highlighted measures are reported back to Council twice a year
and the remainder are internal measures reported through the monthly
accountability committee structure.
More information
​​​​​​​​​​​​​​​​​​​​​