Group nature programs for children and youth
We offer a variety of group programs for children and youth that combine hands-on activities with outdoor exploration. Our programs are delivered by experienced educators and can be customized to meet your group's needs. These programs are geared towards: Scouts, Guides, Junior Forest Wardens, day camps, home schools and community groups.
Age: 6 - 17 years
Length: 1.5 hours
Cost: $125 per program, maximum 30 participants and 5 chaperones
Pond Study
Explore the secrets of the underwater world without getting your feet wet! Participants will get an up-close view of the amazing creatures that live in the wetland and learn about their unusual adaptations and survival in a storm-water pond. This program will also empower participants to become part of the "pollution solution" for clean water.
Location: Ralph Klein Park (seasonal: May – September)
Surviving the Seasons
Where do bugs go in the winter? Why do some birds fly south while others stay? How do duck feet stay warm in freezing water? This program will answer these questions and more. Through hands-on activity stations and a guided nature walk, participants will learn about the three major winter survival strategies: hibernation, migration, and adaptation.
Location: Inglewood Bird Sanctuary and Ralph Klein Park (year-round)
Animal Adaptations
Discover the wild adaptations that make different groups of animals unique. What features make a rodent or an ungulate different from a bear or a bird? Why do different animals thrive in different environments? This program includes a guided nature walk and hands-on activity stations where students can handle skulls, pelts, and more to learn about a variety of animals that call Calgary home.

Location: Inglewood Bird Sanctuary and Ralph Klein Park (year-round)
Guided Nature Walks (all ages)
Explore one of Calgary's amazing parks or green spaces! A parks program ambassador will guide you through your favourite natural area in the season of your choice—you pick the date and location. We will work with you to customize the program based on your group's needs and interests. Activities will include historical fun facts and plant and wildlife identification.
Length: 1 hour
Location: Any City of Calgary park or green space
Cost: $102, maximum 30 participants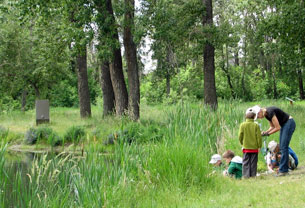 ​​​​​