Haultain Park was once the site of the two Haultain Schools. The original smaller school remains and is used as the offices of Parks Foundation Calgary.
Benches
Picnic tables
Tennis courts
Pathways
Historic Haultain School
​​​​​
The Haultain School (originally the South Ward School) was built in 1894 and was Calgary's first sandstone school as well as the first school with electricity and running water. In 1907, a new ten-room school was built on the same site to accommodate the increased population growth. Three years later, in 1910, both schools' names were changed to commemorate the memory of Sir Fredrick Haultain, President of the Executive Council (Premier) of the North-West Territories Legislative Assembly. The larger school was eventually closed in 1962.
The park includes a section of the escarpment but most of the area is on the flats. The flats are gravel deposits on an outer curve of the river. Consequently the shape of the park is constantly changing as some areas are washed away and others built up.
Prior to becoming parkland, the flats were owned by various large land-owners although there is no evidence of major human activities or settlement in the area. But, there is an interesting structure called a "sappers bridge" built in 1992 by military field engineers, otherwise known as sappers.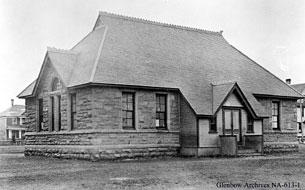 Calgary Parks

There are numerous community and public parks in Calgary to explore.

Contact us

Need additional information on our parks and activities? Want to request maintenance?