Park features - Shouldice Park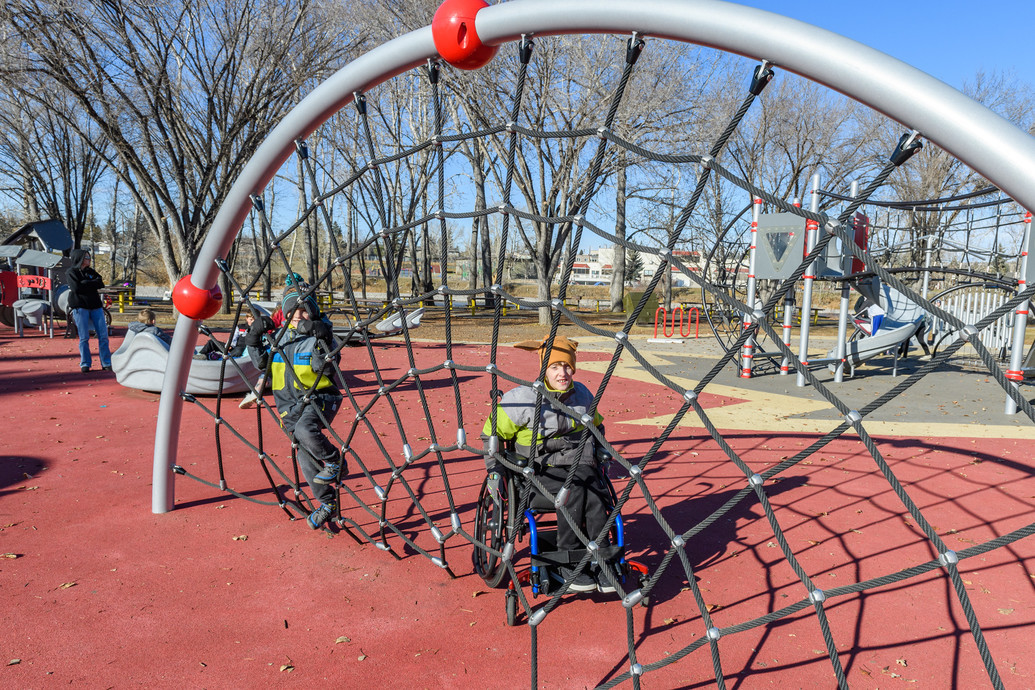 Accessible playground
In July 2018, Canadian Tire Jumpstart Charities donated a universally accessible playground and installed it in Shouldice Park as part of its as part of its commitment to help create a more inclusive Canada. At over 16,000 square feet, the accessible playground is one of several built across Canada with the help of Jumpstart funding.

This playground sets a new standard for inclusive play through its imaginative and accessible spaces where children of all abilities can enjoy sport and play together. The inclusive playground at Shouldice Park is one of many inclusive playgrounds in Calgary.
In 2022, the inclusive playground at Shouldice Park was voted Best Accessible/Inclusive Experience for Kids by readers of Calgary's Child Magazine.

Playfields at Shouldice Athletic Park
Shouldice Athletic Park can be booked for football, baseball, softball, soccer, field hockey, field lacrosse, basketball, sports tournaments, batting cagesand special events.
Amenities and parking can be found throughout the park. Please consult the two files below to locate your needs.
Learn more
Shouldice Athletic Park
Soccer, football, softball and baseball fields are available to play on. In addition to the three artificial turf sport fields, Shouldice Athletic Park has 4 grass sport fields and 8 ball diamonds.
Shouldice Aquatic Centre
A multi-purpose recreation facility that offers a wide variety of activities and services.
Shouldice Arena
This clean and well kept facility hosts minor and adult ice sport leagues.
Picnic sites
Basketball court
Washrooms (seasonal)
Water fountains (seasonal)
Bow River access
Calgary Parks
There are numerous community and public parks in Calgary to explore.
Contact us
Need additional information on our parks and activities? Want to request maintenance?