The tipis and trapper's tent was set up at various downtown Calgary parks and select festivals this past summer. The City worked with Indigenous Nations and Elders to provide programming at the tipis including Tipi Teachings by Elders and drumming sessions led by Sobercrew.
Check back early next year to find out where you will be able to find the tipis and Trapper's Tent in 2024. 
Respect the Tipis & Métis Trapper's Tent
---
The tipis and Métis Trapper's Tent are sacred and need to be treated with respect. Tipis were used as homes (also called lodges) since Time Immemorial.
To the Blackfoot people, tipis are called 'nitoyiss'. The Tsuut'ina people call tipis 'kuwa' (meaning our homes) and the Stoney Nakoda people call them 'ti-bi' (meaning where we call home). Métis People call trapper's tents 'Lii Taant di Ohpayikewuk' which means tent in Michif, the language of the Métis People.
There are very basic protocols that we must follow to show respect to the tipi, Métis Trapper's Tent and their owners.  
 
You are welcome to go inside the tipi and Métis Trapper's Tent while they are open. Please follow these very important guidelines:
Tipi and Métis Trapper's Tent are best used for quiet passive activities like reflection, reading, or conversations.
Children are welcome to join but active play such as running, jumping, and rough play are inappropriate.
Do not bang or hit the poles, walls or beams.
Alcohol, smoking, and marijuana are strictly prohibited.
Please refrain from bringing outside food and beverages into the tipi or Métis Trapper's Tent (unless you have been invited to do so by the owners).
It is never appropriate to litter in or around the perimeter.
If you have any questions, please don't be shy to ask the staff who are standing by.any questions, please don't be shy to ask the staff who are standing by
The Tipi Project introduced tipis and a Métis Trapper's Tent to Calgary's parks. This work has been made possible through extensive collaboration with Tsuut'ina Nation, Blackfoot Confederacy, Stoney Nakoda Nations and the Métis Nation of Alberta, Region 3. The tipis and Métis Trapper's Tent are more than a sacred cultural item—they represent a new way of Indigenous People and Settlers living together.
The Tipi Project aims to further Truth and Reconciliation and make progress towards the calls to action outlined in The City's White Goose Flying Report, specifically:
#22: Recognize value of healing practices
#48ii: Enhance self-determination in spiritual matters (practice, develop, teach and hold ceremony)
#82: Establish monument
#83: Create collaborative art that contributes to reconciliation
#57: Support awareness training to public sector staff
A place for celebration and learning
---
These important symbols of the individual Indigenous cultures in the Treaty 7 region allow for Indigenous Peoples to celebrate and share their unique traditions and practices, while providing a valuable learning opportunity for all Calgarians. Although this project is one small step in the journey toward reconciliation, it's greatly representative of our willingness and commitment to come together in unity and work toward a bright future.
Tsuut'ina Nation Tipi
This tipi was made by the Starlight family and is painted with the Tsuut'ina Nation logo.
A gifting ceremony was held with Tsuut'ina Elders and City of Calgary staff to solidify a new relationship to work on the tipi project together.
The tipi was first launched on June 8 and 9 with Tsuut'ina programs and a Sobercrew Calgary drumming jam.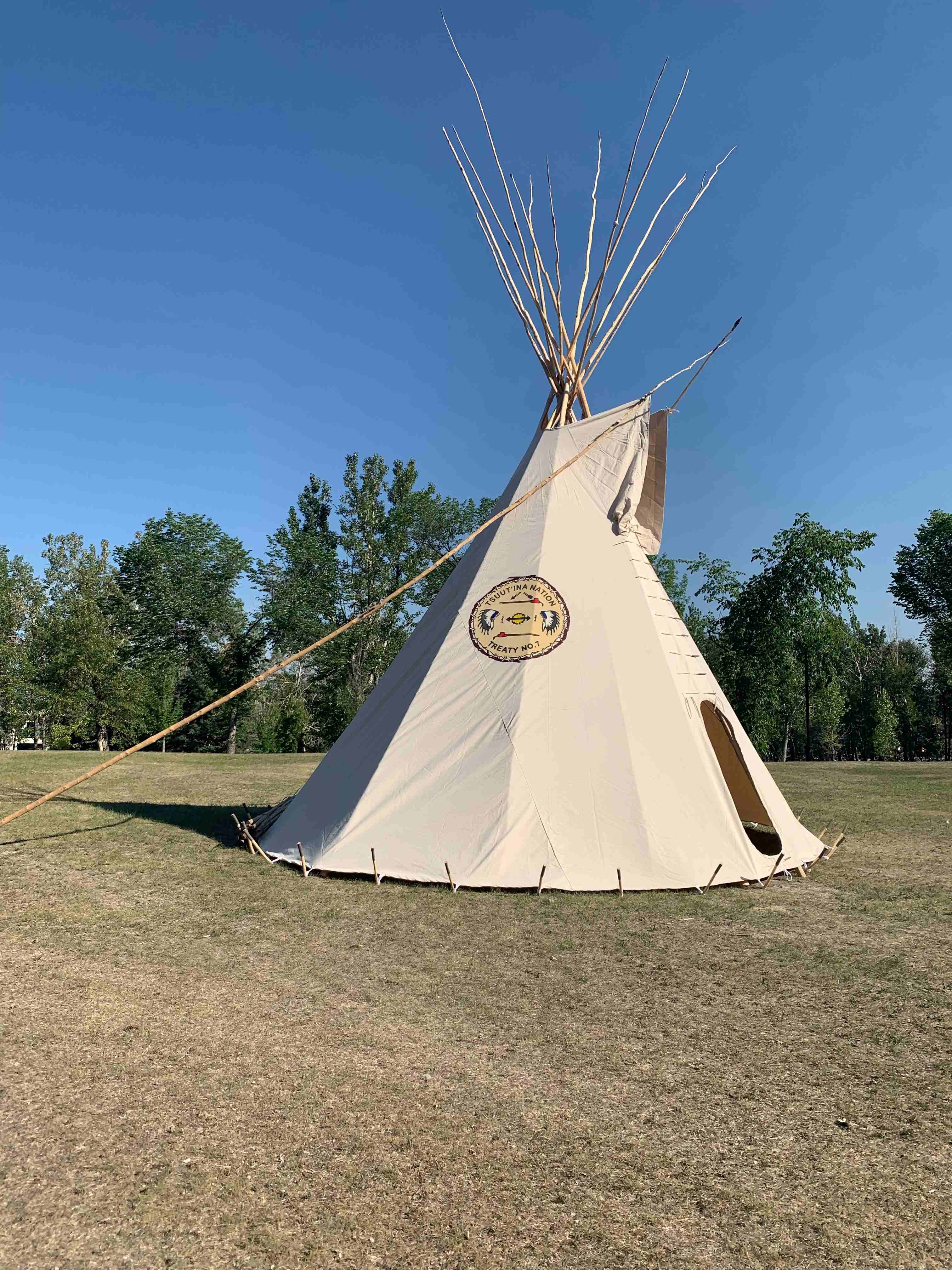 Blackfoot Confederacy Tipi
This tipi represents Kainai Nation, Piikani Nation and Siksika Nation.
To the Blackfoot people, the tipis (nitoyiss) were used as their homes (also called lodges) since Time Immemorial.  
The canvas was cut through a public workshop and then painted with an Indigenous design.
The design was gifted to the Director of Parks & Open Spaces Kyle Ripley and Indigenous Landscape Strategist Crystal Many Fingers through a Tipi Transfer ceremony held on June 21, 2023.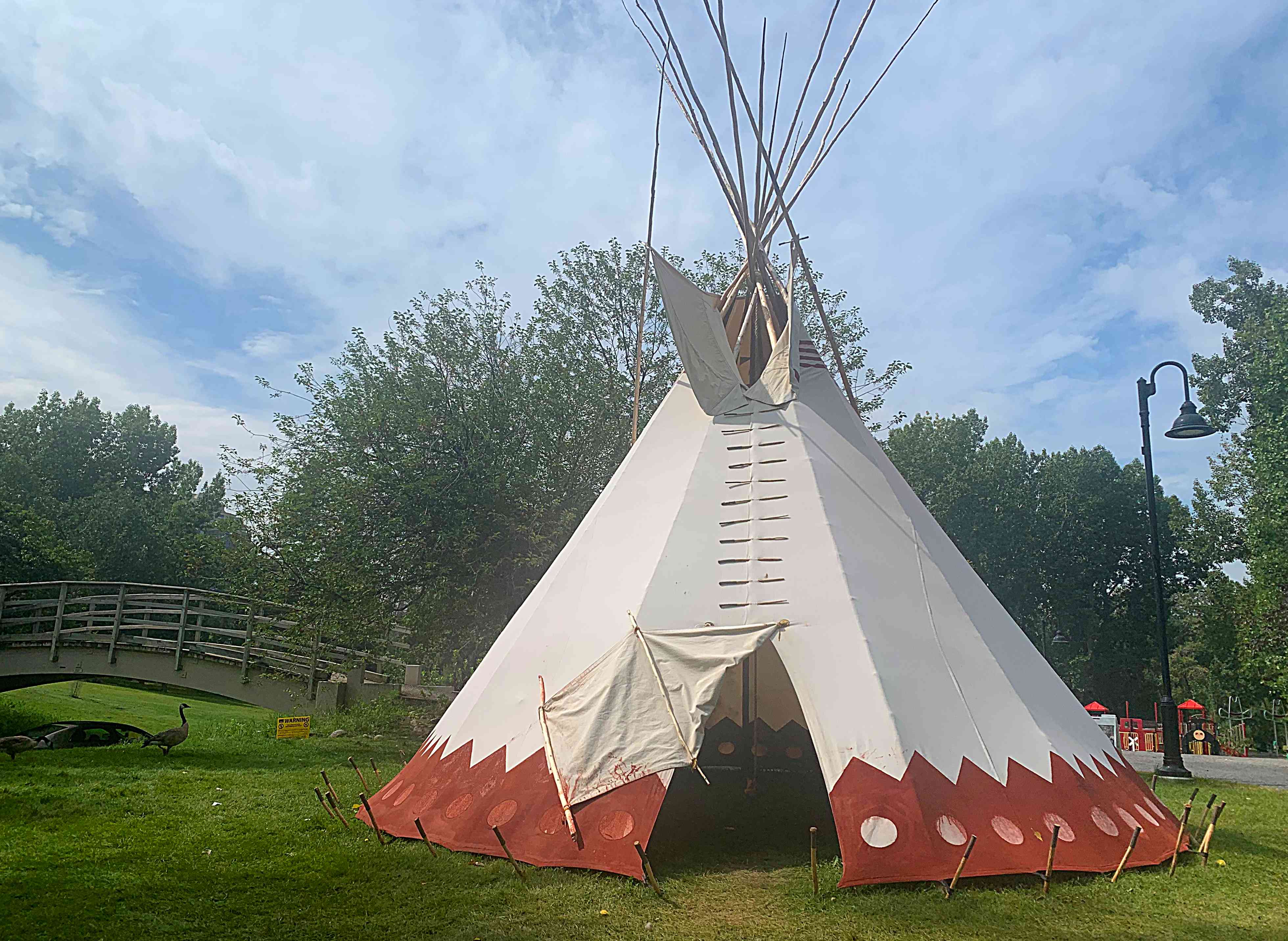 Our Blackfoot Tipi designs have power. Painted tipis are not just pretty painted tipi's they mean something. The tipi is another sacred bundle. To own a tipi design it must be handed down to you or you dreamt or had a vision of the design. Tipi's that are not painted were not transferred in a ceremony. Some tipi's help us predict the future, some call the buffalo and others call a storm. Each design protects the family and helps them to live a happy successful and safe lives.
Amosti Niitoy'yiss iikatowapiiya maatsimanistokspankoistip'pa. Mannitsipiksiiks aikimokiiya.O'kokiiya osaammi. Niitoy'yiss nokataanistotowapii amopistaanists. Niitoy'yis aksiinay tsipommowa ma matapi. Niitoyis naytapiiko nookskaiks nokatto spommoyii matapiiks maksikaysinnis issohtsik. Makinkastimmassa innisks kii makanooksiksistsikois. Niitoy'yiss aispommokii maksokiipaitapiisinoonii. Kiistitapiiminooniks makastawapsiiya kii makkakommostipiisinaan.
Right Ear Flaps – Five stars represent the five lost children
Nistima pokaiks nawastosiks
Left Ear Flaps – Seven stars represent the big dipper or the seven brothers
Ihkitsikammiksi
4 Stripes – Represent the seasons
Winter – Spring – Summer - Fall
Otsstoyis – Motoyis –Niipo – Okoyis
Butterfly – Represents you had a dream or vision of the tipi
Apanii
Circles – Represent stars
Kakato'siks
The Bottom – Represents where you received the vision, like the rolling hills, mountains, or on the prairie.
Isspahko – Miistakisks - Saokiyois
Stoney Nakoda Nations
There are three tipis each representing each of the three Stoney Nakoda Nations: Bearspaw First Nation, Chiniki First Nation and Goodstoney First Nation. All of the tipis were made in Morley, Alberta.
A pipe ceremony was held with Stoney Nakoda Nations Elders and City of Calgary staff to solidify a new relationship to work on the tipi project together.
Métis Nation of Alberta Trapper's Tent
The canvas for the tent was beaded at a public workshop and is making an appearance starting September 23, 2023 in Prince's Island Park.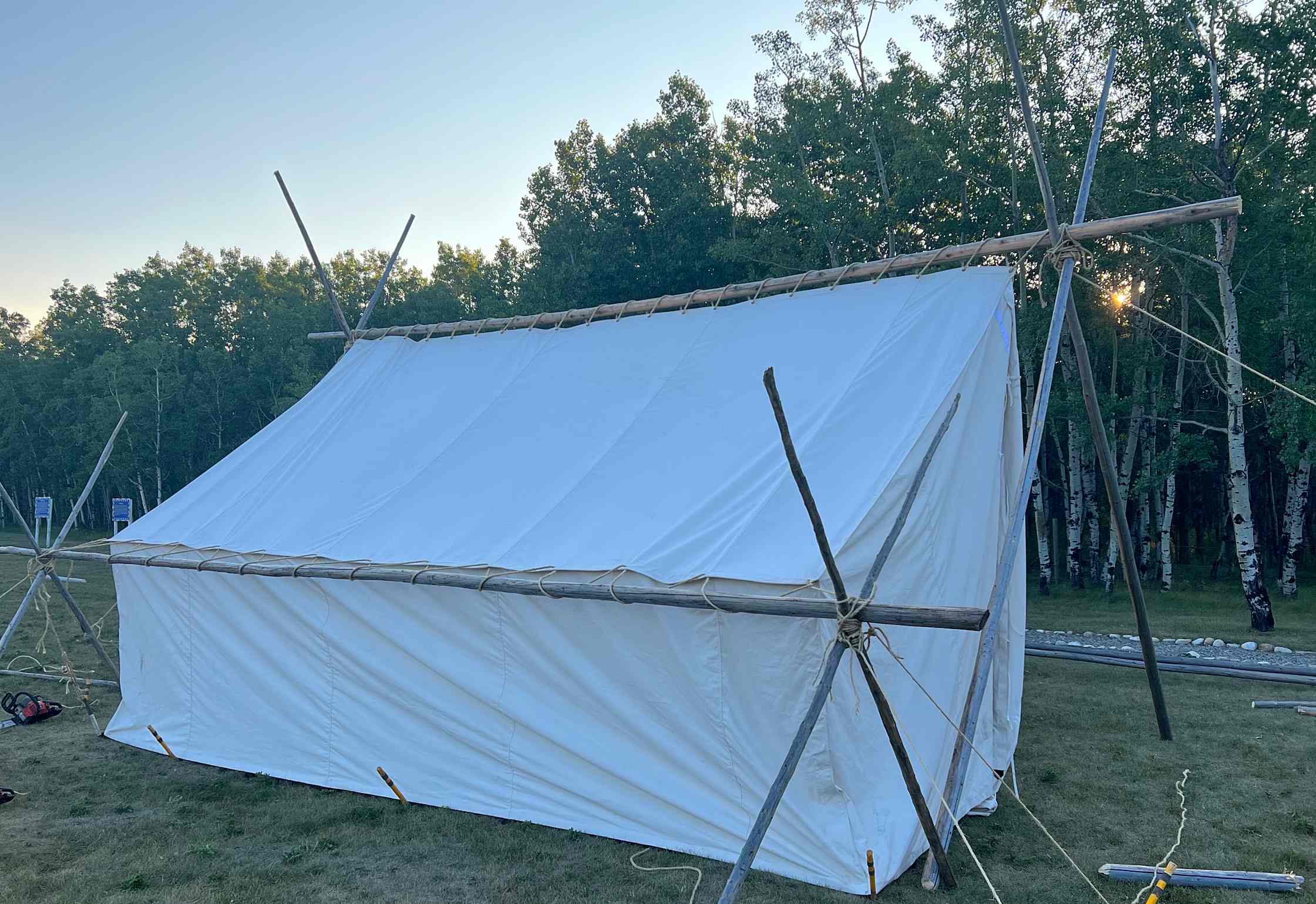 Questions & requesting a tipi or trapper's tent
---
Community groups and festivals will be able to request a tipi or trapper's tent at their event. Email tipis@calgary.ca to request a tipi or trapper's tent for a program or festival or for more information.