Stephen Avenue is one of Calgary's busiest, most animated, and recognizable streets. The avenue means different things to different people.
For some, Stephen Avenue is Calgary's premiere hospitality and retail destination. For others, it's a pedestrian friendly environment to take a walk, to people watch, and socialize.
It is also a historic destination, containing the highest concentration of historic buildings in the entire city. It's a cultural hub, connecting Calgarians and visitors with some of the city's most prominent cultural facilities.
It is the diversity that makes Stephen Avenue attractive to so many people, and a focal point of Calgary's downtown.
Why this project now?
Stephen Avenue helps define the identity of Calgary's downtown
A vibrant Stephen Avenue is critical for attracting new businesses and tenants downtown
Physical conditions are deteriorating – a new plan for the street is needed
Clearly defining a path forward sends a positive message to property and business owners, and Calgarians
This project will aim to:
Extend the energy and liveliness of the pedestrian mall westward along 8 Avenue S.W.
Establish a new vision for Stephen Avenue that creates opportunities for private investment and redevelopment
Create short and long-term strategies that can be implemented over time to make Stephen Avenue better for Calgarians and visitors
A path towards success
Generating a bold and compelling vision for the future of Stephen Avenue will require new ways of working and thinking for The City of Calgary and its cultural and business partners. In order for any public space to thrive, like a garden, it must be actively cultivated.
A great public space must be well located and well designed; seeded with the right combination of culture, commerce and play; and create authentic invitations for many people to care and participate in actively stewarding and caring for the space.
A new streetscape design is necessary but not sufficient to catalyze the transformation of Stephen Avenue. Great design must be paired with a robust program for economic investment and redevelopment and a strong framework for operations, maintenance and stewardship.
Project scope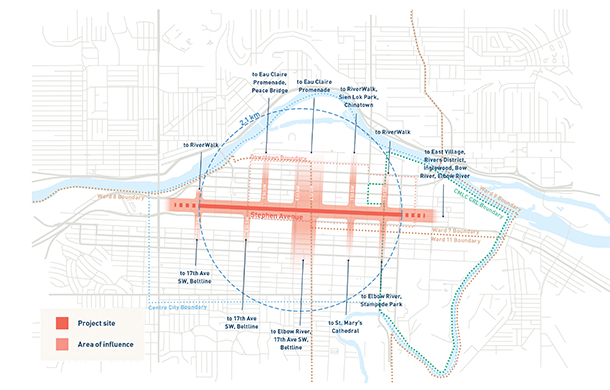 Click to view larger image.
Project timeline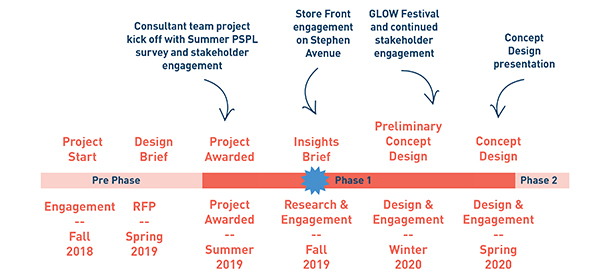 Click to view larger image.
Please visit our public engagement page to learn more about the work our team has done and provide your feedback.
Downtown Cycling Strategy
​​​​​​​​​​​​​​​​​​​​​​​​​​​​​​​​​​​​​​​​​​​​​​​​​​​​​​​​​​​​​​​​​​​​​​​​​​​​ ​​​​​​ ​​​