Calgary's greater downtown plan
Downtown is central to Calgary's economic recovery
This is an updated version of the Plan with changes recommended at the April 7, 2021 Standing Policy Committee on Planning and Urban Development meeting.
We're facing a long road to recovery, but there is no looking back
We must focus on the future. Calgary's downtown will not go back to the way it was before the pandemic, let alone five to ten years ago because of changes to our energy industry and how and where people work. We must take bold steps now, implement necessary changes and make decisive moves quickly in order to transform and reinvent downtown for decades to come. 
Now is the time for bold action
---
Downtown must transform towards a more balanced mix of residential, office, retail, entertainment, tourism, and culture. The City and its downtown partners must make the bold moves required to shift from vacancy to vibrancy. We are making an initial investment in our downtown that will start this shift.
This initial investment of $200 million is focused on areas that will start to lower office vacancy, improve downtown vibrancy, and support the development of thriving neighbourhoods that attract residents, visitors, and talent for downtown's businesses.
Downtown office vacancy is at approximately 12 million square feet which translates into approximately 30 percent. As downtown office vacancy rates continue to rise, the impacts are far-reaching. The status quo scenario is the biggest risk to downtown vibrancy, Calgary's economic competitiveness, and fiscal sustainability. Downtown office property values have declined by $16 billion since 2015, or 60 percent, resulting in the tax shift situation that affects City finances and residential, commercial, and industrial property taxes throughout the city.
The City worked in collaboration with industry experts including Calgary Economic Development's (CED) Real Estate Sector Advisory Committee (RESAC) and the Real Estate Working Group (REWG) to develop an incentives package for downtown office conversions, office replacement, and new residential development.
Converting office to residential uses is complex and expensive, with incentives being required to stimulate investment. The City and its private sector real estate partners have identified 28 potential downtown office buildings for conversion or adaptive reuse. This could include conversion to or reuse as residential units, student housing, senior housing, post-secondary institutions, and the amenities needed to establish complete, thriving neighbourhoods.
Residential development in the downtown core often includes the requirement to contribute to the Plus 15 Fund, which supports construction, operation, and maintenance of downtown's Plus 15 system. This can create a potential financial barrier to residential development in the downtown core.
The City will provide $5 million in incentives to developers who initiate residential projects in the downtown core to offset any required Plus 15 Fund contribution, up to $1 million per project. This removes a potential barrier for new residential development as well as any additions to existing buildings to accommodate new residential use. Projects must be completed within a designated time period to receive the incentive.
Implementing the Greater Downtown Plan means allocating $55 million immediately for impactful projects, big and small, which move the plan from from a planning document to real actions. We've identified downtown vibrancy projects that contribute to one or more of the following objectives:
Activate public places and spaces
Catalyze private investment in the Greater Downtown
Increase attractiveness of public spaces to Calgarians
Allow The City and our partners to pilot, experiment, & prototype longer term projects
Promote tourism and increase visitor numbers to the Greater Downtown
Enhance safety & security for residents, workers, and visitors
We are considering the following projects that would improve vibrancy in Calgary's downtown:
Activating places and spaces is essential to increase downtown vibrancy and make downtown a place that people want to live, visit, and establish a business. The City is setting aside funds to support and enable our downtown partners plan and execute vibrancy-building programming and events.
This includes support for the implementation of Tomorrow's Chinatown cultural plan, along with the 9 Block Program, which supports safety, security, and vibrancy around City Hall and Stephen Avenue.
Additional programming and events that will be supported will be determined in consultation with our downtown partners, business improvement areas, and community associations.
To activate the Greater Downtown Plan move forward with the actions and projects that have been identified as priorities to shifting the downtown from vacancy to vibrancy, The City will allocate resources to a team dedicated to moving the actions required through this investment package forward.
For the last 35 years, Arts Commons has been a key contributor to social, economic, cultural, and intellectual life in Calgary. As Canada's third largest arts centre, it is home to six resident companies and used by over 200 community groups.
The Arts Commons Transformation (ACT) project of expanding and upgrading Arts Commons supports the goal of improving and diversifying Calgary's economy. It supports the Downtown Strategy and is considered a catalyst project for the Culture + Entertainment District.
Executed in two Phases, Arts Commons Transformation will both expand capacity in an adjoining new building and renew the existing facility.
Phase one of the transformation will expand capacity at a new location called Arts Commons North, or The Roadhouse. The Roadhouse will include three versatile, purpose-built venues, a connection to the existing building and supporting amenities. This 173,000 square-foot space will include a new 1,200 seat theatre, two smaller theatres, rehearsal space and an elevated corridor to the existing building and related amenities.
The Government of Canada recently announced its intention to double the federal Gas Tax Fund for one year, as the newly renamed Canada Community-Building Fund. This $77 million of new federal funding will be directed for the Arts Commons Transformation (ACT) Project Phase 1.
The ACT project has been identified as a catalytic project for downtown vibrancy for over 15 years. Arts Commons, inclusive of the 6 resident companies, currently contributes $53 million to Calgary's economy annually and supports 683 jobs.
Upon ACT completion, Arts Commons will annually support 55 jobs in Calgary, provide $239M in labour income, and contribute $0.1M in government revenues and $386M to GDP.
With two-thirds of the funding for Phase 1 already in place, through the province and the City, this $80M will provide the remaining funding required, fulfill the Federal government's funding pledge, and result in all three levels of government support. With $77M coming from the Canada Community-Building Fund, the City is only required to top up $3M to achieve full funding for Phase 1 of ACT.
Learn more about the Arts Commons Transformation.
Support for Calgary's Greater Downtown Plan
---
Hanif Joshaghani - CEO, Symend
Bobbie Racette - CEO, Virtual Gurus
Derek Evans - CEO, MEG Energy
What is the Greater Downtown?
---
The Greater Downtown is made up of six communities that surround the confluence of the Bow and Elbow rivers. 
Downtown Core
Downtown West
Eau Claire
Chinatown
East Village
The Beltline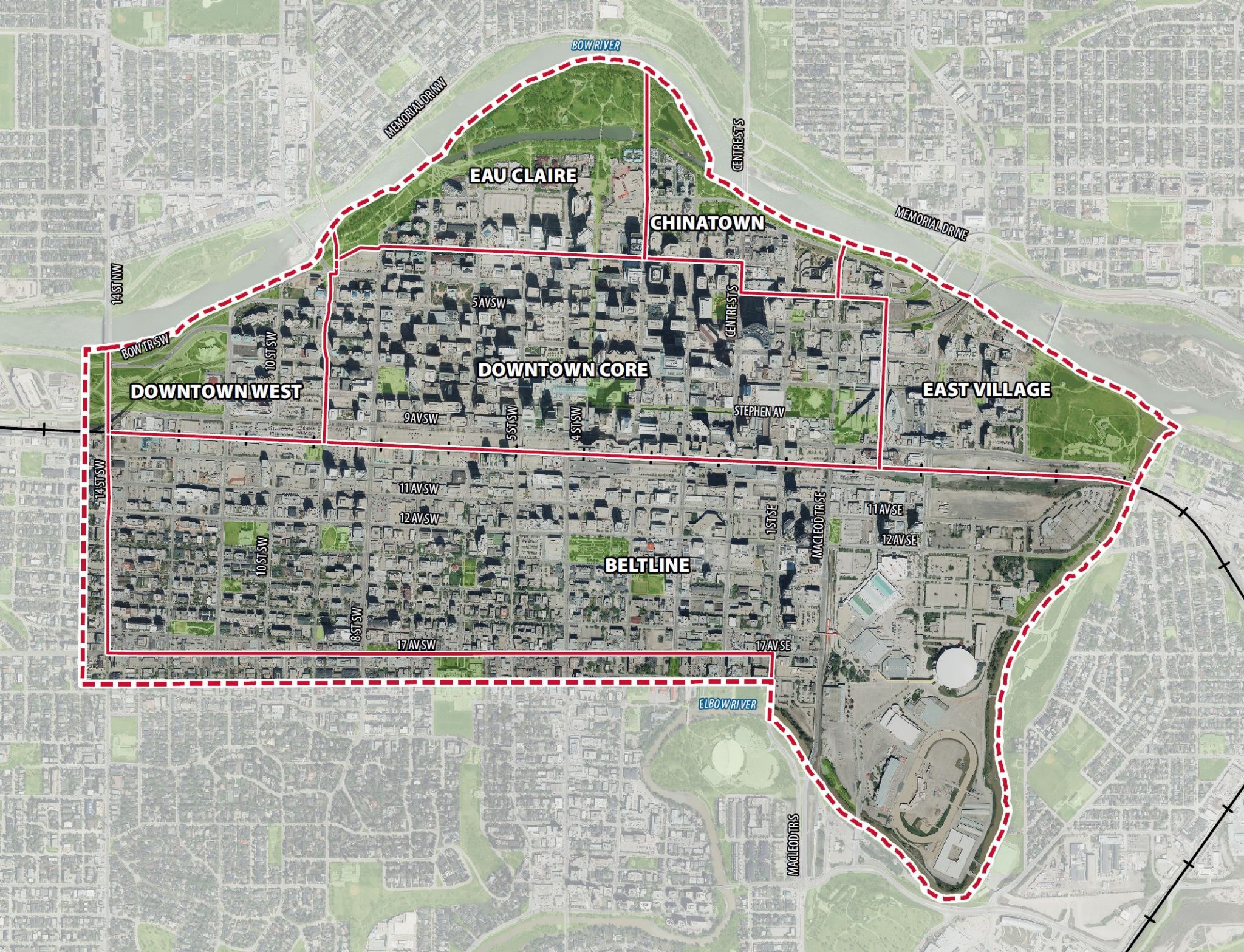 Calgary's bustling centre of commerce and a 24/7 destination
Our future success relies on downtown being a place where people want to live, visit and set up businesses. We need to move beyond the traditional 9 to 5 business district towards a vibrant city centre people enjoy 24/7 with a balanced mix of residential, office, retail, entertainment, tourism and culture. 
Retail

Exciting opportunities are in store for businesses and shoppers.

Residential

We're encouraging more people to live near where they work downtown.

Office

We'll shift from vacancy to vibrancy through office space innovations.

Entertainment

More festivals, events, sports and reasons to visit downtown are coming.

Tourism

We're building a world-class tourist and tier-one conference destination.

Culture

Calgary's growing arts community shares our unique perspective with the world.
The 10 principles for Greater Downtown
---
Greater Downtown is a resilient and vibrant place for everyone, with welcoming neighbourhoods, active streets, and well-used public spaces.
Economic vitality and innovation

Create exciting places that attract businesses and talent.

Identity and place

Design neighbourhoods that Calgarians are proud to call home.

Opportunity and choice

Give everyone access to housing options and neighbourhood amenities.

Health and wellness

Ensure everyone has access to health care, medical services and more.

Social interaction

Build gathering places for events and neighbourhood get-togethers.

The green network and natural environment

Protect and restore the green network and natural areas.

Mobility for all

Provide options that address mobility needs for all ages and abilities.

Climate mitigation and adaptation

Support the transition to a low-carbon economy and adapt to extreme weather.

Quality urban design

Connect buildings, streets and places to meet the needs of people and businesses.

Resilient and prepared

Adapt, survive and thrive in the face of chronic stresses and acute shocks to our city.
The Greater Downtown Plan is our way forward
We have a vision, roadmap and commitment to build a thriving, future-focused downtown. The Downtown Strategy team, comprised of The City of Calgary, civic partners, community partners and business improvement areas, is focused on near-term actions. Ongoing monitoring of progress and results allows us to course correct and remain nimble.
Short-term wins
We're running short-term pilot projects with the potential to have a major impact five to ten years into the future, such as: welcoming temporary patios on Stephen Avenue that boost restaurant capacity; closing streets in the East Village for events; incentivizing office conversions and residential development; and supporting Calgary's tech sector through our Living Labs program.
Long-term view
The City and our partners have developed a plan to help businesses, developers, investors and citizens understand the direction Calgary's downtown is headed over the next decade. We're creating incredible opportunities for everyone along the way.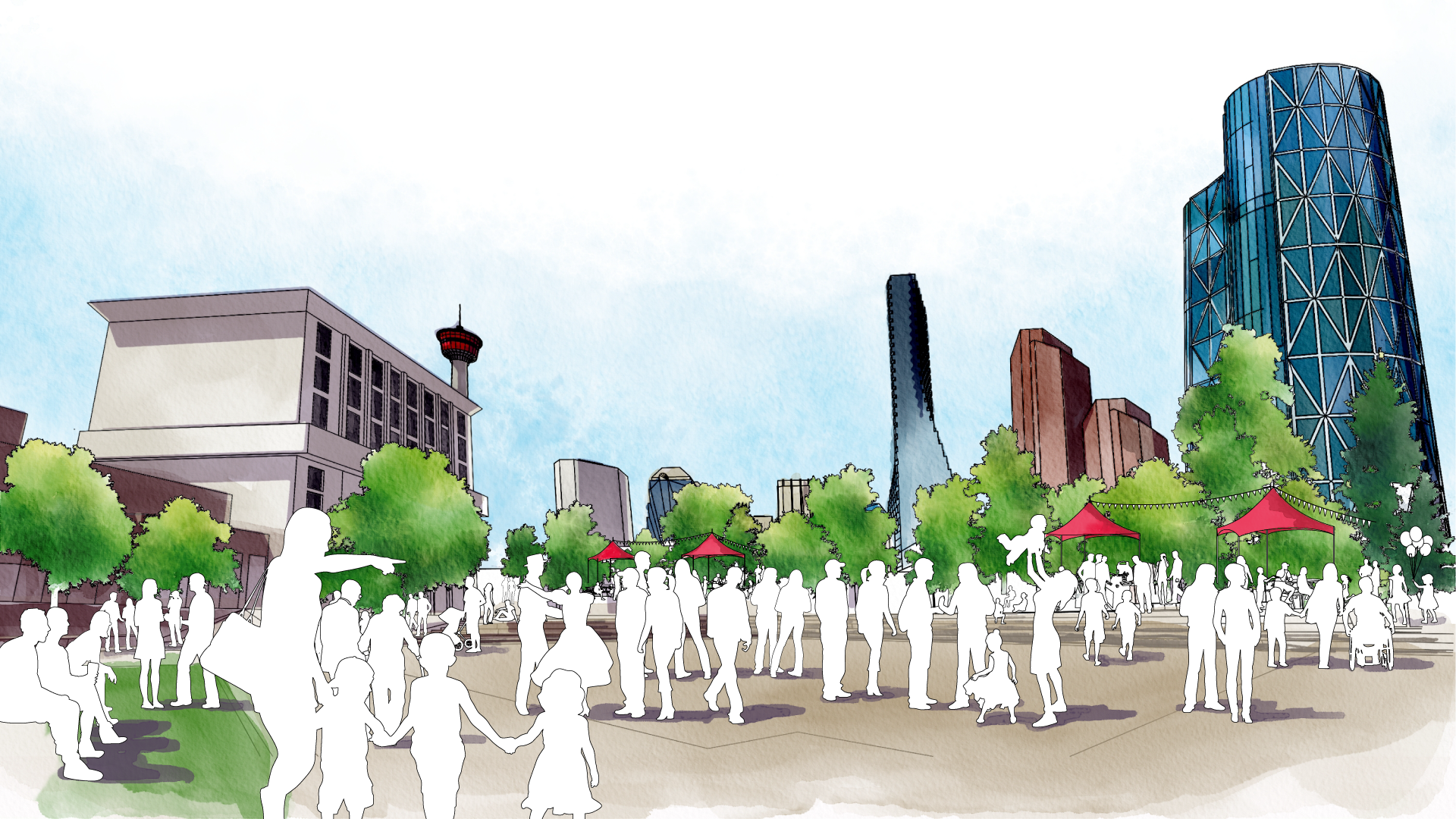 1. Neighbourhoods for vibrant urban life
Create mixed-use neighbourhoods with gathering places, housing choices and all of the amenities residents need close by.
How we get there:
Strategic move 1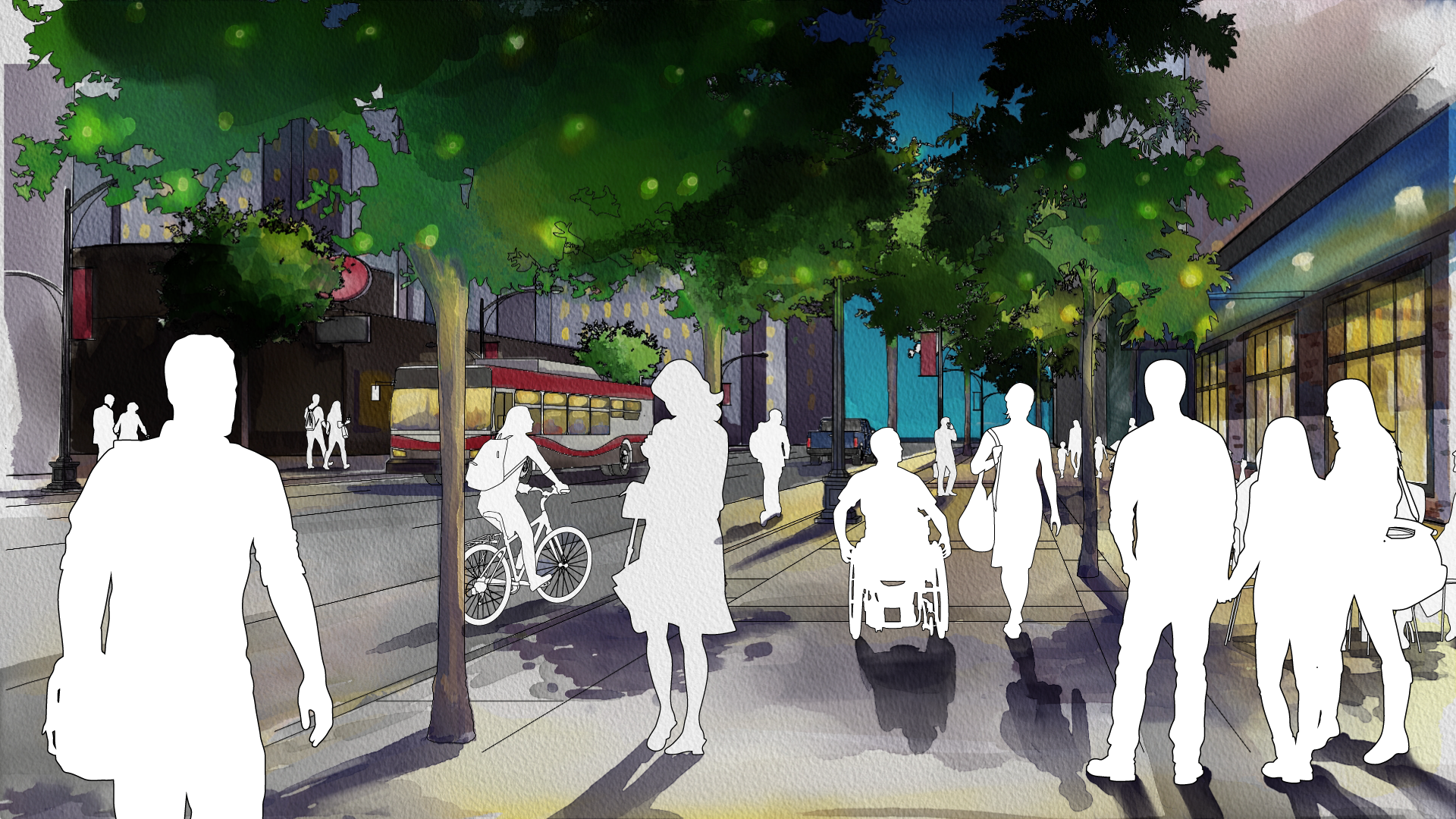 2. A green network for a healthy environment
Build a green network by connecting parks, natural spaces and river frontage with downtown's main streets.
How we get there:
Strategic move 2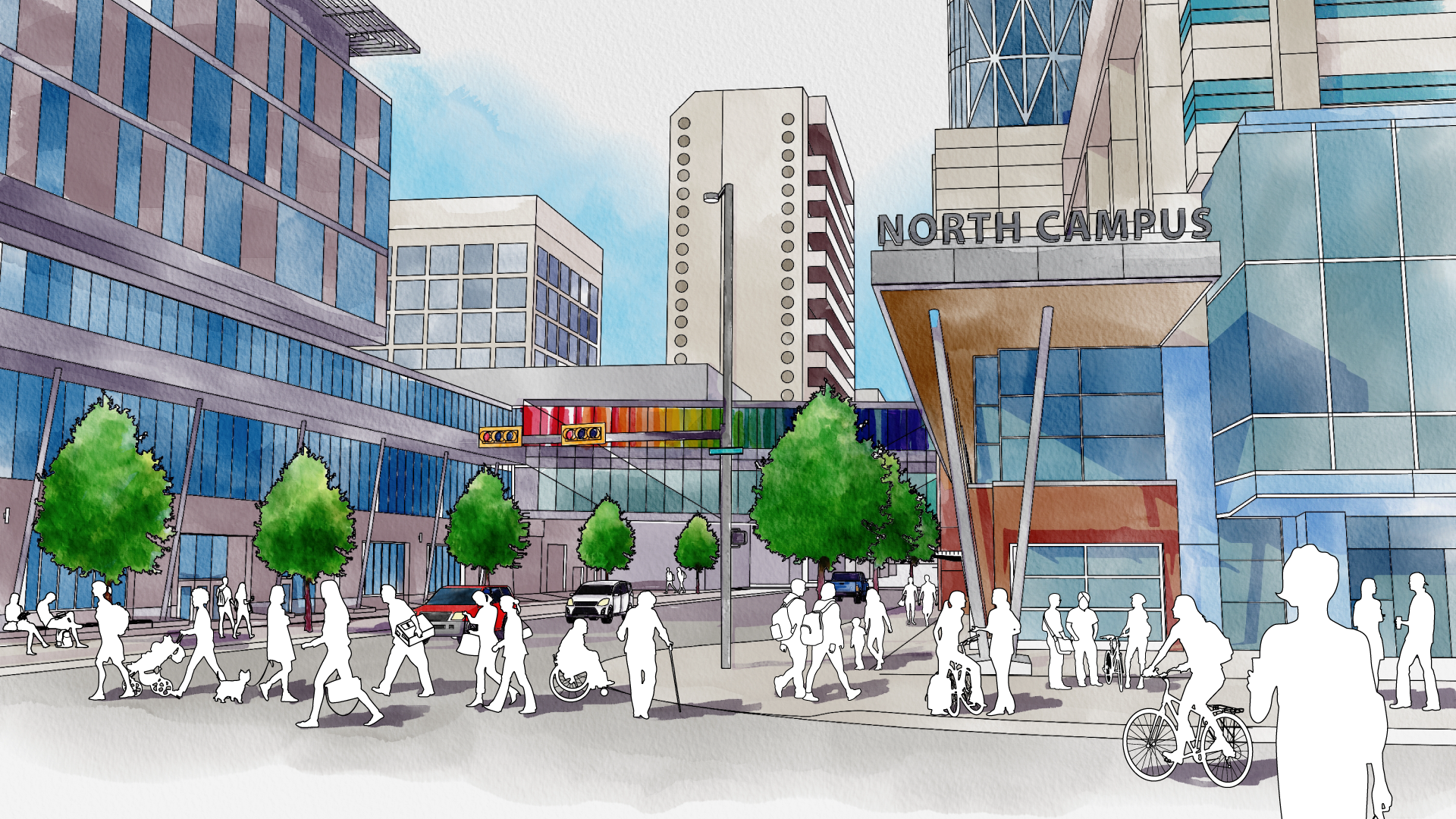 3. Streets for people
Design streets for walkers and wheelers first, with regional pathways stretching along the riverbanks and underpasses, and bridges and on-street mobility tracks connecting to neighbouring communities.
How we get there:
Strategic move 3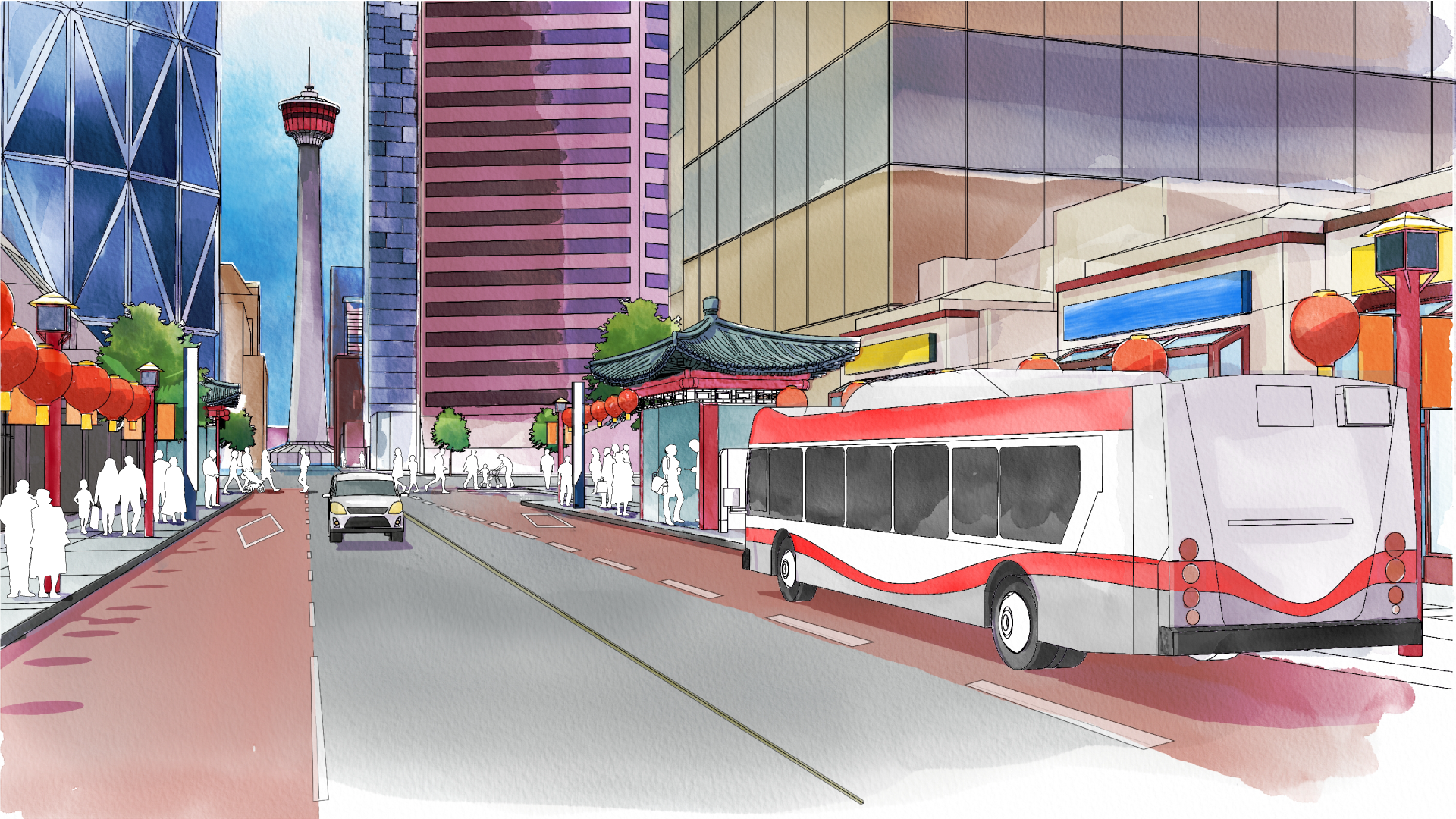 4. Transit for all
Make transit the quickest, safest and most cost-effective way to travel to and through downtown.  
How we get there:
Strategic move 4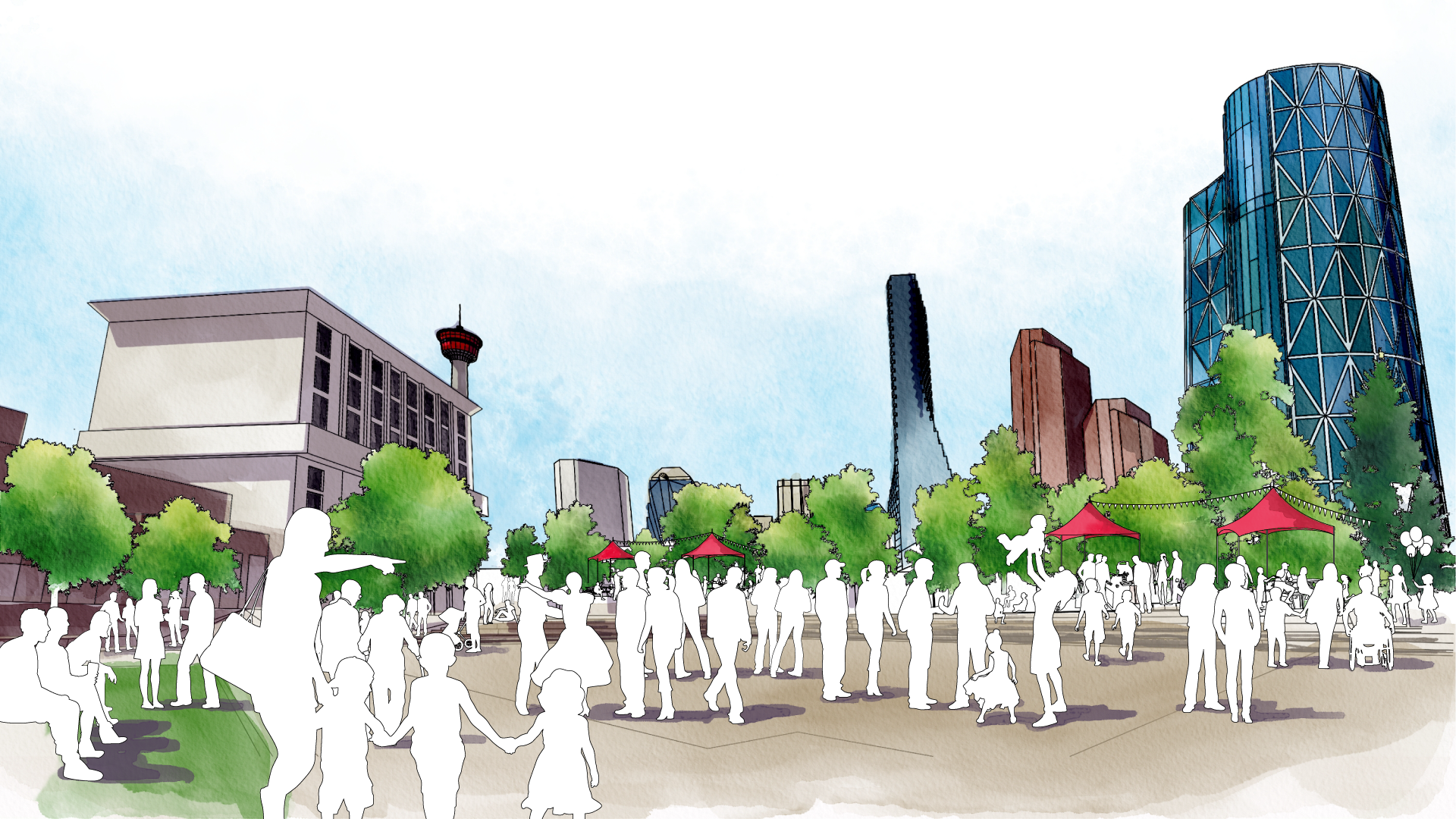 5. Future-proof and innovate for the next generation
Attract the global technology sector, utilize our highly educated workforce and leverage our head office concentration to prosper in the new economy.
How we get there:
Strategic move 5
Our best days are still ahead
---
There is no easy fix to downtown Calgary's challenges, but we're committed to coming back stronger using our grit and determination. The solution will require collaboration between all levels of government and our business and community partners.