Level Up Calgary - Season Two
We are so excited to announce the winners from Level Up Calgary Season Two: Achievement Unlocked! Watch the announcements.
Calgary Board of Education
Fort Calgary
Library LitCon
Calgary Catholic School District
Visit your school division's website to learn how you can download Calgary's downtown core rendered in Minecraft. Explore and interact in our downtown individually or as a group. Select a build site, review the challenge prompt and resources, and start building! 
Not at one of the participating school but still want to participate? Download Minecraft Education on your device and explore the world on your own. You will need to login using your child's school login credentials. You can also access the world directly from here, or find it in New & Featured worlds. 
Welcome students, teachers and families!
Calgary is a resilient city. Time and again, we come together, support each other, learn from our experience and use our shared journey to set new goals. As a Council, all our decisions are guided by economic, social and climate resilience.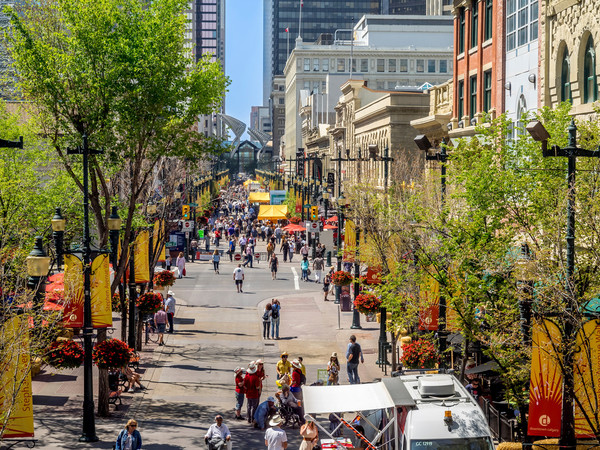 Downtown Strategy
Downtown is the economic and cultural heart of Calgary. It's our central hub for business, innovation and creativity. What happens downtown has a direct impact on all Calgarians. Calgary needs a strong core to grow our economy, create jobs and fund the City services we rely on every day. We are working to address the challenges downtown is facing and transform and reinvent downtown for decades to come.
The Greater Downtown Plan is the document that will guide the development of our future downtown.
I am excited to see you are interested in learning more about Fort Calgary! We are dedicated to cultural preservation, learning, and dialogue about history. We seek to build community today, with a view to promoting a more connected future. I am hoping the following resources can help guide your designs for Fort Calgary.
Thank you for choosing to learn more about Sien Lok Park and the importance it plays as the largest public space in historical Chinatown! The history and future of Sien Lok Park is rooted deep into cultural traditions and community champions. You can learn more about that from the videos here and the brand-new guiding document for Chinatown, Tomorrow's Chinatown.
Sien Lok Society of Calgary was formed in 1968 in response to a threat to the existence of Calgary's Chinatown. In 1965, the City proposed the construction of a 12-lane parkway, called the "East-West Penetrator," to be built overtop of Chinatown.  Sien Lok Park remains as a reminder of how the Calgary's Chinese community came together to preserve the historic Chinese district. Learn more of the history of the Sien Lok Society and their work to live up to the meaning of Sien Lok "happiness through good works". Learn more about the Sien Lok society at their website www.sienlok.ca.
The Green Line LRT is designed to be both a transit system and a platform for future city building opportunities.  It encourages accessible redevelopment and investment in Calgary businesses and communities like Inglewood, Ramsay, Ogden, Shepard and in the downtown. The following links and documents help inform how the Greenline will be designed and built. How will they guide your designs?
Nabeel Ramji/Erin Shilliday
Pedesting
Nabeel and Erin feel that we all aspire to navigate through indoor and outdoor spaces. We all dream about life without barriers or obstacles. But the reality is that most buildings and public spaces were not designed for everyone's pedesting needs. So they built an app to maximize the potential for us all to live in vibrant, healthy and inclusive communities. Check out more information on their idea at www.pedesting.com
RouteAhead
RouteAhead is Calgary Transit's 30-year roadmap that guides us in providing safe, accessible, customer-focused transit service for Calgarians. It is divided into three core principles (Customer Experience, Network Planning and Financing Transit) to help us shape transit service delivery over the next 30 years. 
The Green Line will provide an accessible transit service that everyone can get to, board and use. Green Line's accessible design features will meet and exceed The City's Access Design Standards and the Alberta Building Code.
LitCon
We are so excited to see you learning more about LitCon and can't wait to see your designs for an exciting youth street festival in downtown Calgary.
To help inform all our activities at the library, we look to our 2023-2026 Strategic Plan. This document details our values and priorities. How will this document help guide your designs for the LitCon Street Festival?
LitCon, in the past has been a virtual festival for kids and teens. During the festival, young writers, readers, and artists can connect with their peers and professional writers to learn more about their creative passions. We want to bring that experience to life and welcome everyone to 3rd Street, SW right out front of the Central Public Library.
For more on how this event was held previously, check out the LitCon website.
Eventful City
Festivals and events help to grow our city and connect our residents and visitors by bringing people together to share art, culture, sport and entertainment experiences in meaningful ways. By becoming an eventful city, Calgary recognizes that festivals and events enhance quality of life, provide opportunities for celebration, connection and innovation and are essential elements in creating complete communities.
The Eventful City Strategy helps us proactively shape the future of the creative sector in Calgary. It shows us how to build on previous successes and identifies areas for improvement and growth.

Wakefield Brewster
Wakefield Brewster is a professional poet and spoken word artist and Calgary's Poet Laureate for 2022-2024. As an artistic ambassador for Calgary, Wakefield helps tell the story of joys and struggles in our city. Learn more about Wakefield Brewster on the Calgary Arts Development website.
Climate Resilience
On November 15, 2021 Calgary City Council voted to declare a Climate Emergency. A declaration of Climate Emergency is a resolution passed by a governing body such as a city council. It puts the local government on record in support of emergency action to respond to climate change, and recognizes the pace and scale of action needed.
Learn about the City services that help to reduce climate change-causing greenhouse gas emissions, and programs that will help prepare the city and Calgarians for climate change hazards on the City's Climate Change Program webpage: Calgary's Climate Program
Check out the Climate Strategy, the community roadmap on how we achieve net zero and climate-resilient Calgary and adapt to our changing climate at an accelerated pace and scale.
Want to know more about how Calgary is likely to experience climate change? Many of the effects of climate change are already being experienced, both locally, in western Canada and around the world. From record-breaking heat, to extreme wildfires and smoky conditions, to catastrophic flooding, we are witnessing the impacts of climate change. Find out what this could mean for Calgary by checking out the Climate Projections for Calgary Report: Climate Projections for Calgary Report.