Glenmore Trail / 68 Street S.E. intersection improvements
Project update – October 2022
Construction of the four-lane roadway on 68 Street S.E. between 76 Avenue and 86 Avenue S.E., including at the intersection of Glenmore Trail S.E., was completed in January 2022.
This work also included installation of streetlights and construction of an underground stormwater drainage system along 68 Street S.E.
Construction on the remaining section of 68 Street S.E. between 86 Avenue and 90 Avenue S.E. will resume in spring 2023 and is expected to be complete in summer 2023.
We thank you for your patience throughout construction.
About the project
Currently, Glenmore Trail and 68 Street S.E. is a signalized 'T' intersection. The proposed intersection improvements will see the full development of the north leg of the intersection and improve 68 Street to/from the south. The reconstruction of this intersection will improve access for existing nearby industrial development, and open up new industrial development opportunities on private and municipally-owned lands within the Southeast 68 Street Industrial Area Structure Plan.
The project includes:
Widening and reconstruction of 68 Street S.E. from two lanes to four lanes from Glenmore Trail south to the Western Headworks Canal
Build a new four-lane roadway for 68 Street north from Glenmore Trail to 74 Avenue S.E.
Construct a new at-grade traffic loop in the NW quadrant of the intersection, allowing motorists from southbound Stoney Trail to access 68 Street southbound without having to weave through westbound Glenmore Trail traffic
Construction of multi-use pathways along 68 Street
Relocation of utilities, construction of the stormwater drainage system along 68 Street, and enhanced streetlighting.
Project Design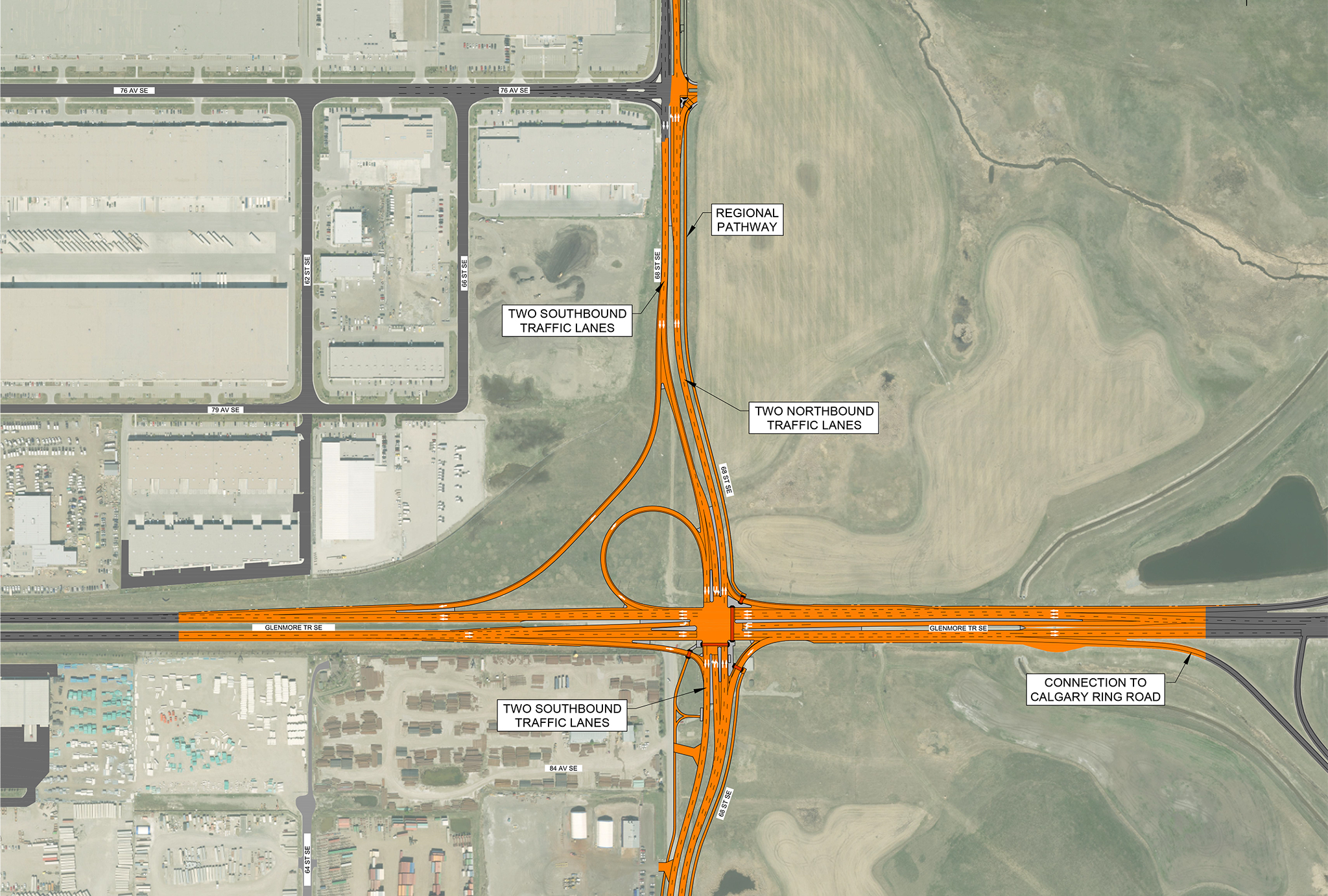 Click to enlarge image
Project background
In conjunction with development of the Point Trotter and Dufferin North Industrial areas south of Glenmore Trail and proposed development north of Glenmore Trail, Real Estate & Development Services of The City of Calgary was tasked with undertaking improvements at the intersection.
Project timeline
Fall 2019: Detailed design completed
July 2020: Construction begins
Fall 2021: Completion of Glenmore Trail and 68 Street intersection
Summer 2023: Completion of remaining section of 68 Street S.E. from 86 to 90 Avenue S.E.,
---
Contact

If you have questions or require more information about this project, please contact 311.