Airport Transit Study - Green Line to Blue Line Connector
Project Update - June 24, 2020
Final recommendations approved by Transportation and Transit Committee
The final Airport Transit Study recommendations were presented to the Standing Policy Committee on Transportation and Transit on June 24, 2020.
These recommendations have been approved as amended at the Committee meeting, and are now tentatively scheduled to be presented to City Council in Summer 2020.
You can view a copy of the presentation, meeting minutes and video on the City Clerk's webpage.
Project Overview
A future transit connection will ultimately provide improved transit access to the Calgary International Airport by connecting the future Green Line LRT with the future Blue Line LRT. The Airport Transit Study will review technical requirements and provide preliminary estimates of capital and operating costs, land requirements, infrastructure requirements and community impacts.
The study will include recommendations for:
The alignment, as well as number and location of stations between the future 96 Avenue N.E. Green Line station and 19 Street N.E.
A transit technology (examples include high-floor LRT, low-floor LRT and automated people mover)
Locations for a maintenance and storage facility
Land requirements
A staging plan and cost estimates
There is currently no funding for the detailed design or construction of this connection.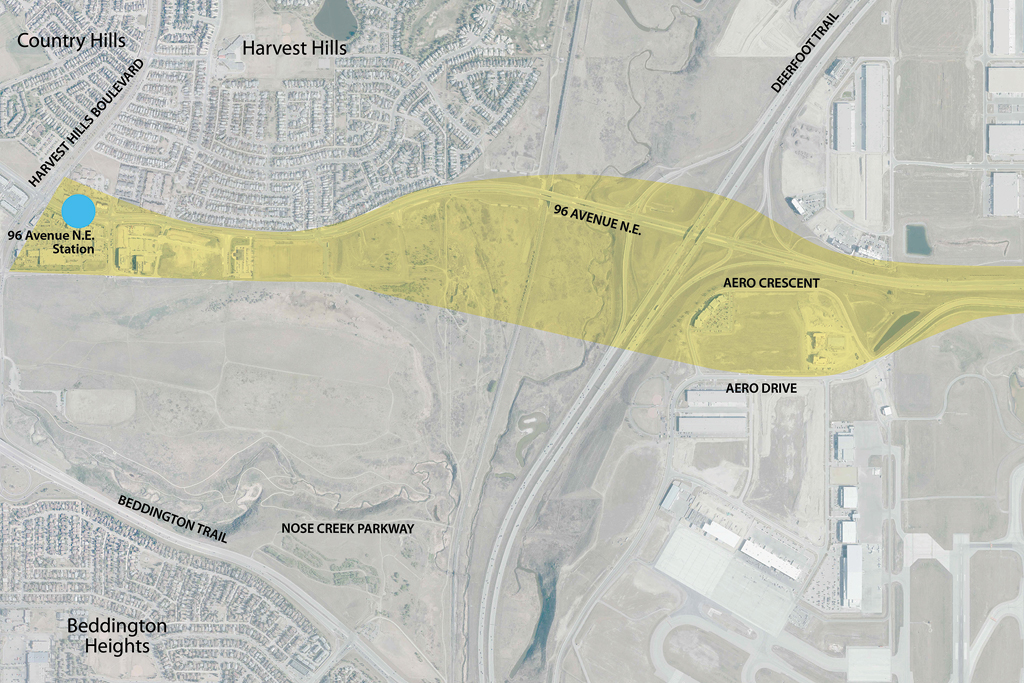 Click to enlarge image
---
Project Background
An airport transit connection is identified in the Calgary Transportation Plan as part of the Primary Transit Network. There are two Council-approved functional plans that form the foundation for this project:
In 2017, The City of Calgary and The Calgary International Airport completed a Review and Update of the 2012 Airport Trail Functional Planning Study, which was approved by Council on April 10, 2017.
What has been decided
The alignment of the connection from 19 Street N.E. to the eastern boundary of the study area (Blue Line LRT), and the connection to the airport terminal, has already been set to align with the approved functional planning studies and the location of the Airport Trail tunnel.
Engagement opportunities
Public engagement is now complete for this project.
For more information about engagement for the project please visit the engagement page.
Project timeline

Phase 1 - Goals, Issues and Opportunities (summer - fall 2018)
Phase 2 - Concept Evaluation and Recommendation (spring 2019)
Phase 3 - Share Final Recommendations and Presentation to Council (summer 2020)