144 Avenue N.W. Functional Planning Study
Project update - June 2021
Project overview
The City of Calgary is undertaking a functional planning study for 144 Avenue N.W. This study will look at the general design and location of 144 Avenue N.W. between Symons Valley Road N.W. and Panorama Road N.W., including the West Nose Creek crossing and the realignment of Symons Valley Road onto Mountain View Road (see study area map below). Existing growth in Symons Valley and planned growth in the Glacier Ridge Area Structure Plan area drives the need for infrastructure improvements to the area transportation network including providing support for important active travel modes and transit connections.
The functional planning study will take existing and planned communities into consideration as part of the mobility review to determine the long term needs for all travel modes. Some of the many other considerations that will help form the functional planning study include:
Engagement feedback
Previous plans
Environmental and historical conditions
West Nose Creek requirements
Utility and storm water accommodation
Existing terrain and slope stability
Community / development access
Right-of-way (property) requirements
Construction costs
Public safety
Study area
The study area (see map below) includes 144 Avenue N.W., between Sage Hill Drive and 24 Street N.W., as well as, the realignment of Symons Valley Road from Sage Bluff Boulevard to Mountain View Road.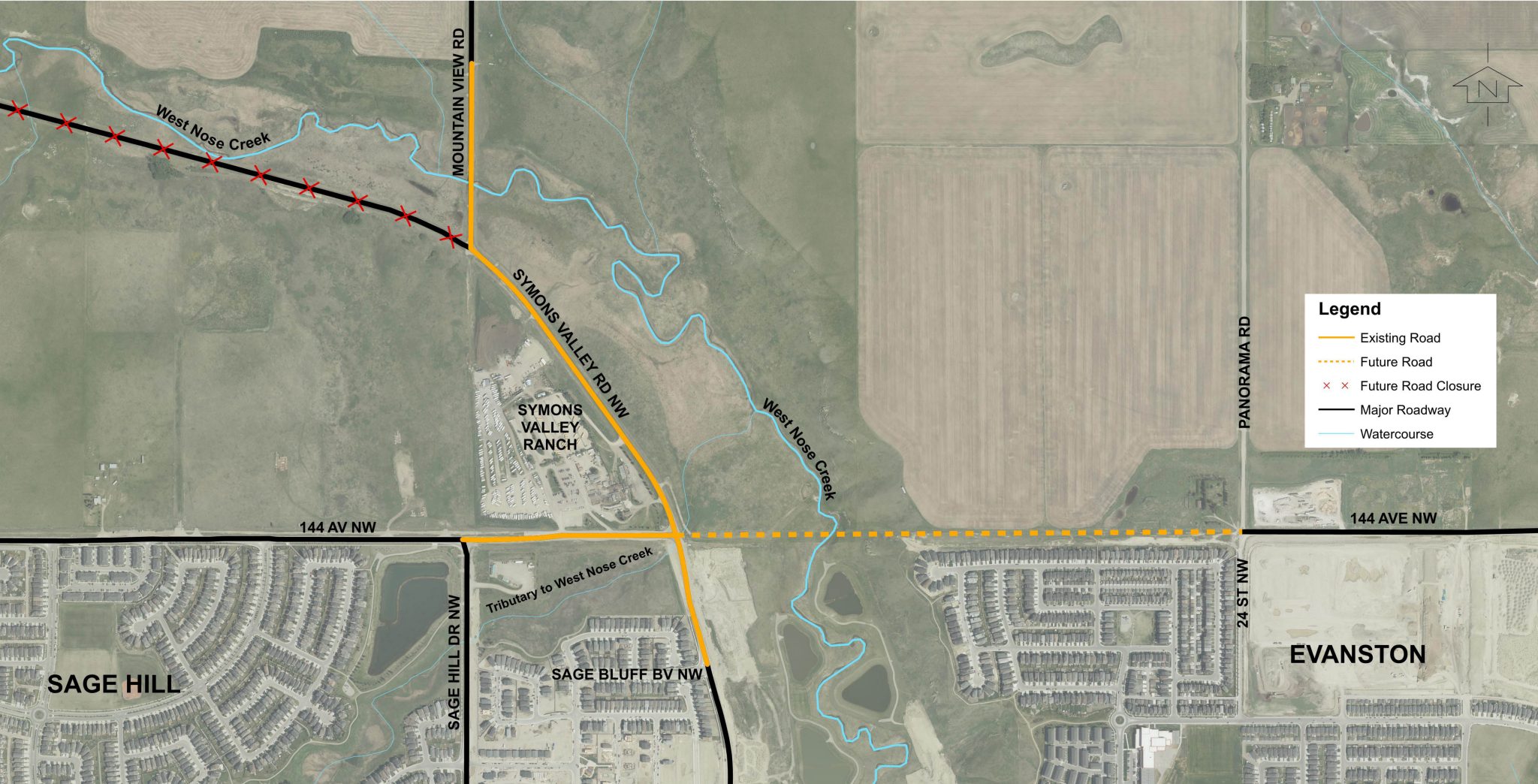 Project background
The Calgary Transportation Plan (CTP) classifies 144 Avenue N.W. as an Arterial Street for the West Nose Creek Crossing and a link in the Primary Cycling Network.
144 Avenue N.W. is planned to be the only continuous east-west connection north of Stoney Trail, has been previously planned as a 6-lane road and has been identified as an important transit corridor connecting to the future Green Line LRT.
Rapid development of lands south of the 144 Avenue N.W. study area and the planned development north of 144 Avenue N.W. (Glacier Ridge ASP) has placed increased pressure on The City's efforts to pre-plan the transportation network requirements necessary to accommodate the many development initiatives in the area including: new alignments for Symons Valley Road, Shaganappi Trail and Sarcee Trail.
The 144 Ave. N.W. bridge over West Nose Creek (between Symons Valley Road and 24 Street N.W.) will improve overall transportation network connectivity in northwest Calgary. Investing in Mobility​ has identified the bridge crossing of West Nose Creek as a leading infrastructure requirement for development of any new communities north of 144 Avenue N.W.
The functional planning study will also identify an alignment for a 4-lane Symons Valley Road north of 144 Avenue N.W., crossing West Nose Creek and tying into Mountain View Road.
Functional planning study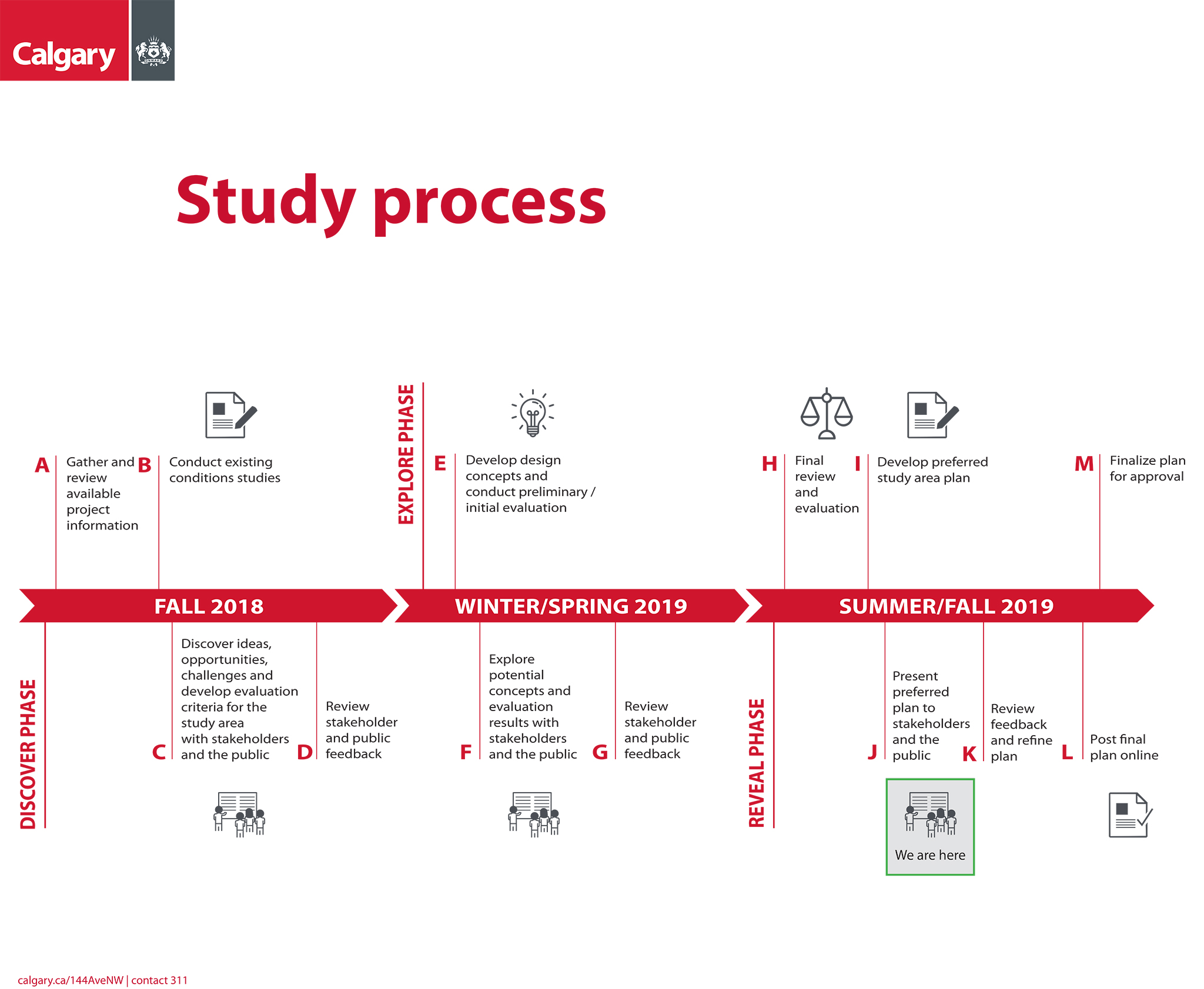 Engagement
The final phase of public engagement is now closed. Participants had an opportunity to provide input in person and online from Oct. 22 until Nov. 6 2019. View the engagement page.
Connect with the project team
For more information about the 144 Ave. N.W. improvements project please contact the project team at 144AveNW@calgary.ca.
You may be interested in: