Have you ever thought about how the things you buy get to the store or your door? Rarely do we think about how they made the trip there. All the products we buy are delivered to stores, homes or workplaces by a transport truck, cargo van or sometimes even a bicycle.
The popularity of online shopping has increased the number of packages delivered to our homes and workplaces. While you no longer need to go to the store to buy goods, online shopping has increased the number of delivery vehicles on our roads. It also means that more deliveries happen outside of traditional work hours.
Businesses in Calgary depend on our transportation network to bring them the products they need to help us live our daily lives. Some businesses buy raw materials such as wheat and barley to make into goods like flour and beer. Other companies buy goods for manufacturing and construction, like metal and lumber. Retailers ship pre-made items such as clothing, electronics and snack foods to Calgary for us to buy in malls and corner stores. The last kilometer of travel for many products happens on Calgary's roads and highways by truck or van.
Quick links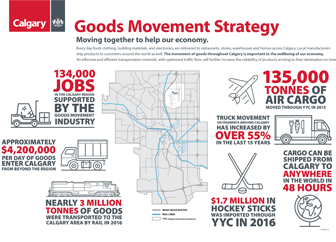 Click on image above to enlarge
The transportation network
Air cargo

The Calgary International Airport is an important part of our goods movement network. They handle over 75% of all air cargo shipments in Alberta.

Air cargo is often high-value and/or time-sensitive goods that Calgary's residents and businesses rely on. For residents, this includes goods like medications and food products that are not native to Calgary. For businesses, this includes goods like jewelry, live lobsters from Atlantic Canada and oil and gas equipment. These goods need to move safely and quickly, to prevent them from expiring or to keep production running.

Rail lines

Rail lines have long been part of Calgary's economic development, and are still important today. Rail containers carry goods such as auto parts, appliances, housewares and electronics.

Most of the goods carried by rail go to manufacturing facilities, warehouses and stores in the Calgary region. Some are also trucked onward to other towns and cities across Western Canada.

Many containers arrive on ships at the Ports of Vancouver or Prince Rupert. Others come from eastern Canada and the US. They all carry goods and products that help make our day-to-day lives easier.

Road network

When we buy goods like toys, clothing and office supplies, they come from overseas by ship or airplane. They are delivered to our mailboxes, homes, offices and businesses on a truck, van or bike. Delivery of these goods, on-time, when and where expected, depends on the thousands of kilometers of roadway in Calgary.

Without our road network, it would be impossible for the delivery of packages our homes, businesses, warehouses or manufacturing facilities. Our road network ensures that goods can be delivered in an efficient and timely manner.
​
Developing a goods movement strategy
---
​
Goods movement is important to the economic vitality of our community. Within the Calgary region, 1 in 10 jobs, up to 134,000, support the goods movement industry. This includes jobs in warehousing, logistics, wholesale trade and transportation. The rail, air and trucking industries help our economy thrive, by providing jobs and connecting our businesses to markets outside of the Calgary region.
A goods movement strategy will help us plan the future of our city. It will help Calgary's transportation system continue to operate efficiently and seamlessly as our city grows. It will also help as the region becomes established as Western Canada's distribution hub.
With growth comes increased pressures and conflicts on our transportation network. Our Goods Movement Strategy will help reduce these pressures and conflicts while promoting a vibrant economy in Calgary for years to come. The strategy will guide future actions and investments in our transportation network. Improving our transportation network for the industry will improve it for everyone.
Public engagement
As part of the development of the Goods Movement Strategy, citizens, regional partners and industry stakeholders were invited to participate in various engagement opportunities. The Calgary Goods Movement Strategy reflects these voices throughout – from the assessment of current conditions, to the challenges and opportunities identified and the selected list of action plans.
Engagement topics covered all aspects of goods movement, including:
Long-term transportation and land-use planning
Collaboration opportunities with regional and industry partners
Future technology implications for autonomous deliveries
Summary and verbatim inputs are available in What we Heard reports for each phase of engagement. Those reports can be found on the project engagement page. 
​​​​ ​