Bonnybrook Wastewater Treatment Plant Upgrades and Expansion
Calgary is a big city on a small river, and we continue to grow. This has meant increased amounts of wastewater created and a larger demand on our current wastewater treatment plants.
Bonnybrook Expansion Program
We are investing over $1 Billion in a program of extensive upgrades and expansions to the Bonnybrook Wastewater Treatment Plant, to protect the environment and accommodate our city's future growth.
This program will:
expand the capacity of the plant to treat wastewater, from 950,000 to 1.37 million people and,
accommodate population growth until the mid-2030s, and,
increase energy efficiency and resiliency.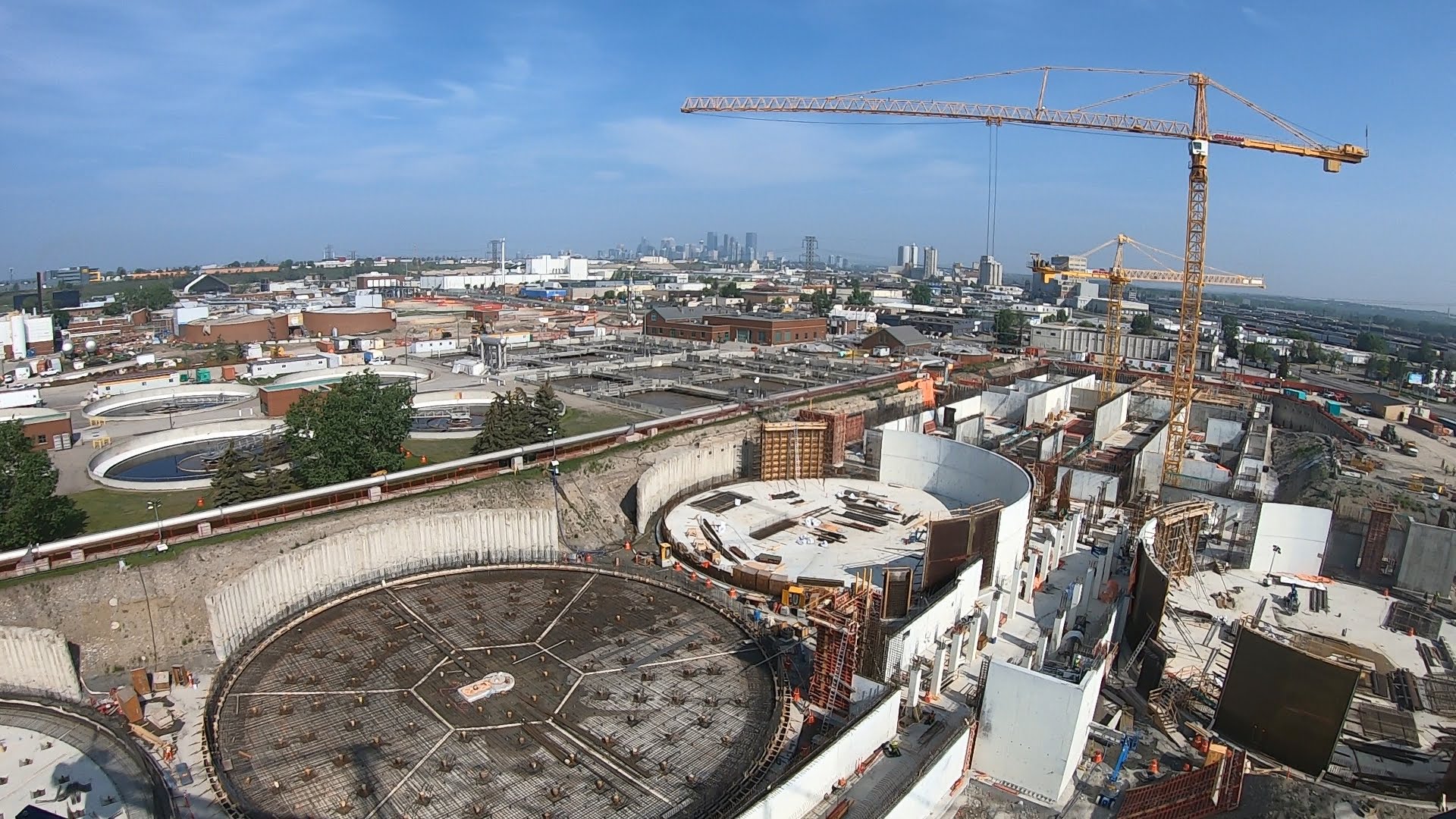 Aerial view of Bonnybrook Expansion Program

The Bonnybrook Expansion Program covers a large area and it is essential the plant continues to operate and treat wastewater while being upgraded.
Plant D expansion

The Plant D Expansion is the largest component of the Bonnybrook Expansion Program which will increase the total treatment capacity to approximately 1.4 million citizens. 
Plant D includes a number of key projects, including:
installation of three additional secondary treatment bioreactors and six additional secondary clarifiers to provide additional secondary treatment capacity.
installation of two new primary clarifiers for additional primary treatment capacity.
retrofits and upgrades to the existing solids handling digesters.
retrofits and upgrades to the existing ultraviolet (UV) disinfection facility.
installation of a new thermal hydrolysis facility for solids handing and the generation of bio-gas for the co-generation facility.
installation of new bio-gas handling and storage facilities.
construction of a new outfall to the river.
installation of a new effluent filtration facility
flood projection berm
Phase 1 of the expansion has been successfully completed and is looking good!
This 2021 milestone was achieved by a massive combined effort from City of Calgary staff and a wide compliment of expertise from our consultants and contractors.
Phase 2 of the Plant D Expansion continues, but this video is too great not to share!
Plant D Primary Treatment – In Service March 2021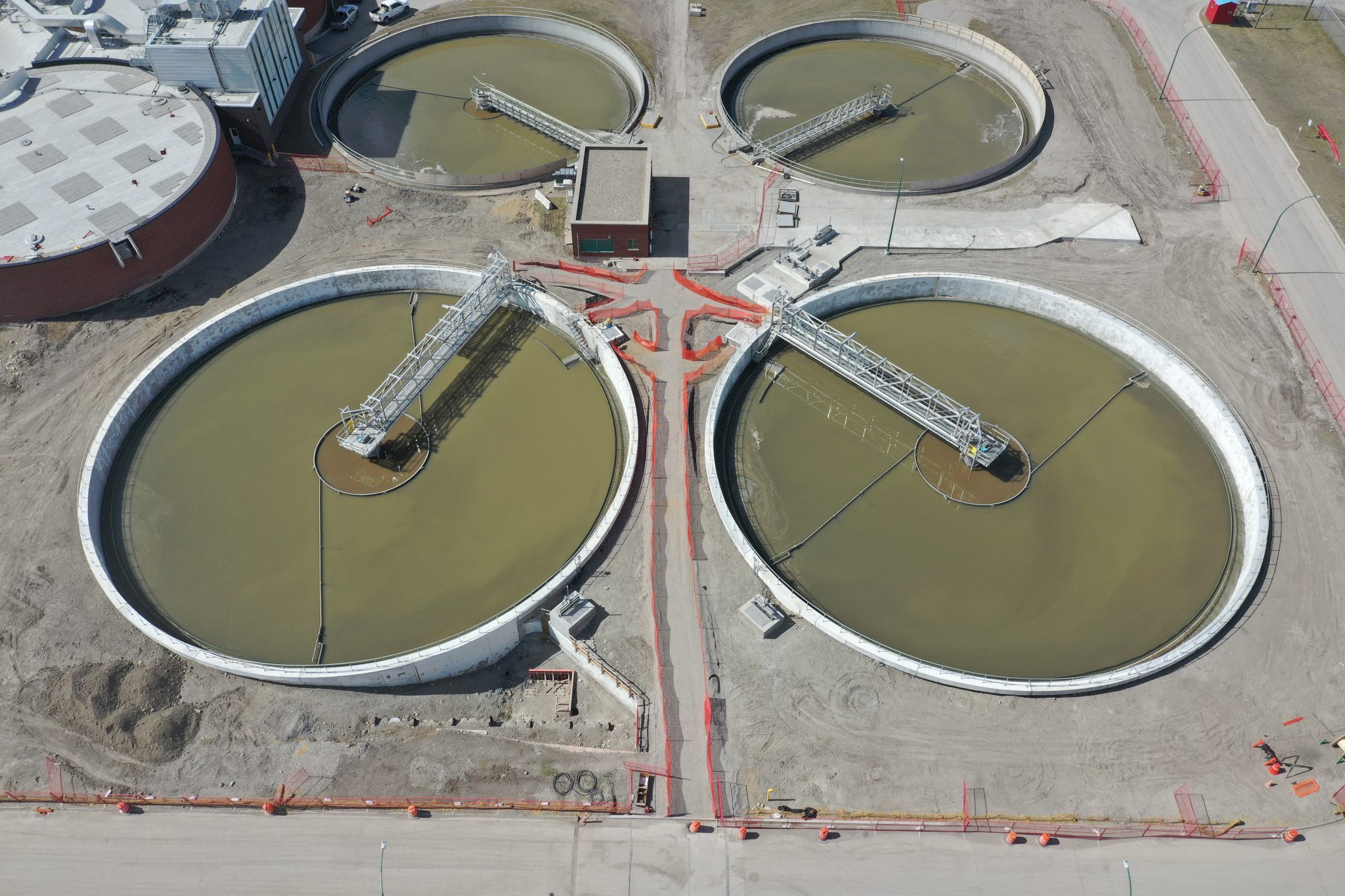 New Primary Clarifiers
The Plant D primary treatment expansion was put into service in March 2021.  This expansion included the construction of two new primary clarifiers, a new primary influent channel, widening of the existing primary effluent channel and upgrades to a number of associated pumping systems throughout the plant.  FRP covers were also installed on existing Primary Sludge Gravity Thickener tanks to aid with odour control.
Plant D Secondary Treatment – In Service October 2021
The first phase of the Plant D secondary treatment expansion was put into service in October 2021.  Phase 1 included the construction of two new biological nutrient removal (BNR) reactors, four new secondary clarifiers, two new pumphouses, two new process air headers, a new secondary effluent channel and utilities to tie to the existing infrastructure. 
With this expansion, the installed treatment capacity of the Bonnybrook WWTP has been increased by 217,000 Equivalent Population and is now able to treat an additional 94 ML/d average flow and 235 ML/d peak flow.
Stormwater infrastructure upgrades and landscaping remain to be completed in the spring of 2022.
The second phase of the Plant D Secondary Treatment expansion will include the construction of a third BNR reactor and two additional secondary clarifiers.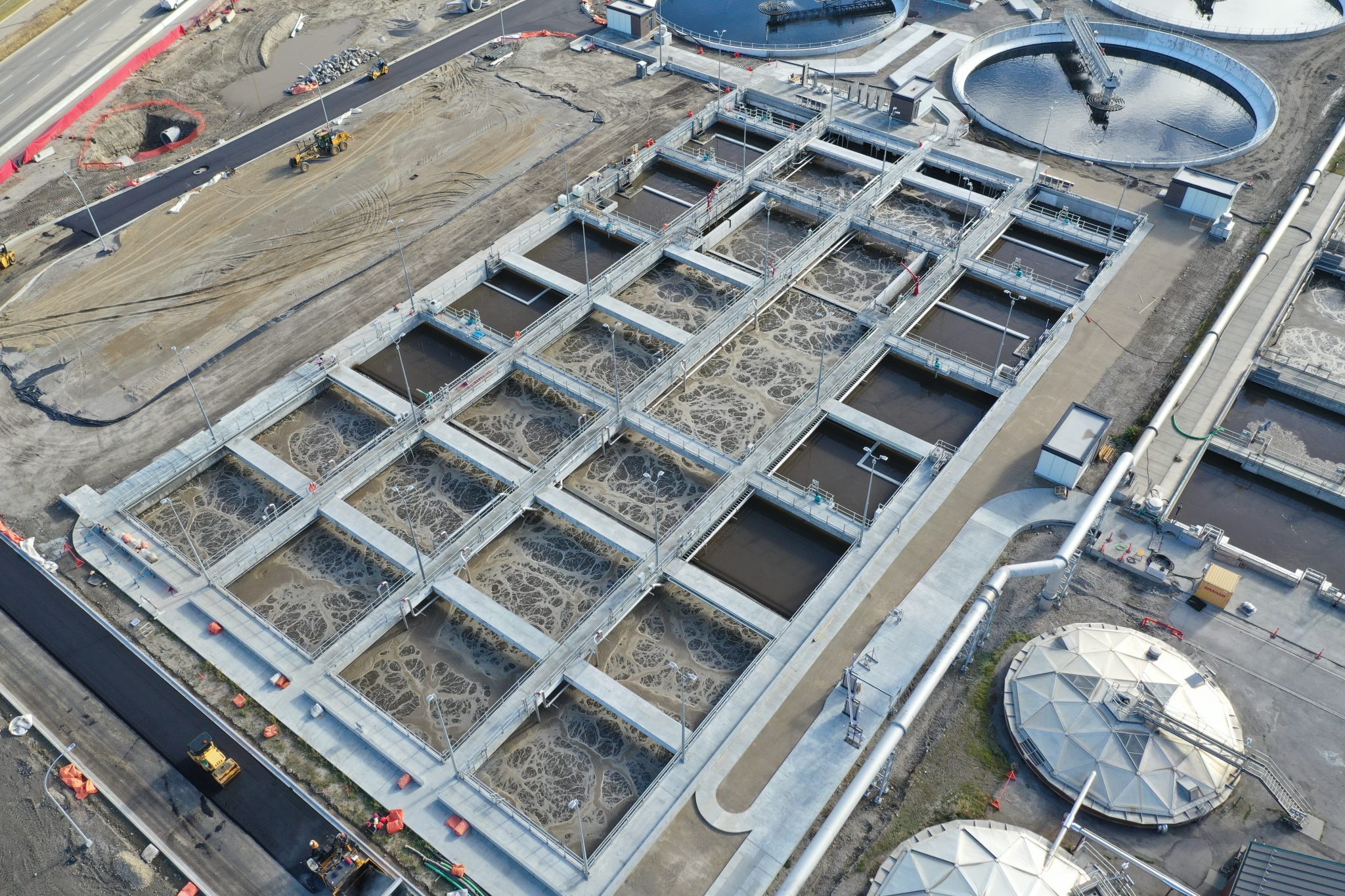 Secondary Treatment Bioreactors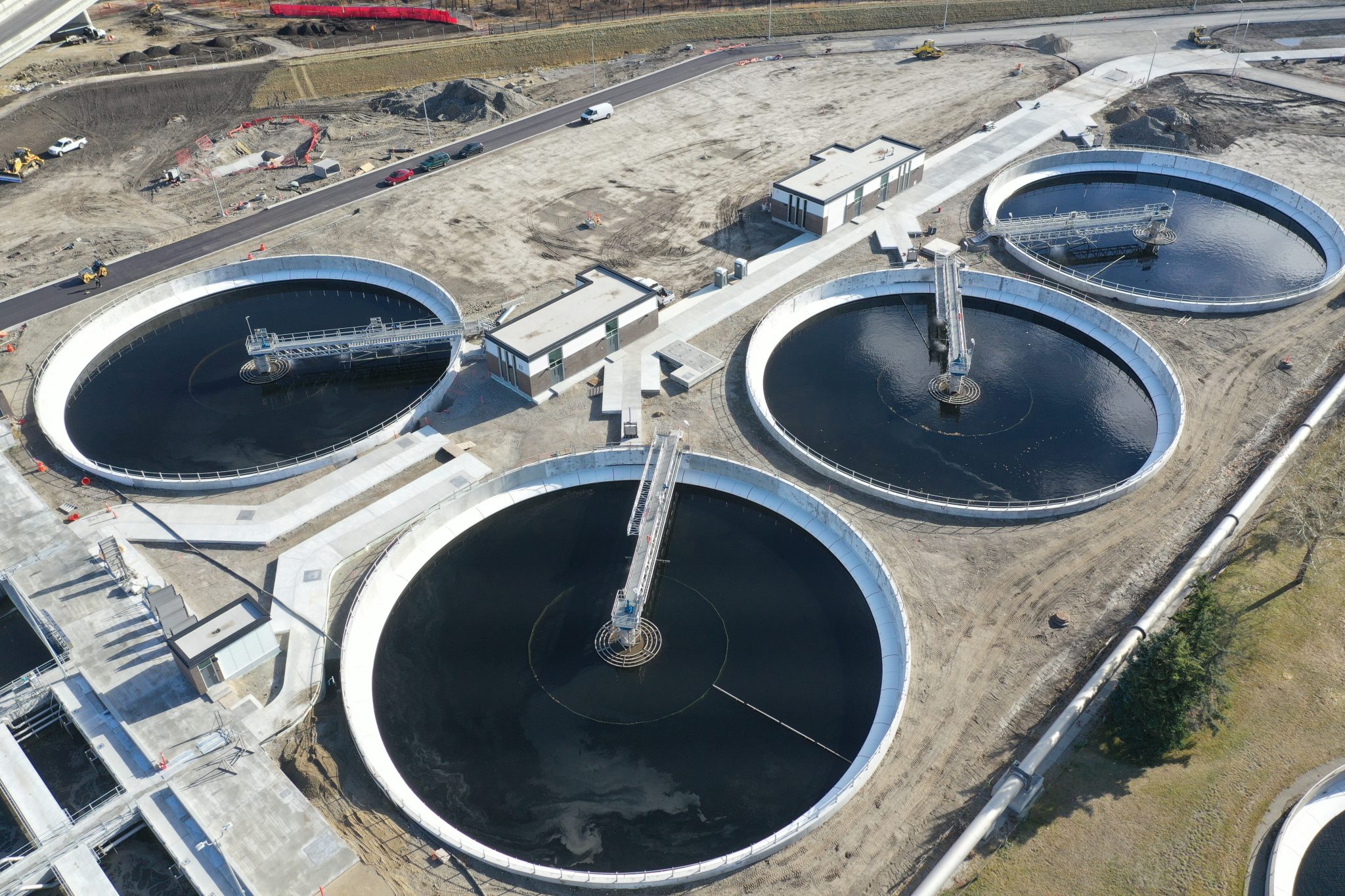 Secondary Treatment Clarifiers
Ultraviolet (UV) Disinfection Facility Upgrade – In Service April 2021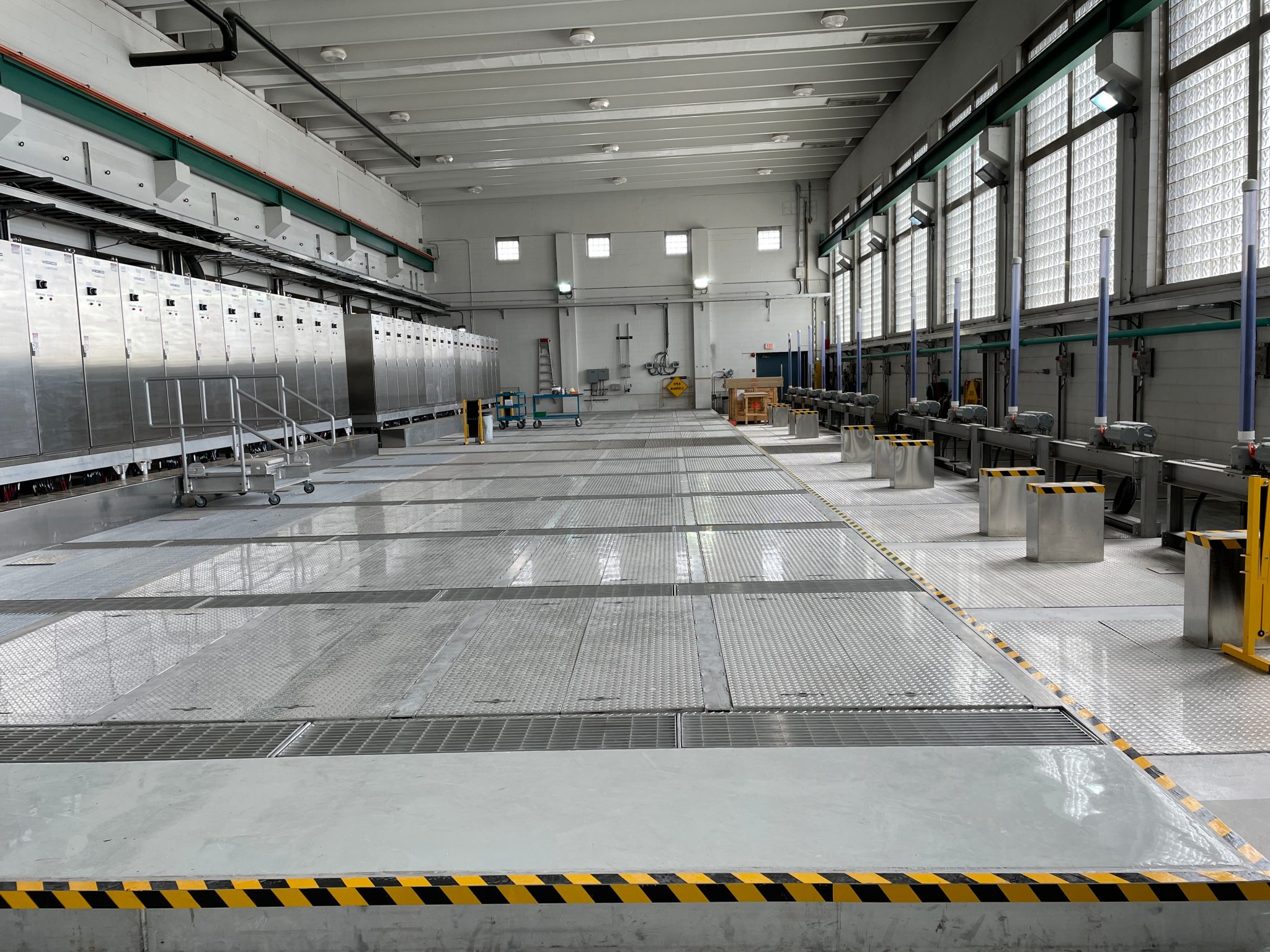 Retrofitted UV Disinfection Facility in operation April 2021
The retrofits and upgrades allow the UV Building to continue to disinfect treated effluent from Bonnybrook. The installed new Ultraviolet (UV) Effluent Disinfection System (Wedeco)is designed for total peak flow capacity of 1,524 ML/d to accommodate growth in north Calgary over the next 25 years. This key project is complete and in-service. 
New Bonnybrook Outfall – In Service March 2021

Aerial view of CN Rail Bridge and Outfall Control Structure looking south
The new outfall was commissioned and put into service in March 2021.

It has been upgraded to accommodate increased flows with hydraulic capacity of 1,962 ML/d from the plant due to the expansion. It is located just south of the CN Rail river crossing over the Bow River
The outfall was extended a further 900m downstream with two new 7000m long, 3.6m x 3.0m pre-cast concrete effluent box conduits to a new effluent outfall control structure (OCS) to provide further flood resiliency and includes an improved diffusion system (four new 1.8m dia multi-port, in-bed exfiltration effluent diffusers ) in the river to enhance environmental performance. From the OCS, approximately 450 m long emergency outfall spillway was constructed to convey the effluent further south to the Bow River during river flood conditions.
The old plant outfall just north of the Calf Robe Bridge is no longer in use and has been decommissioned.  The old outlets by the Calf Robe Bridge have been concreted over. Some remaining landscaping and finishing work will continue through to the Spring of 2022 in the area adjacent to the Calf Robe Bridge extending south to the new outfall control structure south of the CN Rail Bridge.
Digesters Upgrades Phase 1 – In Service May 2021
Digester Upgrades Phase 1 is complete and was in in-service as of May 2021.     The four anaerobic mesophilic digesters were retrofitted with new hydraulic sludge mixing systems. Two new digester pump houses (DHP2A and DPH2B) were constructed to house six Vaughan chopper mixing pumps. Low pressure biogas header was installed from DPH3 to DPH2 roofs.
Construction of Digester Phase 2 for two anaerobic digesters started in February 2021 and is scheduled for completion in June 2023.
Bio-gas Handling and Storage Facility – In Service January 2021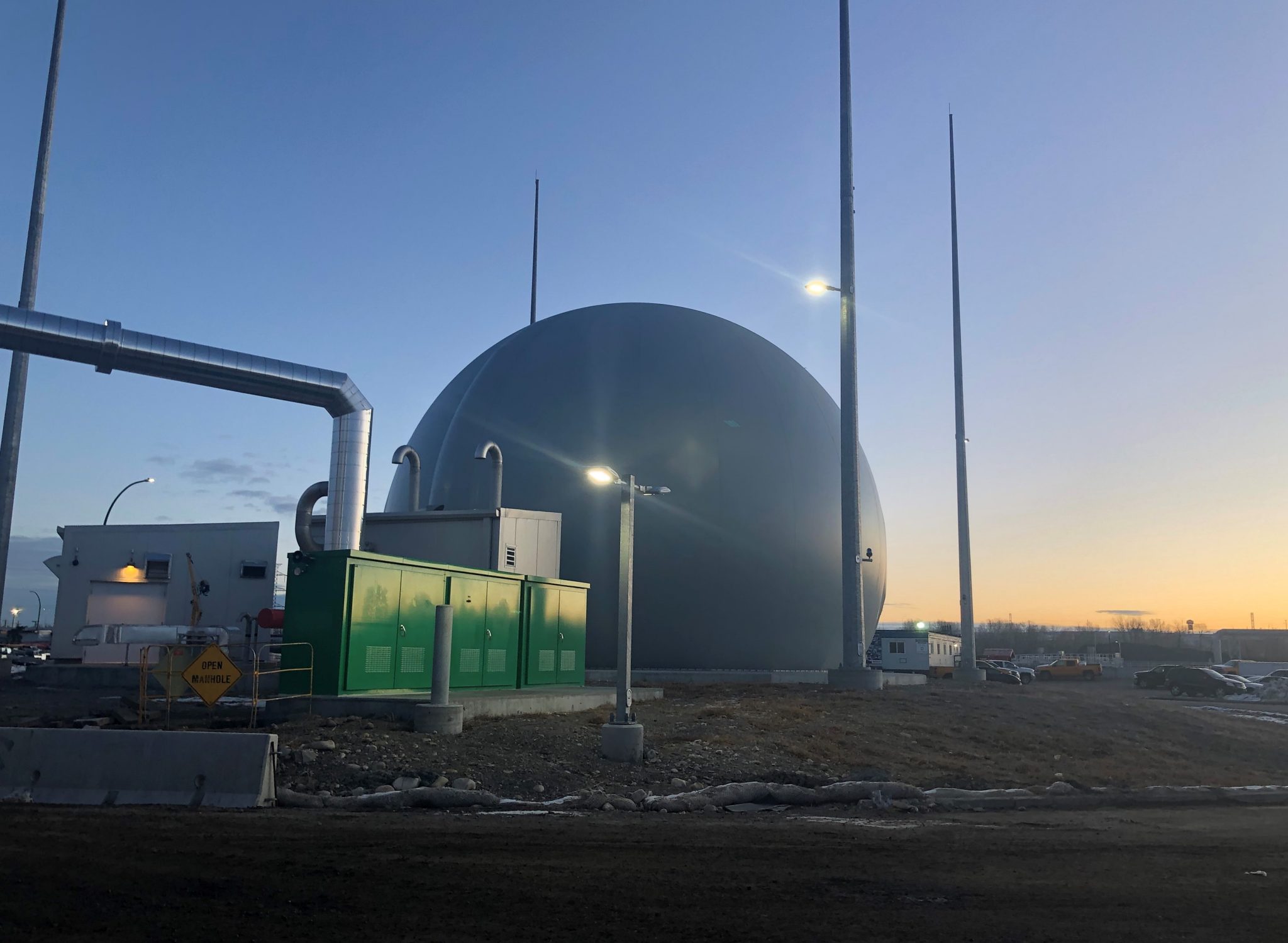 New Low Pressure Gas Holder in operation January 2021
The installation of new 2,000 m3 low pressure gas holder  s complete and in service. 
The new storage facility will assist in the operation of the new Cogeneration Facility at Bonnybrook.
Flood Protection
A flood protection berm is being constructed to protect the Bonnybrook Wastewater Treatment Plant from potential future flooding.  The 700 meter long East portion of the flood protection berm was completed in fall 2021 and construction of the South berm is ongoing. 
As part of the Flood protection project, a new extension to the regional pathway was opened December 22, 2021.  This extension is on the west bank of the Bow River between the Ogden Road Bridge and the Graves Bridge (near Glenmore Trail).
Upcoming projects as part of the Plant D Expansion:
Plant D Secondary Treatment Phase 2
Effluent Filtration Facility
Thermal Hydrolysis Facility
Brief History
The Bonnybrook Wastewater Treatment Plant is the largest of Calgary's three wastewater treatment plants.
Originally built in the 1930s, Bonnybrook has undergone significant modifications and upgrades over time to increase its treatment capacity to meet the needs of a growing city. Bonnybrook serves the communities north of Glenmore Trail in the city, as well as Cochrane, Airdrie and the Elbow Valley.
---
Related Documents
---
Program timeline
Construction commenced in 2014 and continues to 2024.
Here are some of the key milestones achieved to date:
Summer 2016 – Plant D Digester upgrades began, with anticipated completion in summer 2022.
Fall 2016 – flood protection berm work began and is expected to be complete by fall 2021
Fall 2017 – completion of the Dewatering facility
Fall 2018 – complete Phase One of the electrical upgrades
Spring 2018

construction of Phase 1 of the Plant D Expansion Secondary Treatment process began, with completion anticipated by 2021. Phase 2 is scheduled for completion by the end of 2024
upgrade and retrofit of the Ultraviolet Disinfection Facility began, completion scheduled for September 2021

Summer 2018 – construction of new Plant outfall began, with completion anticipated in fall 2020
Winter 2018 – completion of the Plant B and C upgrades

6 new secondary clarifiers.
replacement of mechanical equipment in existing clarifiers.
replacement of sludge pumps and pipework.
upgrades to the existing Dissolved Air Flocculation (DAF) facility. 

Summer 2019 – began construction of primary treatment expansion (2021 completion), new biogas storage facility (2020 completion), and cogeneration facility expansion (2021 completion)
Winter 2020 – The City of Calgary continues to work along the west side of the Bow River bank, building a new Bonnybrook outfall and emergency bypass channel.
May 2021 update – Plant B and C capacity upgrades are completed. Work continues along the west side of The Bow River for Bonnybrook outfall and emergency bypass channel. This infrastructure is integral to flood protection. Heavy construction, including the installation of underground utilities, will continue into 2022.
---
Additional updates
A number of other projects that support the expansion program and the general reliability and efficiency of the plant:
modernization and expansion of the air blower facilities on site. The use of air is a vital component of the treatment process and improves energy efficiency and reliability.
replacement of old boilers in heating plant with high capacity, energy efficient ones.
a new fats, oils and grease facility that increases our capacity to receive these waste products and the efficiency of treatment.
a new treated effluent water facility. This facility takes treated wastewater and circulates it around the plant to support the treatment process. It also pumps treated wastewater to the ENMAX Shepard Energy Centre for use as cooling water.
---
Questions
Please call or submit a 311 Service Request. For media inquiries please call 403-828-2954