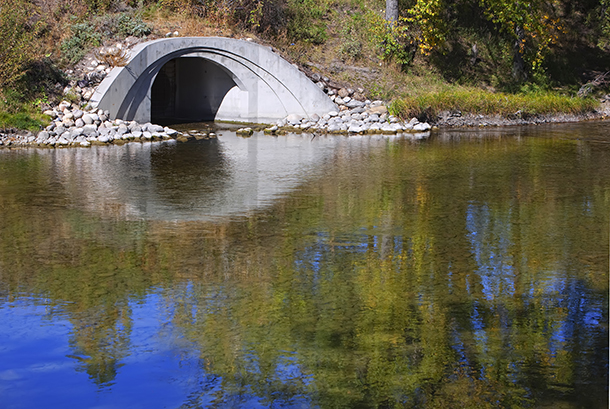 Outfalls are exit points by which storm water leaves the pipe system and enters the river. There are more than 800 outfalls located across Calgary.
After the June 2013 Flood, The City of Calgary inspected the Bow and Elbow Rivers and Fish, Nose and West Nose Creeks for significant damages to outfalls and riverbanks.
We identified 161 outfalls on the rivers and 53 outfalls on the creeks with damage and prioritized them for repairs.
About the projects
Repairs to outfalls include removing existing vegetation, grass and shrubs from the outfall. Replacement or repair of cracked concrete aprons.
Placement of bedding gravel and rip rap will be added to provide erosion protection for the outfall and the River or Creek. This also helps to reduce turbidity. The measurement of turbidity is a key test of water quality.
Project Updates
July 2023
Construction on the IC9A outfall, located on the east bank of the Western Headworks Canal near the intersection of 26 Street S.E. and 24 Avenue S.E., has begun and is expected to be completed by early June 2023. This work will require a pathway detour, which will be in effect until the project has been completed. To view the information notice, click here.
Repair work will resume on the B75 outfall on the north bank of the Bow River, south of Parkdale Boulevard N.W. near the Kensington Road N.W. intersection, starting Monday, August 21 until Friday, August 25. Due to the location of construction, the Bow River Pathway will be closed periodically between 7:00 a.m. and 7:00 p.m. To view the information notice, click here.
In progress
B75 - estimated completion August 2023
IC9A - estimated completion June 2023
Completed
B32
B34
B36
B68
B69
B74
B75
B77/78
B79
E38
E40
E43
E54
E63/E64
N10
N31
N41
B119
E40