Tuxedo community drainage improvements
About this project
The City's Community Drainage Improvements Program works to reduce overland flooding in areas throughout Calgary.
Drainage studies were undertaken to identify solutions for communities frequently affected by flooding due to extreme rainfall. These solutions can include adding additional storm drainage pipes, increasing the size of pipes, and adding wet or dry storm ponds to help manage stormwater. 
In recent years, Tuxedo Park has experienced a high number of heavy rainfall events causing flooding. Once upgrades are complete the likelihood of a rain event overwhelming the local storm system will be greatly reduced.
Project map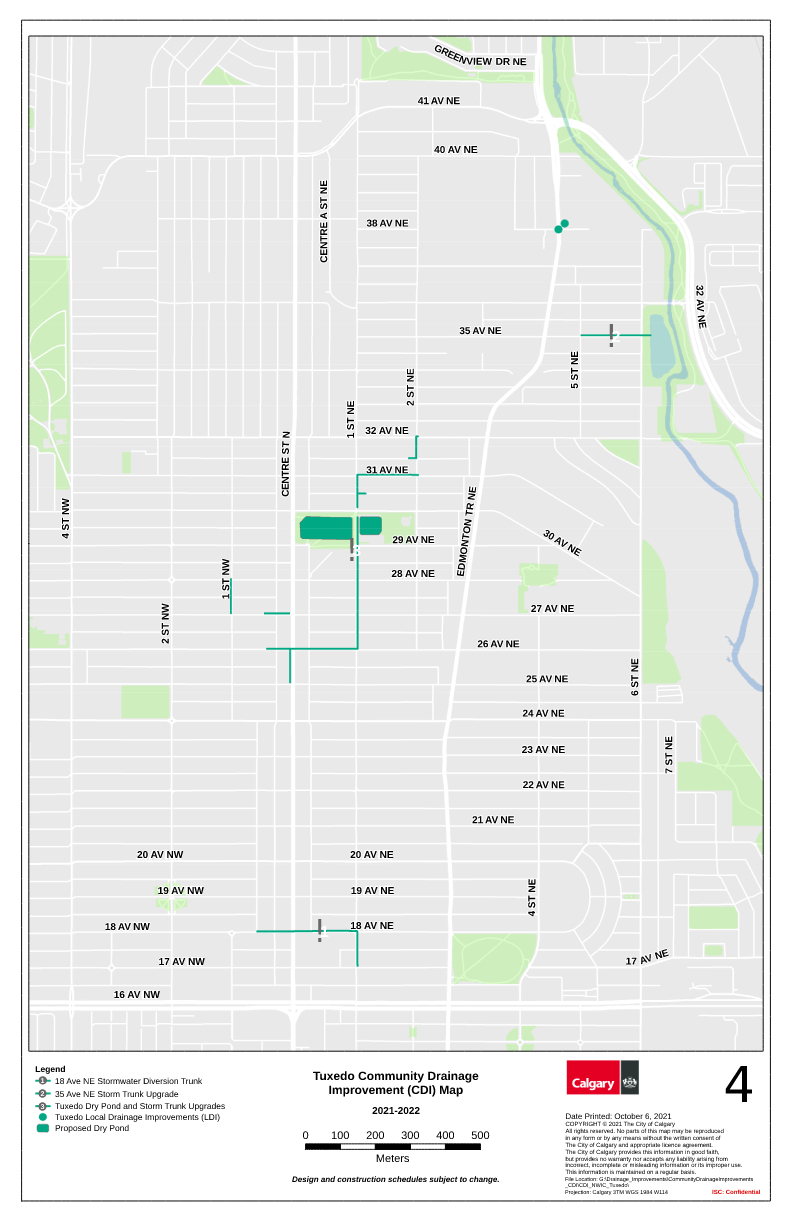 Project work
Construction updates - Fall 2022
Construction east of Centre Street is now complete. Final restoration of roads and landscaping will be done by mid-November. 
Work on the dry ponds will also be completed by mid-November. The west (largest) pond will be open for public use. A snow fence will surround the east pond to limit damage to the recently installed sod.
Due to supply chain issues, the following work has been re-scheduled to the spring of 2023: 
Drainage upgrades on:

Centre Street between 25 Avenue N and 26 Avenue N
26 Av NW between Centre Street and 1 Street NW 
27 Av NW between Centre Street and 1 Street NW 

Paving the two alleyways north of the dry pond
Installation of the new playground
The ball field will remain closed to the public until next year in order to store construction materials over the winter. Once all work is complete the ball field will be restored to its original state.
Other projects in the area
To learn more about managing stormwater in Calgary, see our Homeowner Water Guide for Calgary's stormwater management system.
Dry pond and storm trunk upgrades
The dry pond for the park space at 202 29 Ave NE and upgrades to the storm trunks under Centre St N and 1 St NE will reduce​ flooding during extreme rain events throughout the community. Construction is expected to begin in the spring of 2021 and be substantially complete by the end of the year. Landscaping and recreation amenity installation will take place in 2022. The park space will be inaccessible to the public for the duration of construction.
Renderings of the future park space once construction and landscaping are complete.
Before heavy rainfall
A dry pond can be located on parkland, next to roadways or on recreation or school fields. Once constructed the entire site is fully landscaped to blend into local surroundings, and can continue to be used for sport, recreation or leisure purposes.
After heavy rainfall
A dry pond captures stormwater runoff during a rainstorm, as well as water from an underground stormwater pipe. Water collected in a dry pond can take from one to six hours to drain after a storm. This is done by gravity via drains built into the bottom of the pond.
35 Ave NE storm trunk upgrade
Upgrading the storm trunk, (the large diameter pipe running under 35 Ave NE), will increase its capacity and ability to collect stormwater, diverting it away from the community and into our rivers. Construction will begin in the late spring or early summer 2021. This project should be complete by the end of 2021.
Stormwater Diversion and local drainage improvements
This includes installation of inlet control devices, bio-retention areas, replacement or upgrade of catch basins and manholes, storm sewer diversions, and improvement of overland spill routes throughout the community. A new storm pipe will be installed under 18 Ave N, across Centre St, which will divert stormwater away from Tuxedo Park, reducing flooding and pooling in the community.
Construction timelines for these projects vary, although all should be substantially complete by the end of 2021.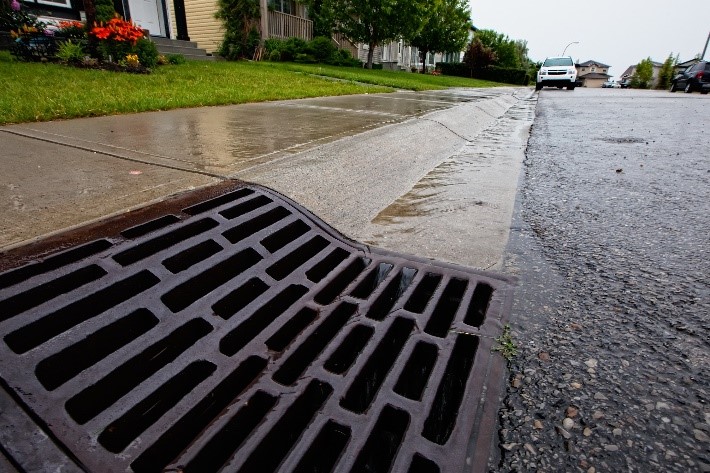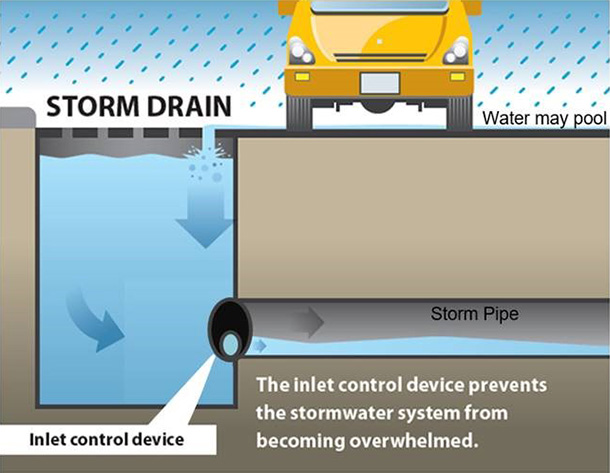 Addressing groundwater flooding
The City does not undertake projects to specifically eliminate the risk of groundwater seepage due to high groundwater tables. While there may be some residual benefit from drainage improvements being made to Tuxedo Park, managing groundwater is not the primary goal of this project.
When the water table rises due to heavy rainfall, an effective way to reduce basement flood risk is taking the appropriate steps at home.  This includes:
Install a sump pump with a back-up power source.
Install backflow preventer valves on sanitary sewer lines.
Ensure downspouts drain onto the ground at least two metres away from your home.
Improve your lot grading so that it slopes away from the house foundation.
Repair cracks in the basement foundation.
Finish basements with easily washable materials, such as concrete floors and walls.
Install water alarms in the basement to alert you if water is backing up.
Avoid building living spaces below grade.