Never leave cooking unattended, stay in the kitchen when you are frying, grilling, broiling or boiling food.
If you must leave the kitchen, turn off the stove and remove the pot from the burner.
Make sure to use dry oven mitts and potholders to prevent scalding or burns.
Use the stove's back burners whenever possible and turn pot handles inward to reduce the risk of pots being knocked over.
Keep potholders, oven mitts, wooden utensils, and other items that can burn away from your stovetop.
Clean food and grease from the oven and stovetop once it has cooled.
Always keep an oven mitt and lid nearby when cooking. If a small grease fire starts in a pan, smother the flames by carefully sliding the lid over the pan.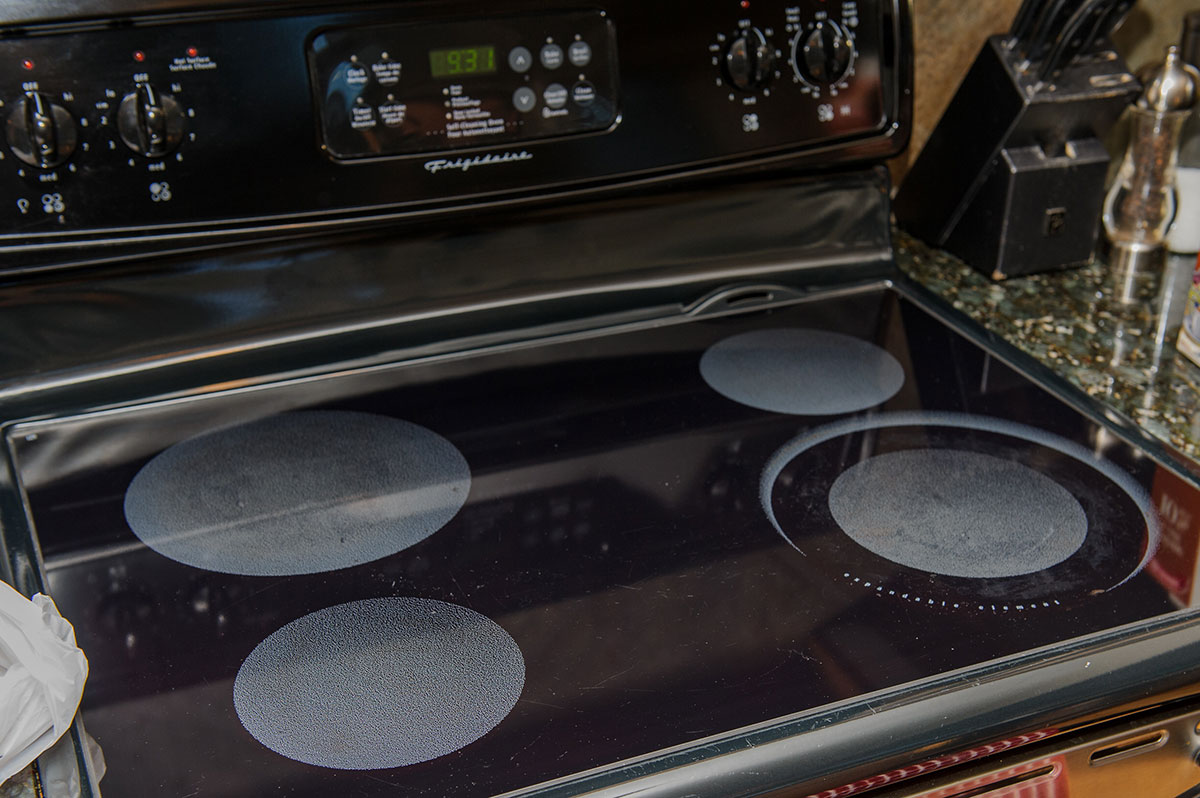 If there is an oven fire, turn off the heat and keep the door closed to prevent flames from burning you and your clothing.
Remember not to store combustible or flammable items in the bottom drawer of the oven.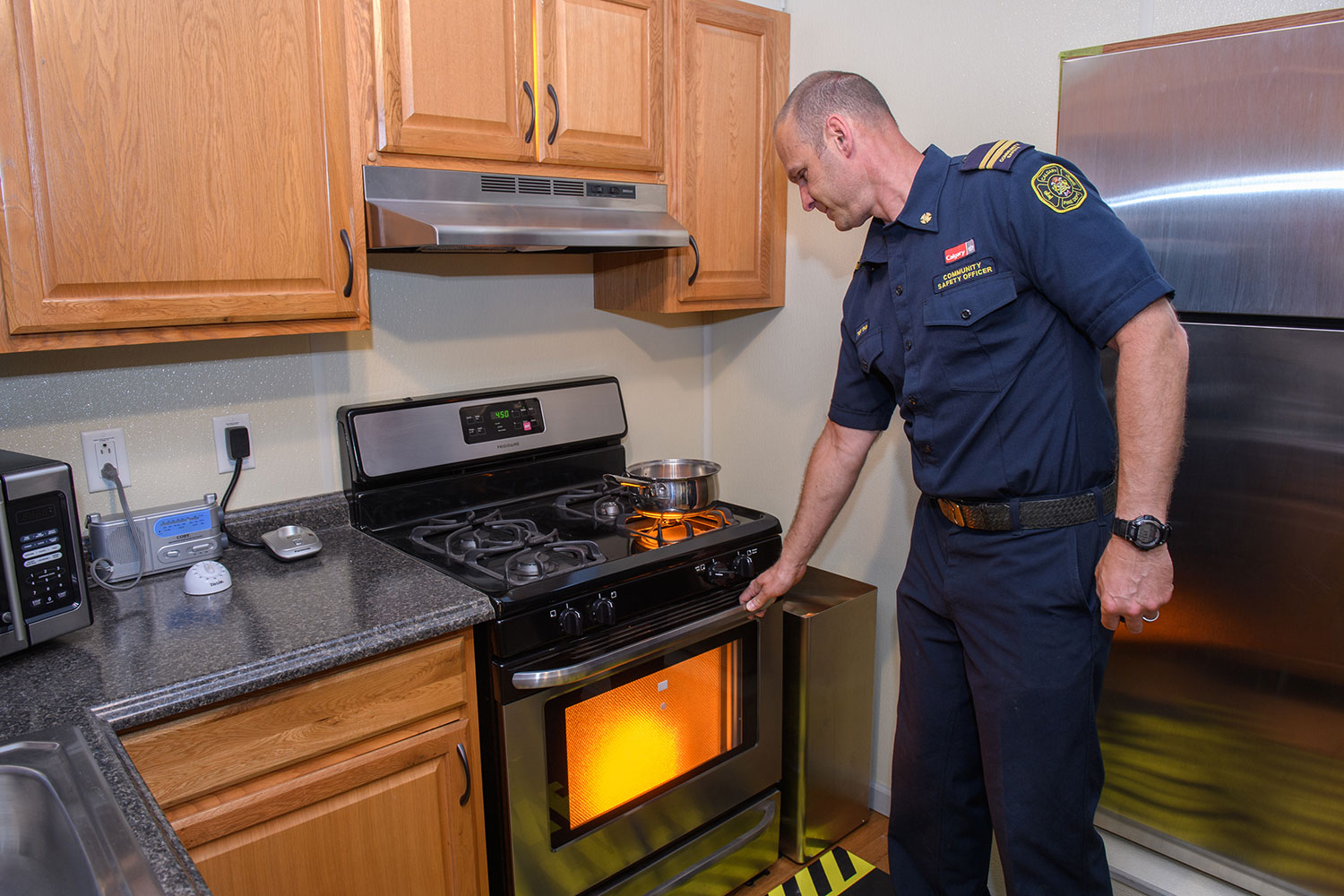 Never hold a child or pet while you are cooking or carrying hot foods or liquids.
Keep children and pets at least one metre away from the stove.
Place hot foods and liquids in the centre of the table or towards the back of a counter and out of the reach of young children.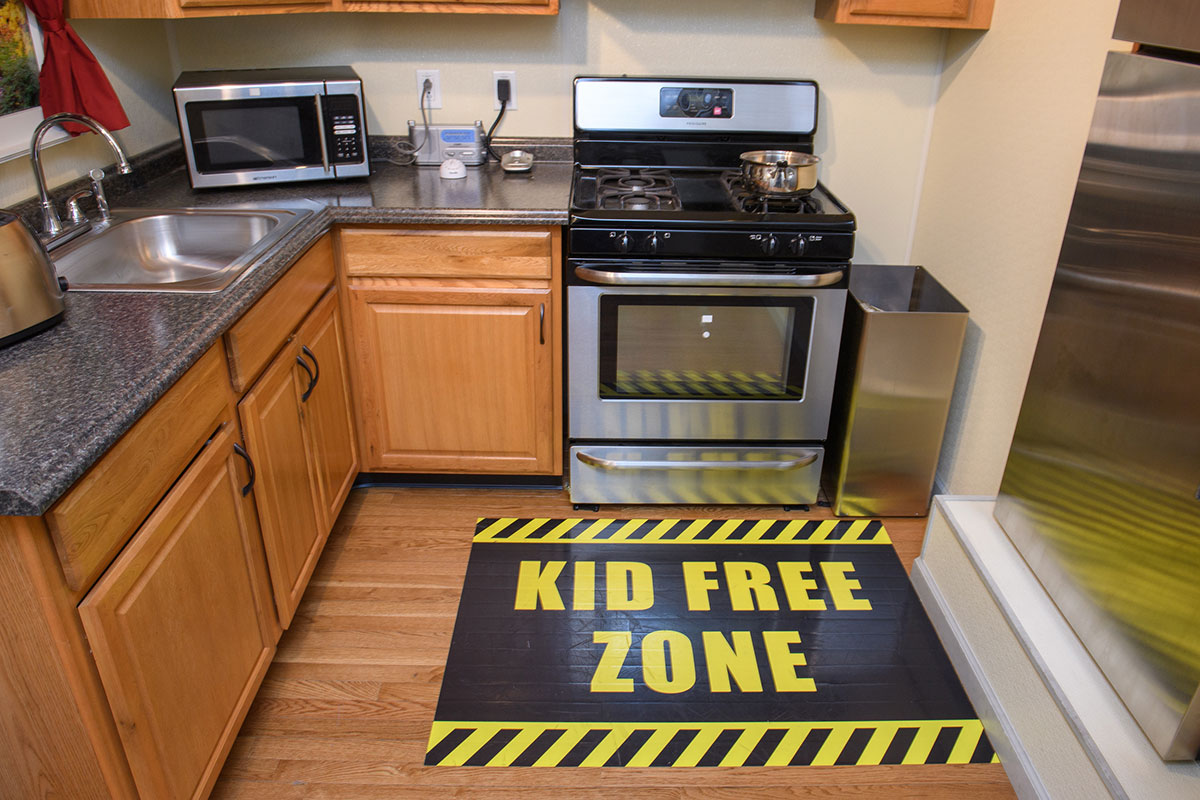 To prevent overheating and ignition of cooking oil, fry foods in a temperature-controlled deep-fat fryer or skillet designed for a maximum temperature of 200 °C.
Clean food and grease from the oven and stovetop once it has cooled.'
In case of a cooking oil fire:

Do not move the pot or pan or throw water on the flames. 
Using a lid with oven mitt, simply slide a tight fitting lid over the pot or pan to smother the flames.
Turn off the heat and exhaust fan.
Plug the microwave oven directly into the wall outlet; do not use an extension cord.
Use only microwave oven-safe food containers or dishes.
Never use aluminum foil or metal in a microwave oven.
Food heats unevenly in a microwave oven and can be too hot to eat. Stir and test before eating or giving to children.
Slowly open food that has been heated up in a microwave oven-safe container away from the face. Hot steam can cause burns.
If a fire starts in the microwave oven, leave the door closed, turn it off and unplug it from the wall. Get out and call 911. 
Make sure you have the microwave serviced before using it again.
Small cooking appliance safety
---
When we think of cooking appliances in the kitchen, we often think of the stovetop, oven, and microwave. However, people are often turning to electrical appliances like air fryers and slow cookers for the convenience of cooking meals quickly. Using these appliances properly is key to keeping safe in the kitchen.
Always use cooking equipment such as air fryers, slow cookers, electric skillets, hot plates and griddles that are listed by a qualified testing laboratory.
Follow the manufacturer's instructions on where and how to use the appliances.
Remember to unplug all appliances when not in use.
Check cords regularly for damage. Do not use any appliance with a damaged cord.
If your clothes catch on fire
---
You should know what to do if your clothes catch on fire. By learning and practicing the Stop, Drop and Roll method, you will know what to do.
STOP immediately! Do not run or attempt to remove your clothing.
DROP to the ground as quickly and safely as possible.
ROLL on the ground so that the flames are smothered completely. While rolling, cover your face with your hands.