Historic stories and images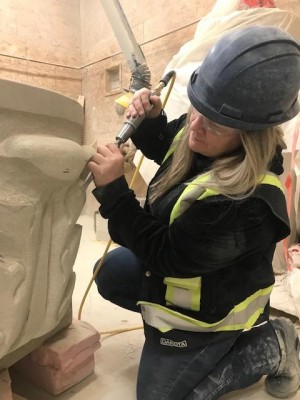 ​Stonemasons carving out a place in history​
With every hammer tap on her chisel, stonemason Tina Hart is bringing our city's history back to life.
The work restoring Calgary's Historic City Hall — the only surviving city hall from its time period in Western Canada — is preserving this important heritage building for future generations.​​
Read more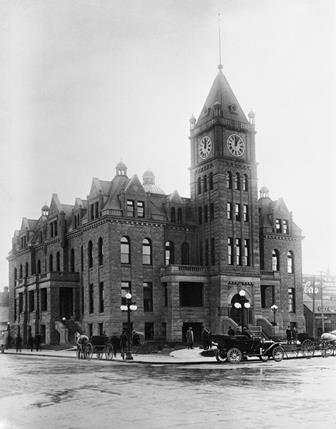 Historic City Hall Ghost Stories
Just in time for Halloween, The City is sharing spooky ghost sightings inside Historic City Hall.
Historic City Hall has been witness to countless lives, careers, and events within its walls. If ghosts exist, Historic City Hall should be expected to have plenty of them.​​
Read more
 ​​​​​​​​​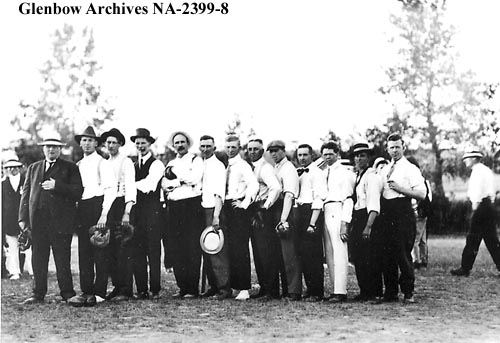 Calgary's First Employees
In 1910, the Calgary Daily Herald published a short series of page-one profiles on civic officials, all of whom still worked for The City of Calgary when the newly built City Hall opened the following year.
The profiles featured only a small number of City staff who went on to serve the public for decades.
Enjoy these employee profiles, most of which are direct quotes from the original profiles published in May 1910.
Read more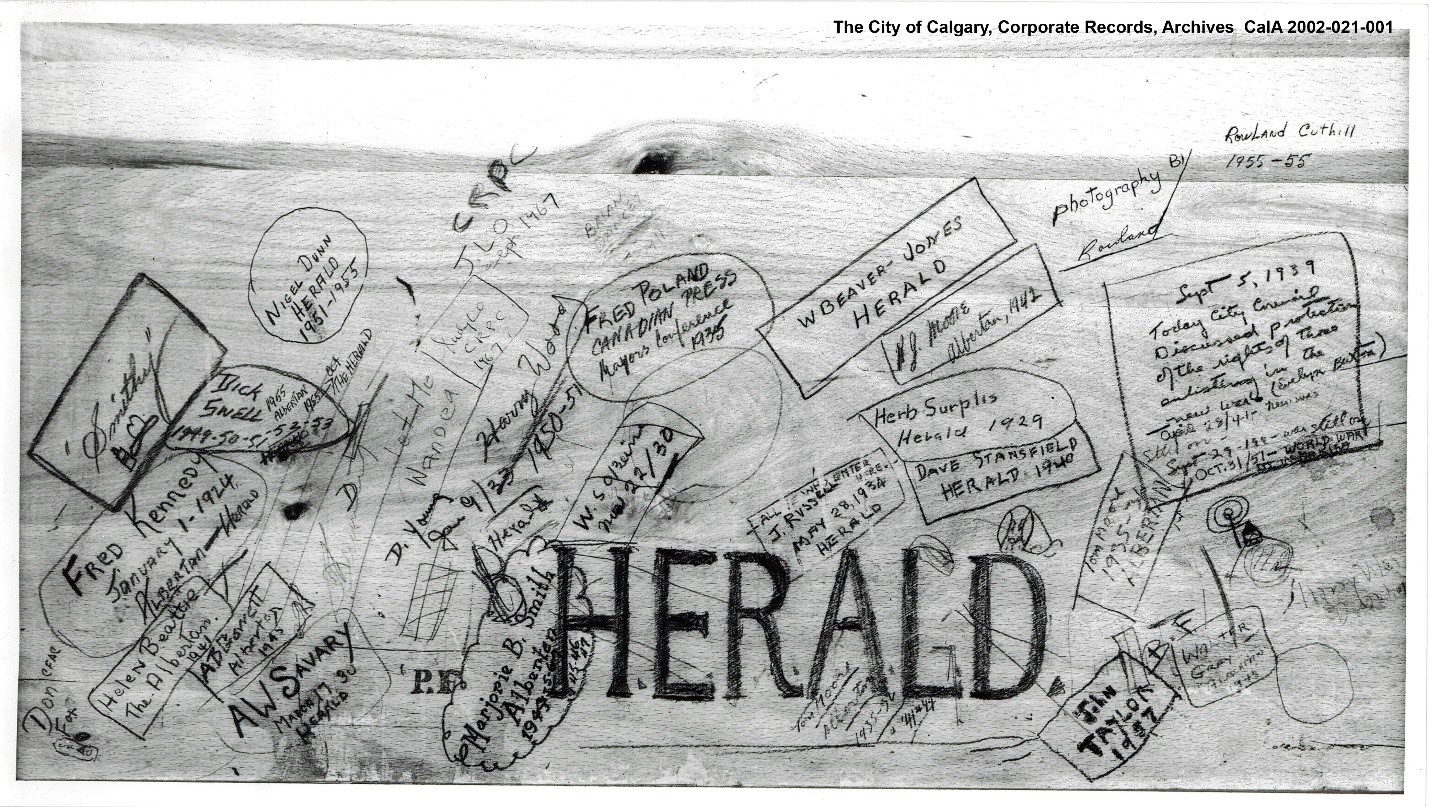 Press table journeys through time and wars
The reporter probably thought his small bit of graffiti on a piece of property belonging to The City of Calgary was so discreet no one would find it.
Little did James Brown of the News-Telegram know that writing his name that day in August 1913 inside a drawer of the press table in Council Chambers would kick off a decades-long tradition that would turn the humble table into a cherished artifact.
Read more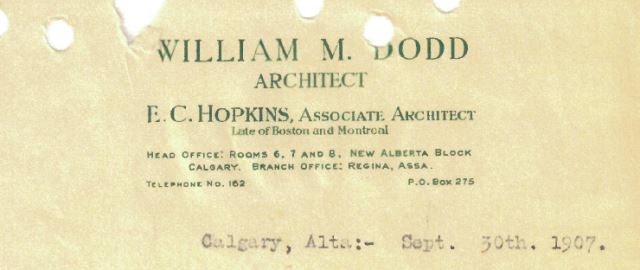 ​Architect William M. Dodd
William Marshall Dodd, winner of the commission to design City Hall
Calgary's historic City Hall was designed by William Marshall Dodd, an Ontario-born architect based in Calgary for about ten years. Dodd was respected for his work in designing Regina's City Hall and several other public buildings in Calgary. However, he was publicly discredited due to cost overruns, and he was eventually replaced by the firm of Hodgson & Bates, which saw City Hall through to its completion in 1911. Dodd severed ties with Calgary, moving to Vancouver in 1910.
Read more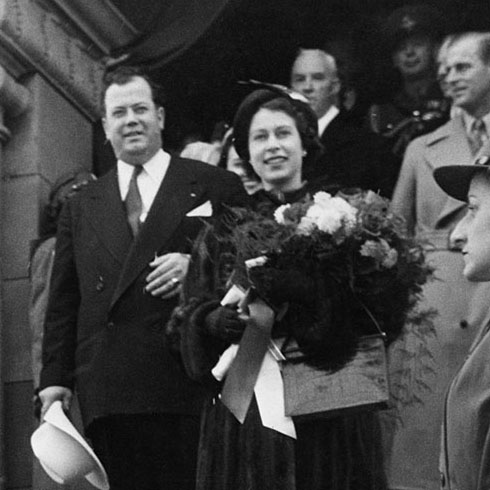 Royal visits and VIPs
Royal visits have been among the most momentous civic events at Calgary's historic City Hall. The first of three royal visits took place in 1912 when the Duke and Duchess of Connaught visited Calgary to take part in the city's inaugural Stampede event. King George VI and Queen Elizabeth also paid an official visit to City Hall during their 1939 royal tour of Canada. Their daughter, then Princess Elizabeth (the future Queen Elizabeth II), was welcomed to City Hall in October 1951. On each of these occasions City Hall was decorated with lights, flags, and masses of flowers, while thousands of citizens lined the streets nearby. Other VIPs have also paid official visits to City Hall and signed the distinguished visitors' register.
Click to learn more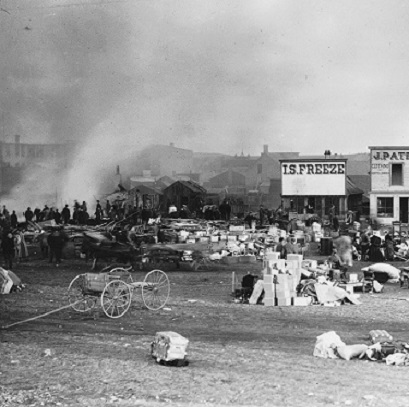 ​The great fire of 1886 and its effect on future building
In 1886, just two years after Calgary became an official town, disaster struck. A fire broke out on the main commercial strip, Atlantic Avenue, destroying some eighteen buildings. At this time, the dominant building material was wood, but the abundance of local sandstone had already led to the establishment of stone quarries and a nascent sandstone construction industry. The fire contributed to expanded use of fire-resistant sandstone in building construction, a trend that ultimately informed the design and construction of City Hall.
Read more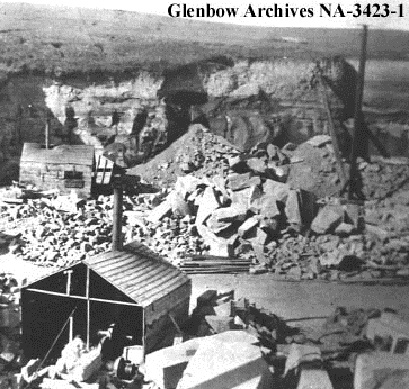 Sandstone quarries
​After the great fire of 1886, locally-quarried Paskapoo sandstone largely replaced timber-frame construction in Calgary's business district. Well over a dozen quarries operated in and around the present city limits between the mid-1880s and 1915. The sense of confidence and dignity expressed in the stone transformed Calgary and earned it recognition across Canada as the "Sandstone City." Further, the widespread use of sandstone in Calgary's public, commercial and residential buildings had helped to attract first class architects, contractors, and stone workers, from which City Hall later benefited.
Click to learn more
​Where did they find craftsmen?
The widespread use of sandstone in Calgary between 1886 and 1914, and a major construction boom before the First World War, helped attract a pool of skilled craftsmen to the city.  Many carpenters, stone workers, and other craftsmen found work on Calgary's new City Hall, completed in 1911.
Click to learn more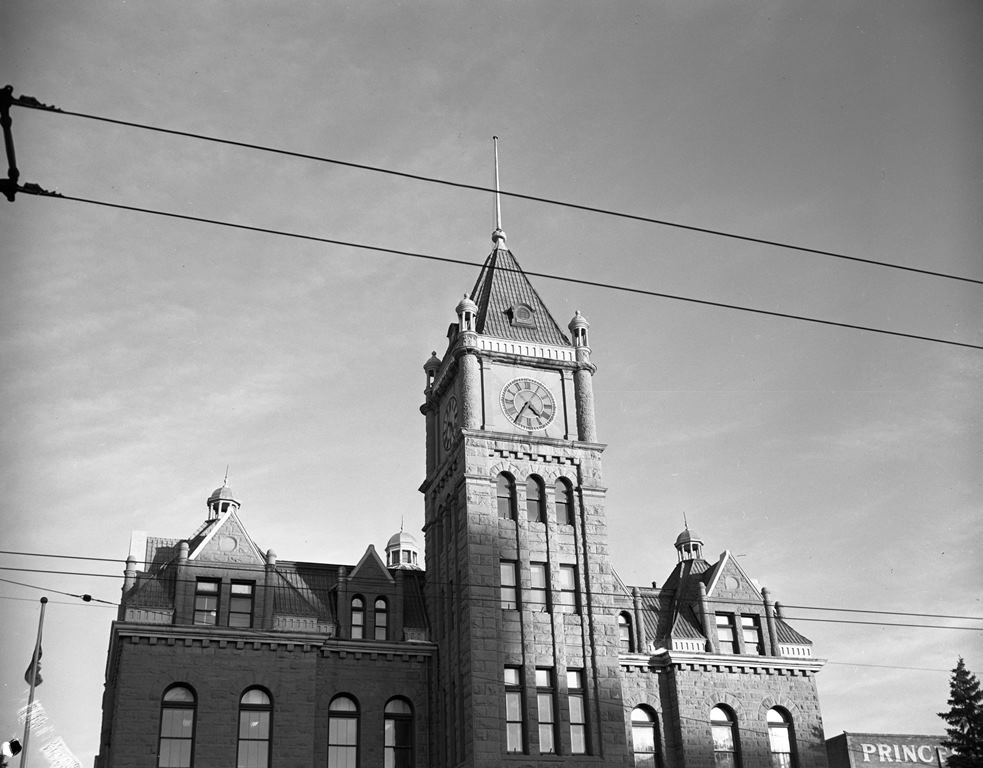 ​The City Hall clock tower- a landmark in downtown Calgary
One of City Hall's most defining features is its five-story sandstone clock tower. The Seth Thomas clock has kept a steady time since it was installed in January 1911, with few repairs beyond regular maintenance and a weekly winding. The tower clock today remains a beloved public timepiece and a symbol of Calgary's municipal administration.
Read more
We will refresh this page on an ongoing basis with new stories and fascinating photos of our history!  Please visit this page back often to see what's new.
​​​​​​​​​​​​​​​​​​​​​​​​​