Success story: Providing City land for drone flying
Calgary has been a quiet leader in autonomy systems as oil and gas companies have created unique sensors and systems that are now applicable in the drone industry. The City is helping facilitate this tech niche for companies by providing land for idea testing, making Calgary one of the first major cities in North America to offer land for commercial drone flights on City-owned land.
Where it began: Shepard Landfill
---
An idea began when it became apparent that there was a demand from companies to have an area close to the city centre to fly aerial drones. City staff processed some paperwork and then worked with SAIT to allow them to do drone technology research at Shepard Landfill on Mondays.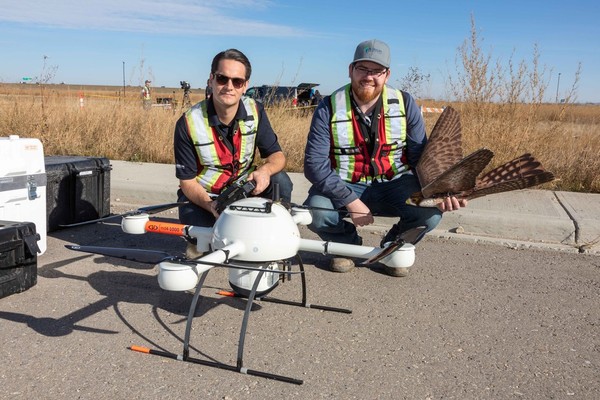 In March 2018, The City of Calgary began to open Shepard Landfill on Mondays, when it wasn't open to the public, to allow companies with a special flight operations certificate from Transport Canada, to fly their drones within city limits. View the CBC news story.
As the flights with SAIT were going well and the Shepard Landfill staff were happy with the arrangement, The City opened up the space to more aerial drone companies and post-secondary institutions.
Lockheed Martin, NASA, Aerium Analytics and the University of Calgary were also able to benefit from The City's land at Shepard Landfill to test their ideas. It was land that would otherwise lay barren and unused on Mondays, and making it available came at low to no cost to The City.
​​
Meeting increasing demand: Point Trotter
---
The demand continued to increase, but as Shepard Landfill was only open for drone flying on Mondays, there was limited time available to keep up with the increased interest. To help meet the demand and for industry and researchers to flourish, City departments joined forces to retain and promote growth in this burgeoning sector.
The City's Real Estate & Development Services recently dedicated future phases in Point Trotter Industrial Park in the South East that can be used more frequently by drone researchers and developers. The park is already home to several transportation, logistics, distribution and manufacturing businesses that have a stake in seeing new technologies evolve which has enormous potential to increase the speed and efficiency of getting goods to market.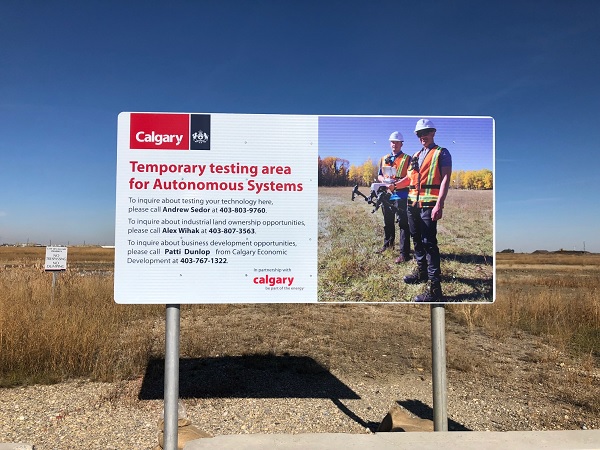 Point Trotter Autonomous Systems Testing Area (ASTA) is available throughout the week and has approximately 125 acres of land to meet the increasing demand from companies and educational institutions wanting to aerial drones. No additional infrastructure is required, just some time and paperwork to set up the process.

Point Trotter is poised to dramatically increase the amount of time and space researchers have to develop their products in Calgary.
Supporting Living Labs
---
Point Trotter ASTA and Shepard Landfill are valuable assets to The City's Living Lab initiative, where The City of Calgary and Calgary Economic Development are working with the community to make public spaces, transportation corridors and land more accessible for the testing of technological innovation.
For Calgary and a large number of the country's current unmanned systems companies headquartered in Alberta, this helps bring big ideas to fruition, supports investment in our local economy and makes Calgary more business friendly.
For more information on the Living Lab concept, visit Living Labs or Calgary Economic Development.​