This 16-person company recently became the first Canadian Authorized Service Center for Wingtra, a company that develops and produces commercialized high-precision vertical take-off and landing (VTOL) drones that collect survey-grade aerial data. Naturally, when GlobalTroxler read about Calgary's Living Labs collaboration with drone operators online they saw a connection to their work and applied to gain access to The City's industrial land for Drone operations.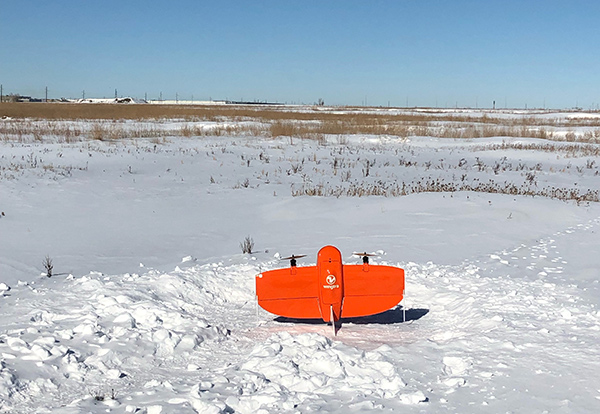 The WingtraOne ready for takeoff at one of The City's drone operation facilities.
Since they began working with Calgary's Living Labs, GlobalTroxler has accessed the drone site many times to demo products to their customers. GlobalTroxler also uses the site for quality control tests for all new RPAS systems.
Prior to having access to The City's drone operation facility, companies like GlobalTroxler would have to find access to private land to operate or demo their products. These areas were typically outside of controlled air space, often rural areas, such as farm fields, 30-45 minutes outside of the city. For GlobalTroxler, this was a barrier to the sales side of their business, as it was challenging to meet potential buyers so far outside of the city in areas that were constantly changing. The Living Labs site has allowed GlobalTroxler to test drive their products and provide live demonstrations to their clients in one convenient location only 10 minutes from their offices in Calgary, this is a huge time saver with potentially large growth benefits.
It's no wonder The City's drone operating sites are growing in popularity. The City's new East Shepard RPAS/ Drone Flying area at 5000, 100 St. S.E. opened spring of 2019, taking the place of Point Trotter as The City's designated drone flying site. The City provides valuable take-off and landing spots, making pieces of land that would otherwise sit vacant available to companies looking to operate drones. If businesses are able to meet the Transport Canada requirements they can apply to access the drone operation site through Calgary's Living Labs.
Calgary's Living Labs is future focused, providing City of Calgary assets to companies looking for real-life environments to research and test innovative products and solutions. These assets can be anything from warehouses and fields to data sets and transportation corridors. The goal is help remove barriers to innovation, stimulate economic growth within Calgary, and make use of otherwise vacant or under-utilized assets.